Please note that all items in this guide were sent to us for placement.
Pumpkin spice, it's Allyson's favorite flavor of the fall season, and apparently, she's not the only one. This delicious and FRAGRANT taste of fall has captured the hearts and taste buds of many of us with its irresistible charm. As the leaves turn and the air carries a crisp chill for those of you in the North, there's an almost universal craving for the warm, comforting embrace of pumpkin spice in our favorite beverages, baked goods, and even savory dishes. Down here in Florida, it's more about recreating that feeling of fall that Mother Nature somehow left us out of.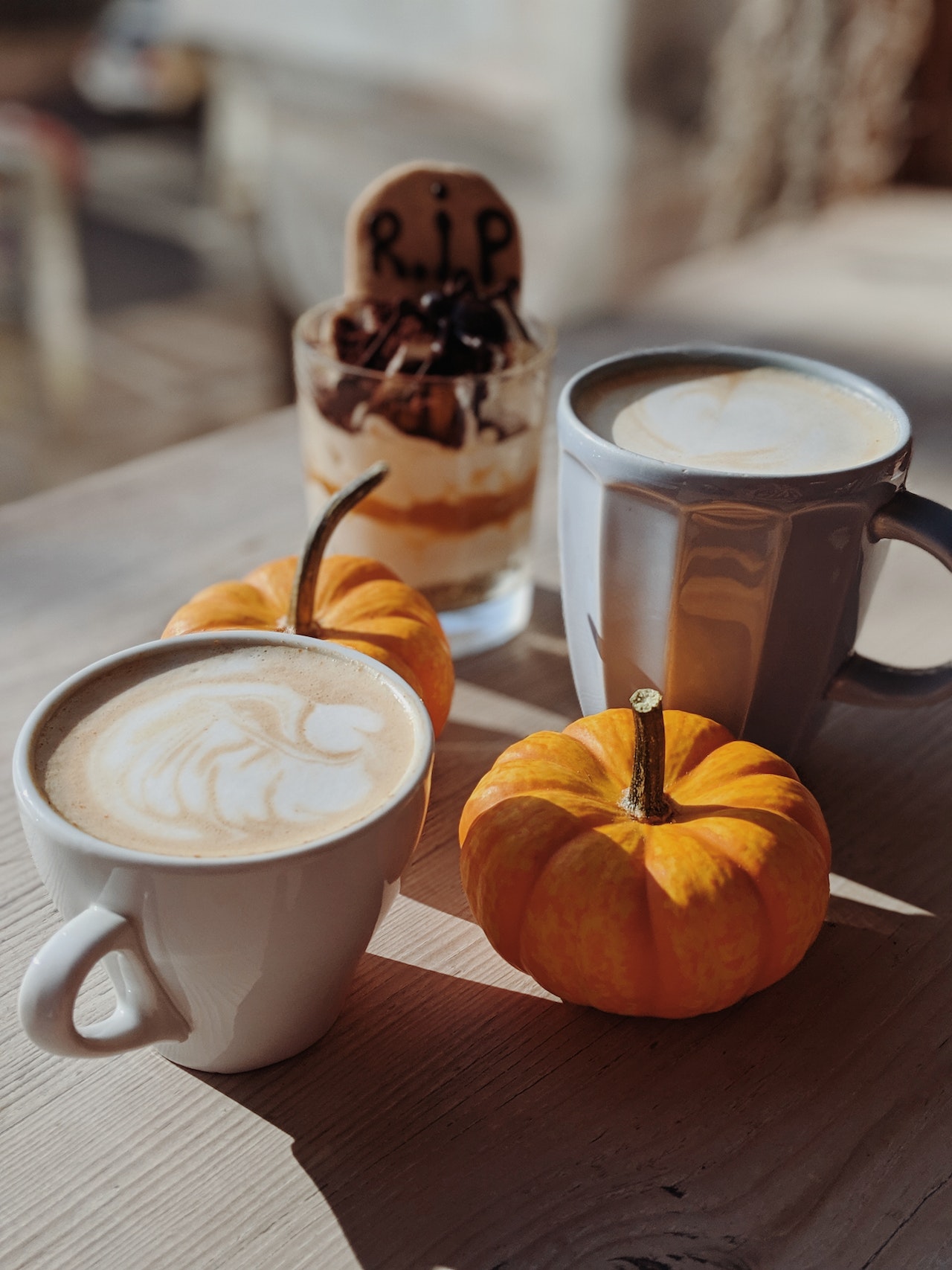 Pumpkin spice season is the perfect time to savor the flavors and scents of fall. Whether you're craving a warm beverage, a sweet treat, or simply looking to add some pumpkin spice vibes to your home, these products have you covered. So, embrace the season and indulge in the magic of pumpkin spice. Happy autumn!
Yes, Pumpkin Spice is more than just a flavor; it's a nostalgic reminder of cozy sweaters, crackling fires, and the joyous anticipation of holidays to come, its ability to evoke a sense of seasonal enchantment, makes it a cherished indulgence that we eagerly embrace each year.
To recreate that cherished pumpkin spice feeling right at home, we checked out a few of our favorite brands to see if we could recreate the essence of autumn right at home.
The Spiced Pumpkin Dreams candle offers the fall season inside your own home. Imagine a world where the allure of pumpkin spice extends beyond your favorite treats, enveloping you in a fragrant embrace that's both enchanting and comforting. From the very moment you light the wick a symphony of elegant pumpkin spice unfolds, evoking memories of the first time you discovered the captivating charm of this beloved scent. It's as if the air around you transforms, carrying with it the irresistible aroma that you've come to associate with the coziest season of all – fall.
This candle is proudly made in the USA, supporting local artisans and businesses. Crafted from high-quality coconut wax known for its clean burn and eco-friendly nature, this candle not only fills your space with the delightful scent of pumpkin spice but also aligns with responsible choices for our planet. But, what really sets this candle apart is its reusable vessel. After the candle's last flicker, simply clean out the vessel and give it a new purpose – whether it's for making your favorite drink, storing small trinkets, or letting your creativity flourish.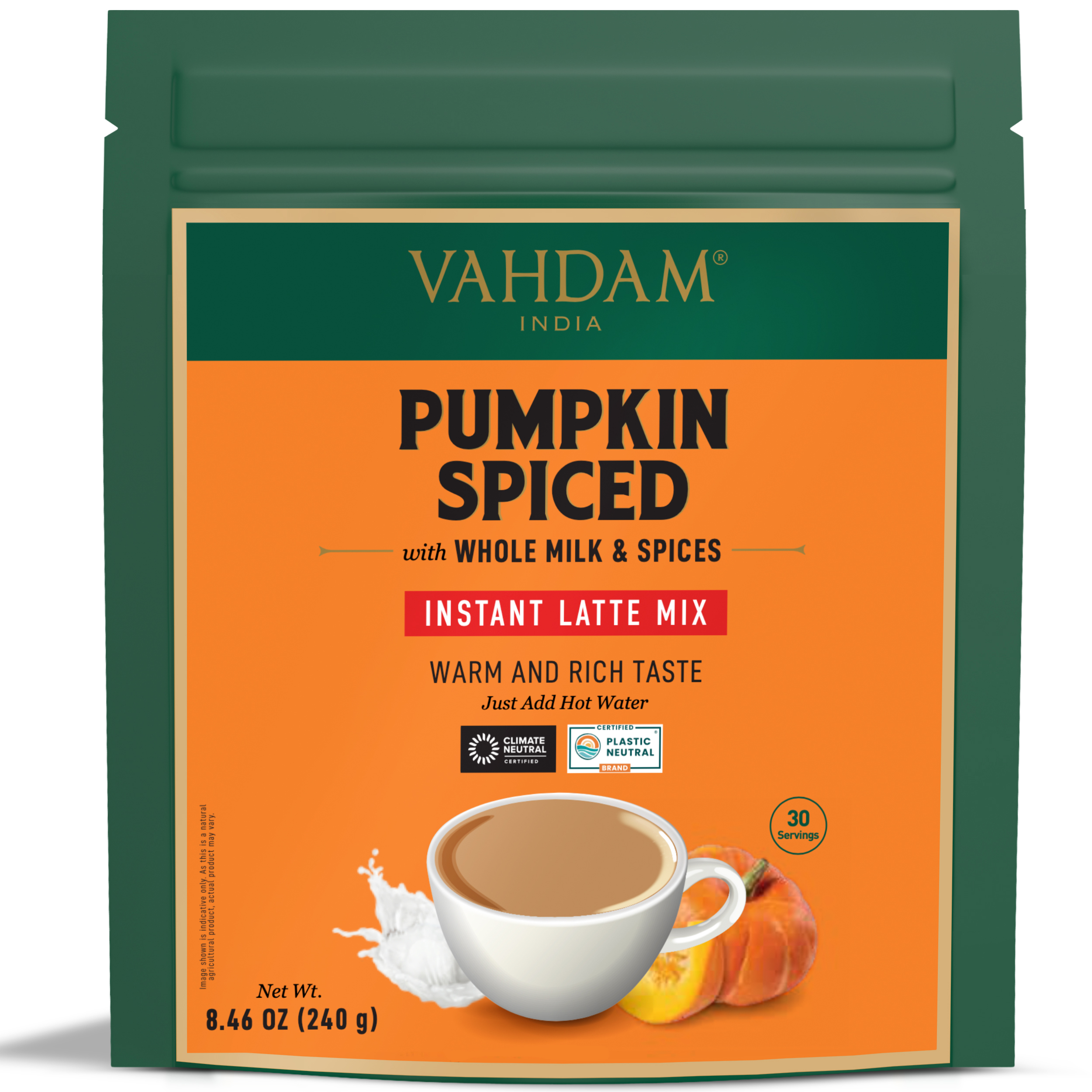 Indulge in the perfect blend of authentic chai tea and pumpkin spice. This exquisite concoction from Vahdam India combines the aromatic spices of chai with the sweetness of pumpkin for a truly delightful experience. From a breakfast drink to a late afternoon pick-me-up, you'll find yourself using any excuse to relax and enjoy a cup.
A seasonal specialty made from all the spices that scream Fall! With a hint of pumpkin spice and a low-calorie sweetener, this delectable drink feels like a warm hug in a cup. Unlike other brands that use dairy whitener, VAHDAM uses 'whole milk powder'. With premium-quality, bold black tea blended with aromatic spices, raw cane sugar, and whole milk powder – you are in for a spiced sweet treat!
Elevate your dessert game with Bake Me a Wish's Pumpkin Latte Cake. This decadent treat combines the flavors of pumpkin and coffee in a moist and irresistible cake. This seasonal cake is full of pumpkin flavor! Layers of rich pumpkin cake are filled with smooth buttercream frosting and topped with a brown sugar crumble.
Perfect for gift-giving and total self-indulgence (ahem). Each cake arrives in an elegant gift box with a greeting card you can personalize. We love to give Bake Me a Wish cakes as hostess and holiday gifts as well.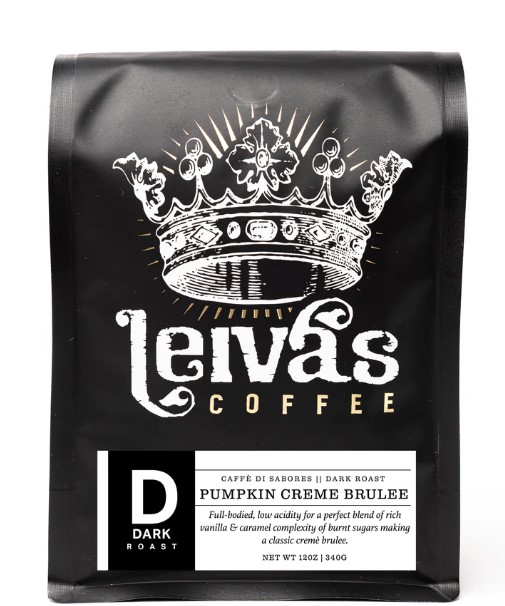 This is where Pumpkin Spice RULES! With a great cup of Leiva's Pumpkin Crème Brulée. This blend offers a captivating blend of rich coffee and luscious pumpkin cream, creating a flavor fusion that delights the senses. Meticulously crafted using the finest coffee beans, Leiva's Pumpkin Crème Brulée Roast offers a perfect balance of pumpkin sweetness and velvety smoothness. The small-batch roasting process ensures that every bean is roasted to perfection, unlocking the unique flavors of pumpkin and creamy caramel. Experience the enticing aroma of pumpkin spice and creamy notes that fill the air, setting the stage for a truly indulgent coffee experience. Treat yourself to the warmth and comfort of Pumpkin Crème Brulée, perfect for cozy mornings, gatherings with friends, or a moment of self-care. Curated for brewing methods like Drip Coffee, it's the perfect way to elevate your daily coffee ritual.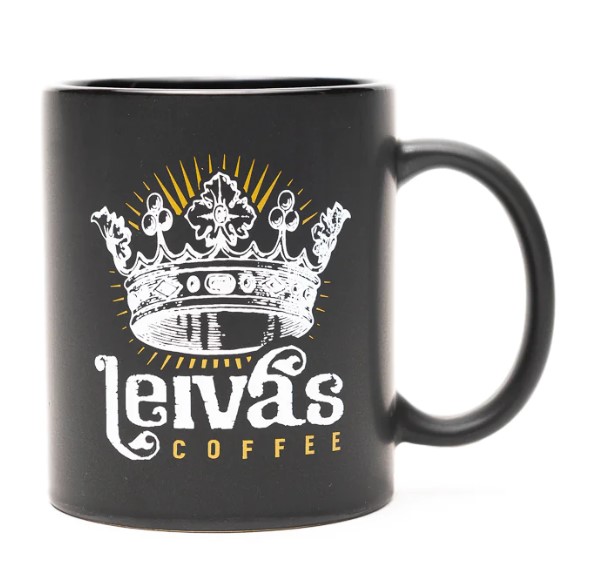 Introducing Leiva's 12oz C-Handle Matte Black Mug – the perfect companion for enjoying your Pumpkin Crème Brulée Roast coffee! Whether it's the start of your day or a peaceful afternoon break, this mug is designed to enhance your sipping experience. Elevate your daily coffee ritual with this chic, super cool mug that effortlessly blends style and functionality. And here's the best part: it's microwave and dishwasher SAFE, ensuring you can enjoy your coffee without any fuss and keep the good times brewing.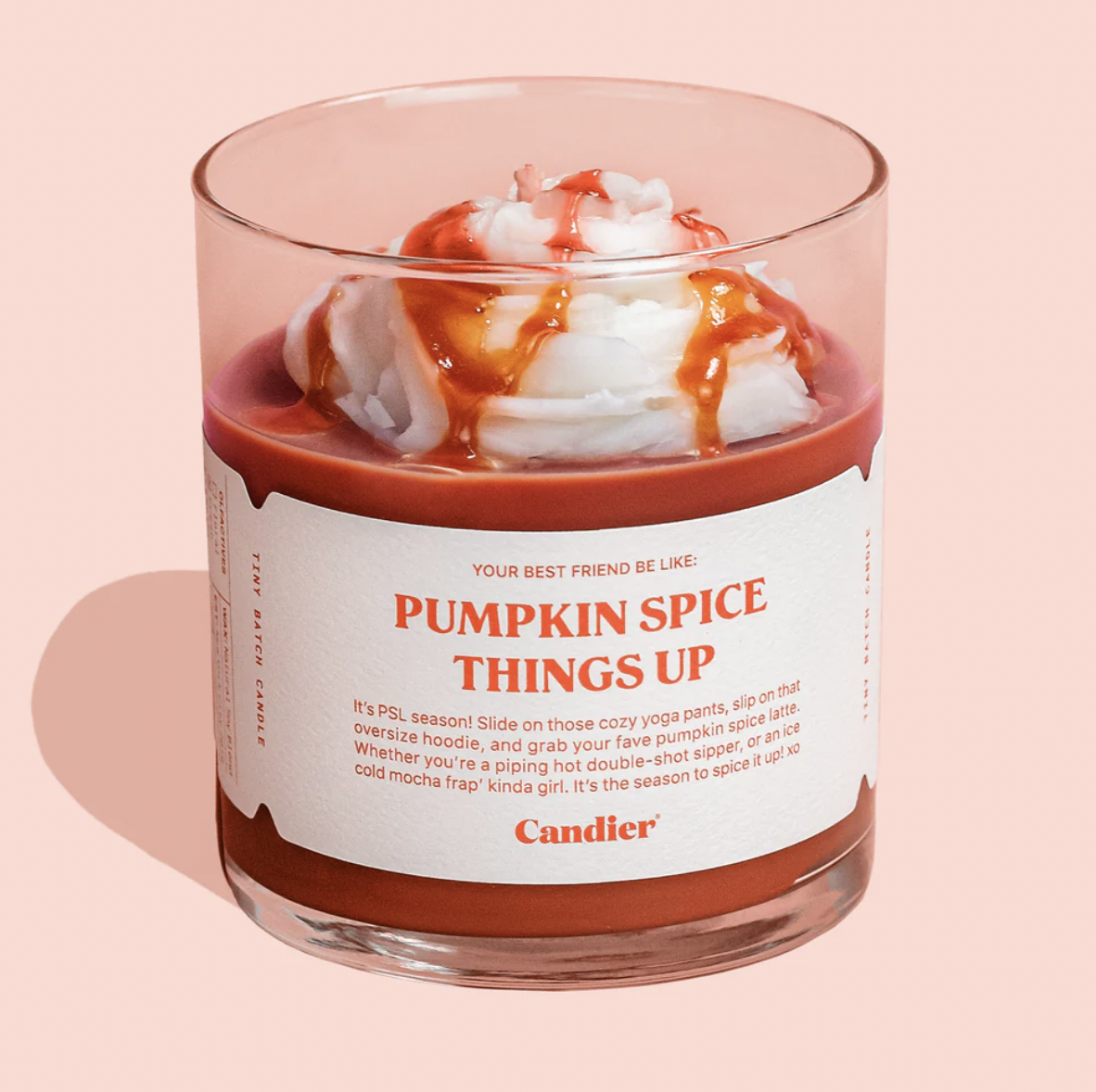 Candier is the ultimate sustainable candle and accessory brand with a side of sass. With a variety of playful candles and accessories, including charm bracelets, key chains, matches, and more, Candier is on a mission to inspire good vibes through empowerment and self-expression. Candier's flagship candles are poured in the U.S. with pure, natural sustainable soy wax and are cruelty-free and blended with essential oils. Initially started as Ryan Porter, a cult personalized jewelry brand, Candier was launched in 2016 as the retail-ready sister brand focusing on accessories and home fragrances. Candier is now a fan-favorite at large retailers including Nordstrom, Ulta, and Urban Outfitters, and has collaborated with major brands including Disney, Tinder, and Victoria's Secret.
We have a secret obsession with this candle brand and it's not JUST because their candles look good enough to eat. We've been known to scour the likes of Home Goods looking for that ONE that somehow ended up on their shelf!!!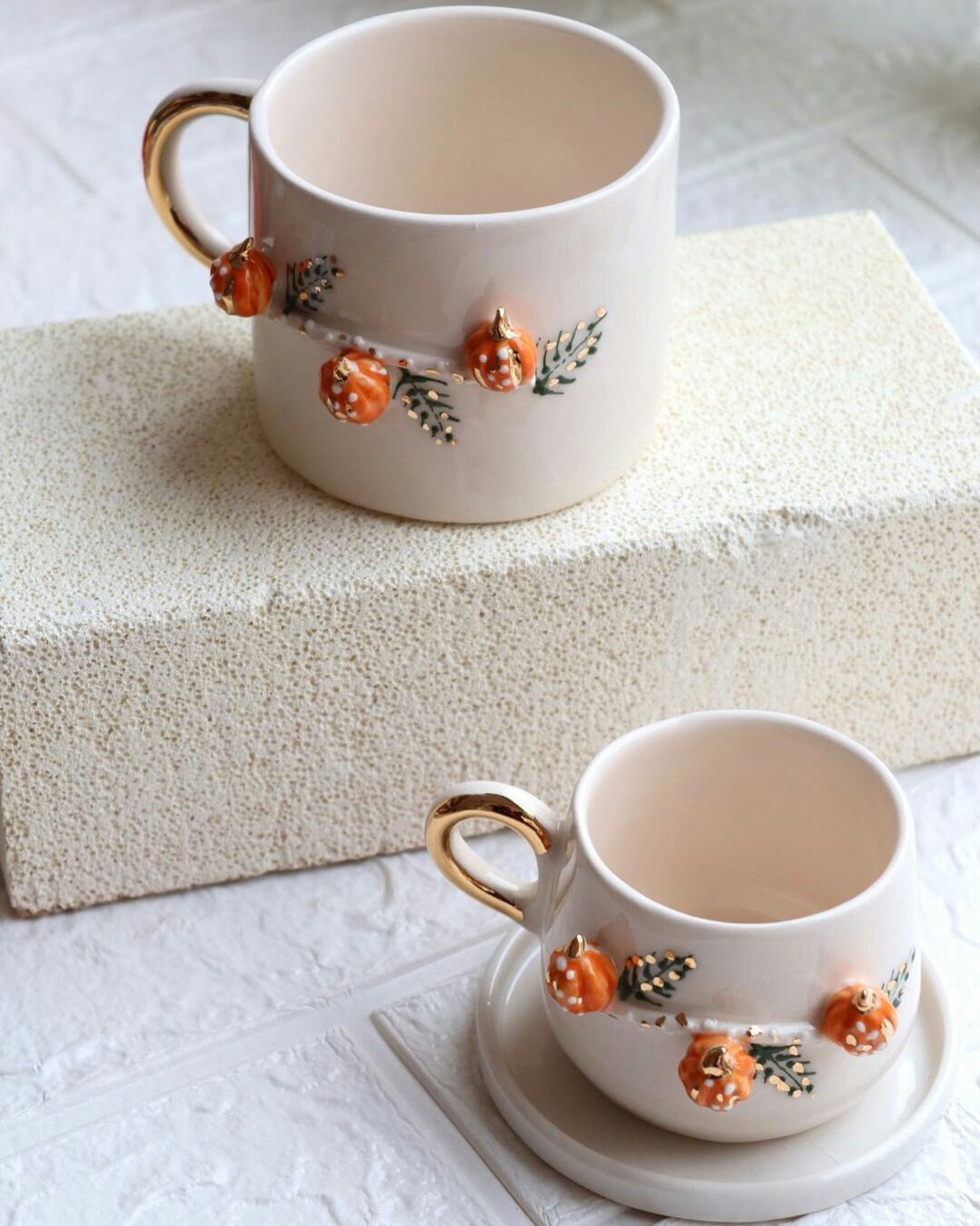 Sip your pumpkin spice beverages in style with a handmade pumpkin-themed ceramic mug from Enjoy Ceramic Art. Each piece is a work of art and a perfect addition to your fall decor.
Each mug is handcrafted with intricate pumpkin details and a stunning gold handle so that no two mugs are exactly alike. It's perfect for that special Pumpkin Latte treat to indulge not only your tastebuds but to also add a touch of elegance and beauty to your morning routine with this mug that's perfect for the season.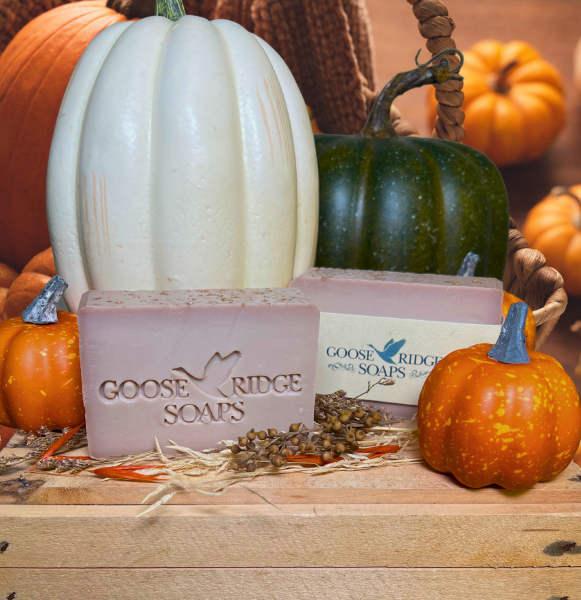 Elevate your daily skincare routine with Goose Ridge Soaps' Pumpkin Spice soap. Infused with the warm and inviting scent of pumpkin spice, this soap not only cleanses but also pampers your skin, leaving you feeling refreshed and ready to embrace the season. Crafted to perfection, this soap is an ode to the favorite aromas of fall and offers your skin a nourishing and tender touch free from harsh chemicals, parabens, and sulfates.
Each bar is handmade and available to ship anywhere in the US & Canada. This bar is one of our seasonal favorites and will be available through October 31st or while supplies last! Don't miss the chance to get yours before it's gone and indulge in handcrafted elegance with this Pumpkin Spice Soap and breathe in the rich and happy scent of fall!
We hope you've found the perfect pumpkin spice products to enrich your autumn experience. From delectable treats to comforting scents, these items capture the essence of fall and offer a cozy embrace during the season. Whether you're sipping a warm pumpkin spice latte, lighting a scented candle, or indulging in a sweet treat, each of these products has been carefully selected to enhance your fall festivities. Embrace the flavors, fragrances, and ambiance of autumn, and make this season truly special with the delightful offerings from our guide.
Happy pumpkin spice season, and may your days be filled with warmth, joy, and the unmistakable charm of fall!