Ulysses Press Products in Every Genre!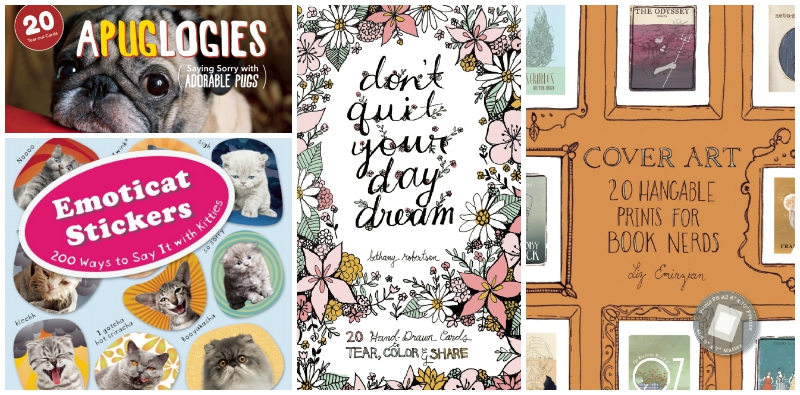 When the package from Ulysses Press landed at my door, I opened it to find a selection of goodies for everyone on my Goodies List.  Being a Literary person, I generally gift all my friends and relatives, babies included, with art books, journals, sticker books, doggie or cat books and any kind of written genre book I can find.  Ulysses is a small up and coming press that indulges my every interest in every genre I can think of!
Emoticat Stickers for Cat Lovers
Emoticat Stickers provides 200 feline peel and stick stickers with every single emotion available to humans on a real cat face!  Wonderful gift for cat lovers or people who have a hard time expressing themselves – have at it with these adorable cat emoticon stickers! ($14.95 retail). Available at Amazon.com and other retailers.
Apuglogies
Saying Sorry with Adorable Pugs
A funny, heartwarming collection of perforated, tear-out, apology cards featuring super-cute pug photos!
We all have to apologize sometimes!  Instead of a hard to do conversation, send a card with an adorable pug saying I'm sorry in many different adorable ways.  Made a mess of it? Use APUGLOGIES!  $7.95 retail.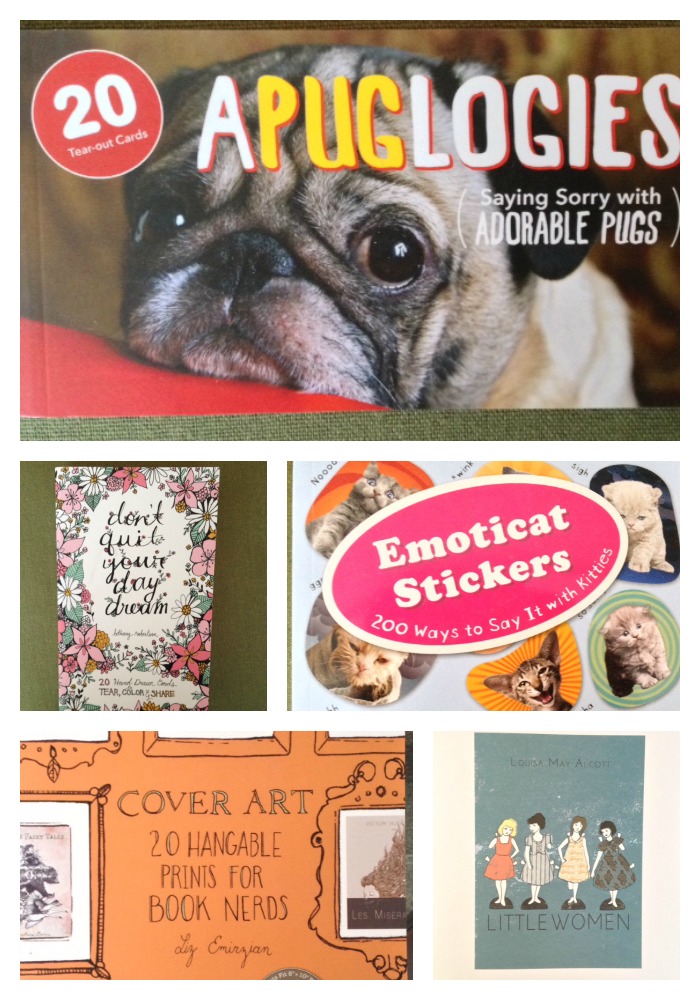 Cover Art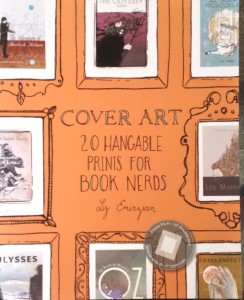 20 Hangable Prints for Book Nerds
Original cover designs for history's greatest novels that can be framed as individual artworks
From the Ulysses Press website:

"Moby Dick. Pride and Prejudice. The Adventures of Sherlock Holmes. Everyone has their favorite works of classic fiction. But how to showcase this passion for great novels? With Cover Art, book lovers receive 20 tear-out prints on high-quality cardstock that allow them to literally hang their love of literature on the wall for all to see".
What a great gift idea! 
I love that all my favorite classics are included in this tear out cardstock book – all you do is tear and frame and the posters are high quality – great gift idea!  $15.95 retail
Don't Quit Your Day Dream
20 Hand Drawn Cards for Adult or Child Coloring
Creative and cute, a fun way to draw or color and frame for kids or adults.  Just fill in with your favorite medium, tear out and send, share or frame! $12.95 Pick this one up at Amazon.com & have fun creating your "own" cards.
Great little press with literally hundreds or unusual genres and items to choose from for a unique Valentine's Day gift for your family or friends!
Ratings are based on a 5-star scale 
Overall: 3
Review by Broad "A" 
We received a product to facilitate our review. All opinions are our own
DETAILS