SKINNED? Only the Natural Way!!
Made from Earth Plant Stem Cell Therapy
(Organic holistic skincare)
I often use Made from Earth products because I believe in natural oils and all natural ingredients. When the company came out with its new Plant Stem Cell Therapy cream, I was hot to trot to try it. I have 65 year old skin and I live in Utah. Although I am blessed with great Irish skin, Utah is dry and has the worst air and inversion in the United States (I live in the basin of Salt Lake City). To counteract the harsh weather and dry desert conditions, I use different products and lots of moisturizers. But I not only want to protect my skin from mountain altitudes and sun as well as cold and snow, I want my skin not to just survive but FLOURISH. Hence, organic skin products for me!
My skin knows when it feels good. The folks at Made From Earth have produced Plant Stem Cell Therapy face cream with BOTANICAL hyaluronic acid and organic plant stem cells, which helps to keep skin moist and help promote collagen growth and skin protection.
Great for aging skin, the company states that the product helps fight fine lines and wrinkles as we age. And I need this desperately!
I personally tried Made from Earth Plant Stem Cell Therapy and here are the results: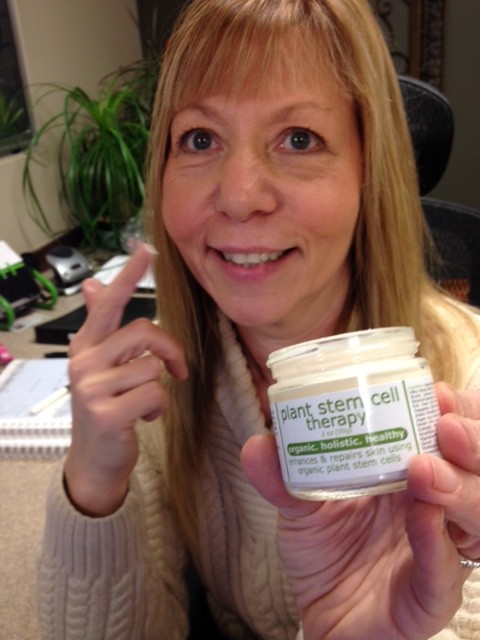 FEEL
One of the thickest, creamiest products I have ever tried on my face. Almost like whipped butter but much creamier. The scent is absolutely alluring, smelling like organic chocolate potpourri! I loved it going on and the smell is lovely. Very very thick but never greasy, feels like a tender emollient on my face, no tingling, just restful moisture. Great feel on this product.
RESULTS
I have only used Made from Earth Plant Stem Cell Therapy for one week, and intend to finish off the bottle. After one week, I used a very little amount of the 2 ounce jar as a tiny bit goes a long way. I noticed that my skin stayed soft and glowed all day (I used the cream morning and then at night when I went to bed). Since I don't have long term effects on the product yet, I will say that I adore the ingredient list and the moisture protection I have seen so far.
INGREDIENTS
Organic Herbal Hydrosol, Organic Aloe Vera, Organic Mango Butter, Organic Cocoa Butter, Glyceryl Stearate, Cetearyl Alcohol, Safflower Seed, Cassia Angustifolia Seed Polysaccharide (Botanical Hyaluronic Acid), Globularia Cordifolia Callus Culture Extract (Plant Stem Cells), Glycolic Acid, Stearic Acid (Plant Derived), Sunflower Seed Oil, Palmitoyl Triepeptide-3, Silk Protein Amino Acid Blend, Olive Oil Squalene, Kosher Vegetable Glycerin, Undaria Pinnatifida Cell Culture Extract (Wakame Bioferment), Palm, Organic Rosehip Seed, Organic Evening Primrose, Pink Grapefruit, Organic Violet, Eyebright, Green Tea, Horse Chestnut, Algae Extract, Caffeine, Raspberry Seed, Sea Buckthorn, Potassium Phosphate, Decyl Glucoside (plant derived), Glyceryl Caprylate, Sodium Carbomer, Sodium Hydroxide, Vitamin E, Ethylhexylglycerin, Honeysuckle Flower Extract, Honeysuckle Extract.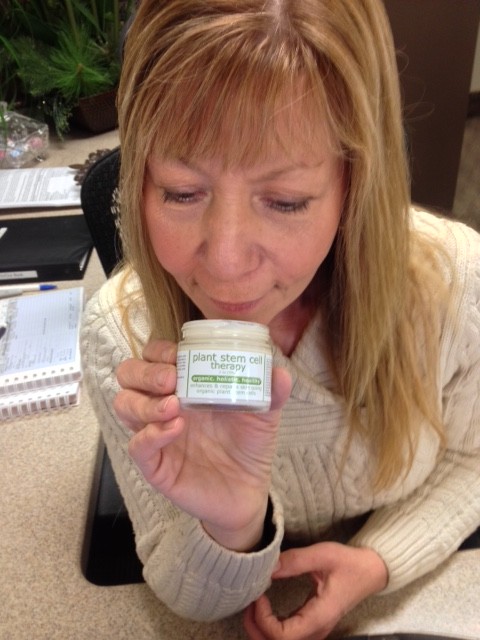 KEY BENEFITS
• A proprietary combination of plant stem cells that improve skin tone and luminosity
• Fights free radical damage and establishes visibly firmed skin
• Moisturizes with organic aloe vera, raspberry seed and rosehip
• Renews the surface layer of skin using hyaluronic acid, glycolic acid and protein peptides
MY OPINION
I gave the cream to a friend of mine Debby as you can see from the pictures. She agreed wholeheartedly that the smell and texture were amazing, but did not actually try the cream. I believe in Made from Earth and I do not expect miracles from a product. What do I expect? I expect skin protection, good moisturizing and an increase in good skin tone within a one or two month time frame. For right now, I can tell you my skin is bright and soft and glows. That is enough for me to keep using this product!
DETAILS