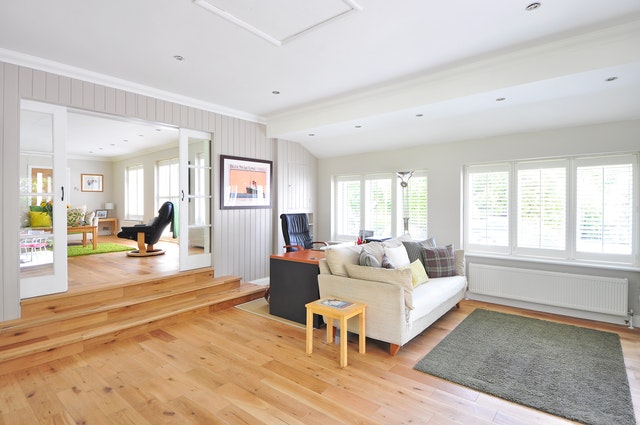 Picking the perfect flooring for your family home can be a challenging and overwhelming choice. The type of flooring your pick will entirely change the atmosphere in the room and will impact future home renovations. 
And, aside from style and look, it is also important to keep in mind whether the choice you make is suitable for your lifestyle, budget, and daily comfort. With so many aspects to keep in mind, picking the right type of flooring for your home might seem impossible. So, here we have put together the reasons why you should opt for a wood floor and what to expect from your choice. 
They Create a Healthier Environment
A room's flooring can make or break the atmosphere in a space, but it can also influence our health and daily life much more than we tend to realize. Indeed, if you currently have carpet in your home, you should be aware of what influence it has on indoor air quality and environmental health. 
It has been seen that carpet can become a cradle for mites, pollutants, allergens, and mold spores. Because of the difficulty house owners encounter when cleaning their carpets, they can also become the place where dust and dirt accumulate over time. 
When swapping your current carpet flooring for a wooden one, you will curb the spread of these substances, which can be harmful to your health and one of your family. 
They Make Your Home More Sustainable
Wooden floors are extremely pleasant to look at and give your home that rustic or minimalist look that you have always wanted to chive. However, they can also be the best choice if you are trying to make your home a more sustainable environment for all. Indeed, wood is a naturally insulating and warm material that can help you keep your home warmer and healthier. In turn, this can help you reduce your use of energy in your household, making your home even more sustainable. 
They Offer a Timeless Design
When installing wood floors, you are making a long-lasting investment that will give your home a modern and natural look for years to come. Indeed, with the right maintenance, your wood floors can remain beautiful and stylish throughout time – and they won't go out of style! Today, an increasing number of homeowners have started to embrace minimalist looks and styles for their home – something that your wooden floor would complete to perfection!
They Are Easy to Maintain
If you have been looking after your carpet for years, you know that it is not the easiest material to keep clean. Indeed, walking on it every day will cause it to become dirty and stained, giving the room a shabby look and holding dirt and dust. Wood floors, instead, can be easily wiped and maintained clean and free of scratches and dirt with just a simple routine. 
They Improve the Value of Your Home
New flooring is one of the aspects to consider if you wish to increase the value of your home. If you have installed wood floors just before selling your home, you can enjoy an increase in price and expect to see a better return.