With the dawn of a new decade just days away, your thoughts are likely to be turning to resolutions and goal setting that can help you to make 2021 your year. It's been really tough to stay positive in the last few months with the different trials and tribulations that have troubled the globe, so it's vital that you can head into the new year with hope and determination to make it as memorable as possible. Luckily it needn't be difficult to ensure 2021 is a year to remember, as there are a few key areas in which you can focus on the efforts that will aid you in getting the most out of each and every day! So, if you would like to find out more, then read on to uncover some of the greatest tips and tricks that you can utilize to start the new year with your best foot forward.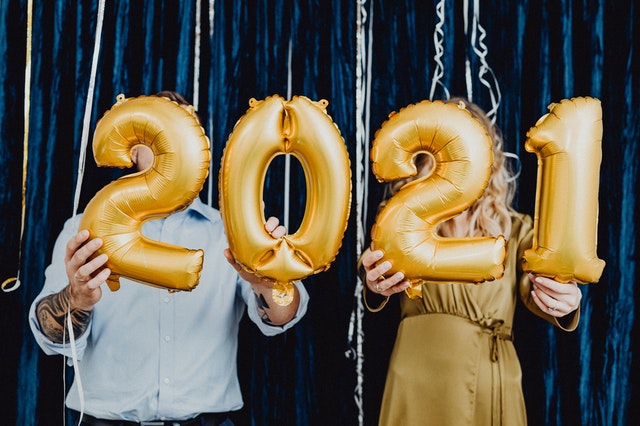 Make Your Health A Priority 
One of the most essential steps that you should take in order to make sure 2021 can be a truly brilliant year involves making your health a main priority. Your physical wellbeing will contribute massively towards what you're capable of achieving, as poor health can hold you back from taking part in many different activities. The easiest way to improve your health is through food, as a balanced diet that's made up of natural, nutritionally rich ingredients is sure to give you a whole new lease of life! It's far too easy to exist on ready-made microwaveable meals and takeaways, as you can now even order all manner of junk food to be delivered straight to your door from your smartphone. However, it's important to recognize that it's highly unlikely these options will provide your body with any benefits whatsoever, potentially causing issues like high cholesterol, diabetes, and obesity instead. It's not easy to block out these detrimental food choices when they're plastered over roadside billboards and cramming up your emails junk folder, but the difference that a diet change can make to your overall wellbeing will make your commitment and hard work more than worth it. A healthy diet should consist of a few main food groups – complex carbohydrates such as brown rice or oats, lean protein like beans or chicken breast, fruits and vegetables, and small portions of 'healthy' unsaturated fats like nuts and avocado. Changing your diet for the better may mean that you have to spend more time in the kitchen, as you'll soon realize that it's far easier to monitor ingredients by cooking meals yourself from scratch compared with constantly having to read through the long list of 'ingredients' detailed on the back of food packets. A whole foods diet is always your best bet, as it focuses on natural ingredients that are filled to the brim with vitamins and minerals that can boost your energy levels and support your immune system, so it's a great idea to have a look online for a few different recipes that you can experiment with. Each year brings about new diet fads and food trends, including 'gluten-free' eating, paleo diets, and plant-based food that you may wish to try, but any extreme eating habits will do nothing but cause damage to your health and wellbeing. 
Practice Mindfulness & Meditation 
Your mental health is equally as important as your physical health, but it takes a whole different approach when trying to keep your mind healthy. There's nothing worse than the feeling of a dark cloud following your every move or a constant fear of failure pulling you to the sidelines, so making the decision to Alex part in beneficial practices such as mindfulness and meditation can change your life dramatically. Life in today's modern society is prone to certain stresses, whether this is related to your health, work, family, love life or anything else for that matter – though these stresses are common, you needn't let them have a negative effect on your quality of life. The practice of mindfulness encourages you to exist in the here and now, appreciating and making the most of every minute as it passes rather than living in past memories or future expectations. Mindfulness can help you to give a greater value to the small things like the birdsong outside your bedroom window in the morning or a friendly smile and wave from your neighbor as you leave your street, and this can put you in a great mood for the rest of your day. Meditation is a tradition that has been utilized by millions of people for thousands of years, and it's a super simple practice that doesn't require any special skills or equipment to get started. Find a quiet space in which you can sit down and focus, allowing your body to relax, relaxing your muscles, unclenching your jaw, and just letting your mind free itself of any passing thoughts or concerns. Focus on your breathing, taking deep breaths in through your nose and out through your mouth in a slow rhythmic pattern for as long as you can. Allowing your mind to focus exclusively on your breathing for increasing amounts of time can help to manage your stress levels, as you'll be able to assess and brush away any passing thoughts that actually aren't as important as you once thought they were to maintain your focus and feel a sense of calm and tranquility. This practice can be utilized in different situations in your everyday life, allowing you to form reasonable arguments rather than shoot from the hip in a heated confrontation, as well as recognizing toxic situations and behavior. 
Achieve Financial Stability 
No matter how physically and mentally healthy you are, experiencing financial difficulty can have a drastic effect on your quality of life. It can cause trouble sleeping, an inability to socialize, decreased confidence, and many more issues that will encourage your year to be a truly testing time, and that's why it's so vital that you can take the time to seek out financial stability by improving your position. It's not an easy task and it can take time to sort your money troubles, but the first and most important step is the decision to commit yourself and make an improvement. One of the best ways to achieve eventual financial stability is by cutting your living costs, as any money that you spend on food, bills and any other personal extras can really add up over time. Decreasing your food bill by opting for dried products over fresh (e.g. pasta, legumes), utilizing bulk buy options, and visiting market stalls and farms for meat and vegetables rather than supermarkets will help you cut your spending considerably. Saying no to extra treats like day trips, meals out, and clothing may be difficult, but it can help to ensure that you achieve financial stability sooner rather than later. You may have other monthly repayments such as mortgages or other loans that are taken from your account, and it's vital that you can utilize an amortization calculator to make sure you're paying the right amount. Unfortunately, it's common for overpayments to take place, with all manner of payments that process through your account, so using your initiative to double-check your receipts and bills against your bank statement will allow you to identify and investigate any potential discrepancies. Gaining more financial freedom will allow you to be completely independent and self-reliant, and your stress levels will start to slowly fade and you increase your bank balance and pay off any debts that have troubled you in the past. 
Learn A New Creative Skill 
What could be a better way to make 2021 a memorable year than indulging in a new creative passion? Learning a new creative skill is a great way to express yourself and release your emotions, as each project can take on a completely different form to reflect your current mood and style. You can choose to explore something calming such as knitting or painting, or pursue an outdoor activity like nature photography! There are so many options that you can get involved in to let your creative juices flow, and the internet is rife with tutorials that you can follow to occupy a few afternoons. Taking up a new hobby can also help to give you a sense of purpose, so it's a great idea to consider to make 2021 a year to remember. 
Making the most of a whole new decade needn't be difficult when you take the time to utilize the brilliant ideas that have been described above! Start off by switching up your diet to add more whole foods to your plate, as regularly consuming unhealthy junk food can cause a whole host of issues that can easily be avoided with natural produce. Practice optimism, mindfulness, and regular meditation to achieve a sense of calm and improve your patience, and commit to resolving any financial issues that are currently causing you distress.