There are many things that can cause a cat to feel anxious. Some common causes of anxiety in cats include changes in their environment, like moving to a new home or the arrival of a new pet; health problems, like pain or an illness; and fear of loud noises or other animals.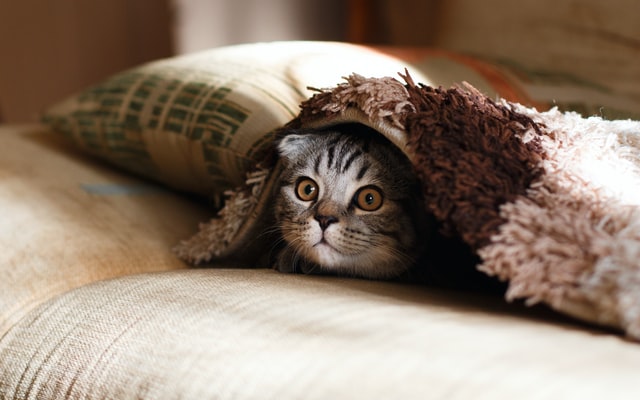 If your cat is prone to anxiety, there are a few things you can do to help them feel more relaxed. One option is to try using natural remedies like herbs or essential oils. You can also try using pheromone products designed specifically for cats. If your cat's anxiety is severe, you may need to consult with a veterinarian about prescribing medication.
Here Are Some Of The Most Popular Natural Remedies For Anxious Cats:
Create a safe space: 
Provide your cat with a quiet room or area where they can go to feel safe and secure. This should be an area that is free from loud noises and other animals. Make sure the room is well-ventilated and has plenty of hiding places, like boxes or blankets, for your cat to hide under if they feel scared.
Provide enrichment: 
Help your cat stay active and mentally stimulated by providing them with toys, scratch posts, and climbing structures. This will help them burn off any excess energy and keep their minds occupied.
Herbs: 
Some common herbs that can be helpful for anxious cats include chamomile, lavender, and valerian root. You can give your cat these herbs in capsule form or make a tea by steeping them in boiling water and then adding some honey to sweeten them.
Essential oils: 
Some people use essential oils to help calm their anxious cats. Oils that are said to be helpful include lavender, chamomile, and valerian. You can add a few drops of oil to your cat's bedding or diffuse it in the room where they spend most of their time.
Pheromone products: 
Pheromones are chemicals that animals produce that affect the behavior of other animals of the same species. For example, there are pheromone products available for cats that mimic the calming pheromones that mother cats produce. These products can come in the form of sprays, diffusers, or collars.
Prescription medication: 
In some cases, anxiety in cats can be severe enough that prescription medication is necessary. If natural remedies or pheromone products do not help your cat's anxiety, talk to your veterinarian about the possibility of prescribing medication.
CBD oil is a popular natural remedy for a variety of issues in humans, and it is also effective for some cats. CBD oil can help to reduce anxiety, pain, and inflammation. You can give your cat CBD oil by adding it to their food or placing a few drops on their nose or paw.
Final Thoughts
As you can see, there are a number of different options when it comes to natural remedies for anxious cats. Talk to your veterinarian about which option might be best for your cat, and try out a few different things to see what works best. With a little trial and error, you should be able to find something that helps your cat feel more relaxed and less anxious.