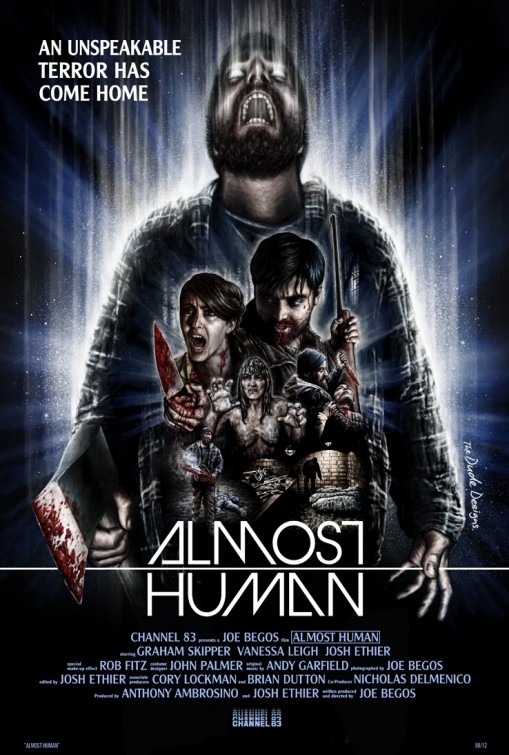 Almost always when left to my own devices as a teen I would watch horror movies.  There was something about them I always connected with.  I would watch anything-possible good and bad and the awful.  They were all magnificent in their own way,  you almost always know what's going to happen and how it is going to happen.  The film Almost Human is a love letter to the films I grew up with.  But did I love this flick? Am I biased because I know a few people that worked on it?  Probably.
But First a Synopsis
Mark Fisher disappeared from his home in a brilliant flash of blue light almost two years ago. His friend Seth Hampton was the last to see him alive. Now a string of grisly, violent murders leads Seth to believe that Mark is back, and something evil is inside of him.
Pretty basic horror plotting which makes for a ton of fun.  It's absolutely straight-up, with nothing complex or contrived, just a decent, well made horror film with some excellent, splatty practical effects.  The entire movie play like a series of scenes giving homage to classic horror directors.  There is the Carpenter scene a giant nod to Halloween, the Chronenberg scene where they raise the visual stakes, a few Thing references, and some definite Body Snatchers references.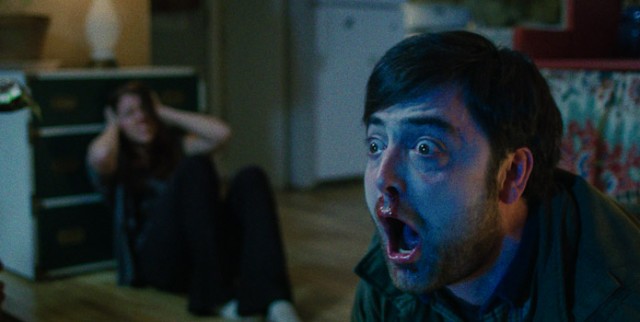 The acting in 'Almost Human' is kind of blah but honestly if you're looking for acting here you're in the wrong place. Then again, it's better than most of the Twilight performances and you sat through those too, didn't you?  Honestly, this flick was just a fun love letter to great horror of the 70's and 80's.  It's not a great movie but all of the visual references are a lot of fun to pick out and all the splatter was cheer worthy.  BTW the score was amazing!
Now off to the special features which there are plenty of.  We have two commentaries the one with Begos and Ethier is so informative and the other is more fun.  There is an amazing making on feature (Am I just saying that because one of my best friends made it?).  However it is more comprehensive than any other BTS feature I've ever seen.   We also get a shorter version of the BTS.  We are also treated to Toxin which is a really fun Short and some extra BTS stuff with Skipper.  There are various trailers too and a great photo gallery.
All and all, the movie is fun. 
Have a few beers yell when someone is getting killer in an insane way.  However there isn't much more to the movie, its simple, either you grew up liking moves like this or you didn't.  For people like me there is definitely a lot to love because it feels like an 80's midnight movie without the shit eating grin that every movie has these days.
Ratings are based on a 5-star scale
Overall:  3 of the most F'ed up horror sex scenes ever out of 5
Review by Bro "B" – Ben
We received a copy of this blu-ray for our review. All opinions are our own
Almost Human
 is available on Amazon.com and other DVD retailers.