When I received my Traveller Moccasin from Manitoba Mukluks, I was THRILLED!  The suede leather covers the sole area and the wool lining made them WARM and toasty!  I am ALWAYS looking for unique gifts for birthdays and Christmas and Hannukah, and these moccasins are so chic and unique, that I went to the Manitoba Mukluks website and LOVED their full deerskin boots.  Utah gets COLD in the winter and every pair of UGGS that I have had have fallen apart after one season (well, I wear them in the winter snow, rather than at the ski lodge, so I guess I can't complain) but I wanted A NEW LOOK for this winter.  I HATE wearing the same thing everyone else is wearing, and love Canadian products.  PLUS these are authentically made moccasins with beautiful and intricate beadwork on the face of the moccasin – AWESOME!
"Our story begins in Canada thousands of years ago, when our ancestors created the mukluks and moccasins you see in these pages.

Throughout history, Aboriginal nations used distinctive leather, furs and beadwork to reflect their individual customs and culture.

Today, as Métis, we continue this tradition by creating authentic, functional footwear that connects our past with new materials and production techniques.

Stitch by stitch, bead by bead, we tell the story of our People".
I received a beautiful pair of The Travellers, a blue suede leather moccasin that has rabbit trim and is lined in shearling.  They have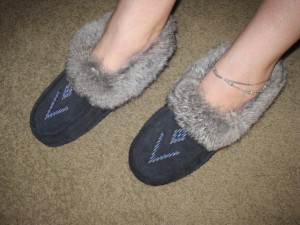 hand beaded work on the tip of the moccasin, and the suede wraps around the entire sole area.  Not only beautiful, these moccasins are warm, cozy, and chic.  I wear them as slippers, but I can envision them with skinny jeans and a swank silk top – GORGEOUS!  They retail for $109.00 on the Manitoba Mukluk website and the quality of stitching and workmanship alone is worth every penny.  These are not ACORN type slippers; these are hand made and show it, and the contour of the shoe is not only exquisite, but they fit like a glove.
The leather boots are unique also and I urge you to check out the website, and order a pair for the winter so you can DIVA DIVE into the snow this winter!!!!!  All of Manitoba boots, moccasins, purses and vests are handmade and hand beaded and I just fell in love with every single one of them.  They are lined in wool, with rabbit fur and other furs and made of leather or soft deerskin.  Keep the tradition alive and go see these lovely items on their website!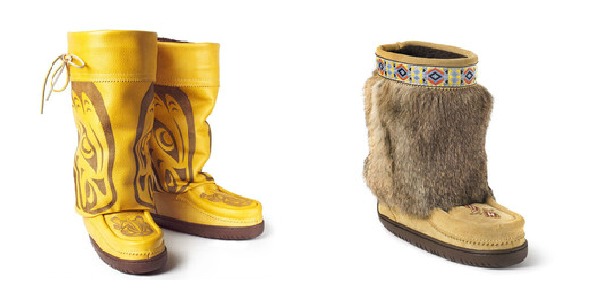 I give these gorgeous moccasins and boots a High Five!!  Loved them!
Manitoba Mukluks can be found in retail stores around the world or from their website.
Ratings are based on a 5-star scale

Overall: 5

Review by Broad "A" – Ava
We received product for this review.. All opinions are our own.