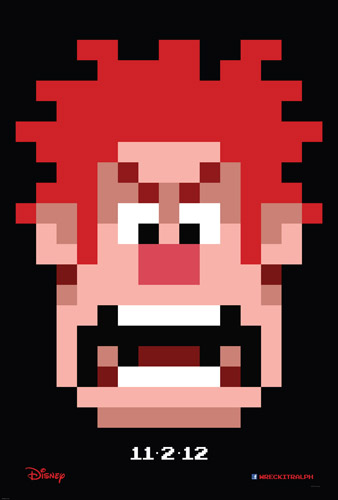 It seems that every time I mention Disney lately Bro' B starts going on and on about Wreck it Ralph? Really dude? You're a 29 year old man and you're obsessed with a CARTOON? So, just to see what all of his chatter was about I watched this trailer. I know he was a first generation video game kid, and as soon as the sound began on the trailer it brought me immediately back to HIS childhood. I get it…I guess.
Don't tell him, but I actually love the concept, and the actors involved…well, take a look and you'll understand
John C. Reilly
Sarah Silverman
Jack McBrayer
Jane Lynch
From the synopsis:
 Ralph (voice of John C. Reilly, "Talladega Nights: The Ballad of Ricky Bobby," "Step Brothers") is tired of being overshadowed by Fix-It Felix (voice of Jack McBrayer, "30 Rock"), the "good guy" star of their game who always gets to save the day. But after decades doing the same thing and seeing all the glory go to Felix, Ralph decides he's tired of playing the role of a bad guy.  He takes matters into his own massive hands and sets off on a game-hopping journey across the arcade through every generation of video games to prove he's got what it takes to be a hero.

On his quest, he meets the tough-as-nails Sergeant Calhoun (voice of Jane Lynch, TV's "Glee") from the first-person action game Hero's Duty. But it's the feisty misfit Vanellope von Schweetz (voice of Sarah Silverman, "The Sarah Silverman Program") from the candy-coated cart racing game, Sugar Rush, whose world is threatened when Ralph accidentally unleashes a deadly enemy that threatens the entire arcade.  Will Ralph realize his dream and save the day before it's too late?
 "Wreck-It Ralph" crashes onto the big screen on November 2, 2012, in Disney Digital 3D™ in select theaters.