Our young reviewer Alex and her mom Melissa had the opportunity to review The Grand Scream of things. As always she doesn't mince words.
The "Grand Scream of Things" was entirely different from my first CD review.  The songs are really long which makes for large breaks between dialogue and story movement so it seemed boring and drawn out to us.  Reggie the Dog was very funny.  The dialogue and narrator were very descriptive and we could understand and picture what was being described.  The story was interesting, and the pictures in the CD insert were helpful in giving us an idea about what we would hear in the story.  We just would have liked to have heard more of the story and less of the songs.
A Hallow"tween" audio play packed with engaging songs and captivating characters that portray a Halloween adventure about a witch who's lost her way and a boy who discovers his
Playlist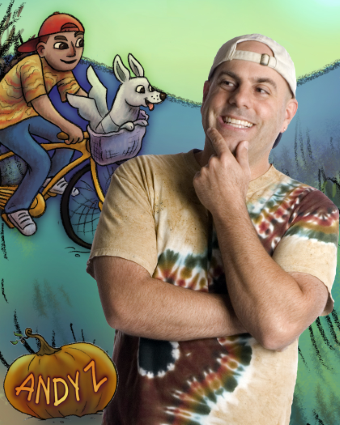 Which Witch Is This?
When You're A Dog
Punkin Patch
Pleadia
How We Roll
Alien Girlfriend
The Right Thing
Blue The Rat (That's Me!)
The Grand Scream of Things
Friends (Finale)
This Halloween fantasy begins with young Andy Z emerging from a dream state where he has been exhorted to "Find the Witch."   Very much in the mode of an "old time radio show" with musical interludes, Andy's day is a series of surreal adventures, which are mysteriously under the spell of his romantic interest, Pleadia, a teenage alien.  TheGrand Scream of Things is like Fibber Magee and Molly meets Sponge Bob on a Halloween Day packed with more stream of consciousness adventure than even James Joyce could "conjure up."
Grand Scream of Things
 is available just in time for Halloween.
We received product to facilitate this review. All opinions are strictly our own.