I participated in an Influencer Activation on behalf of Influence Central for Scleroderma Awareness. I received a promotional item to thank me for my participation.
Scleroderma Awareness Month
June, 2015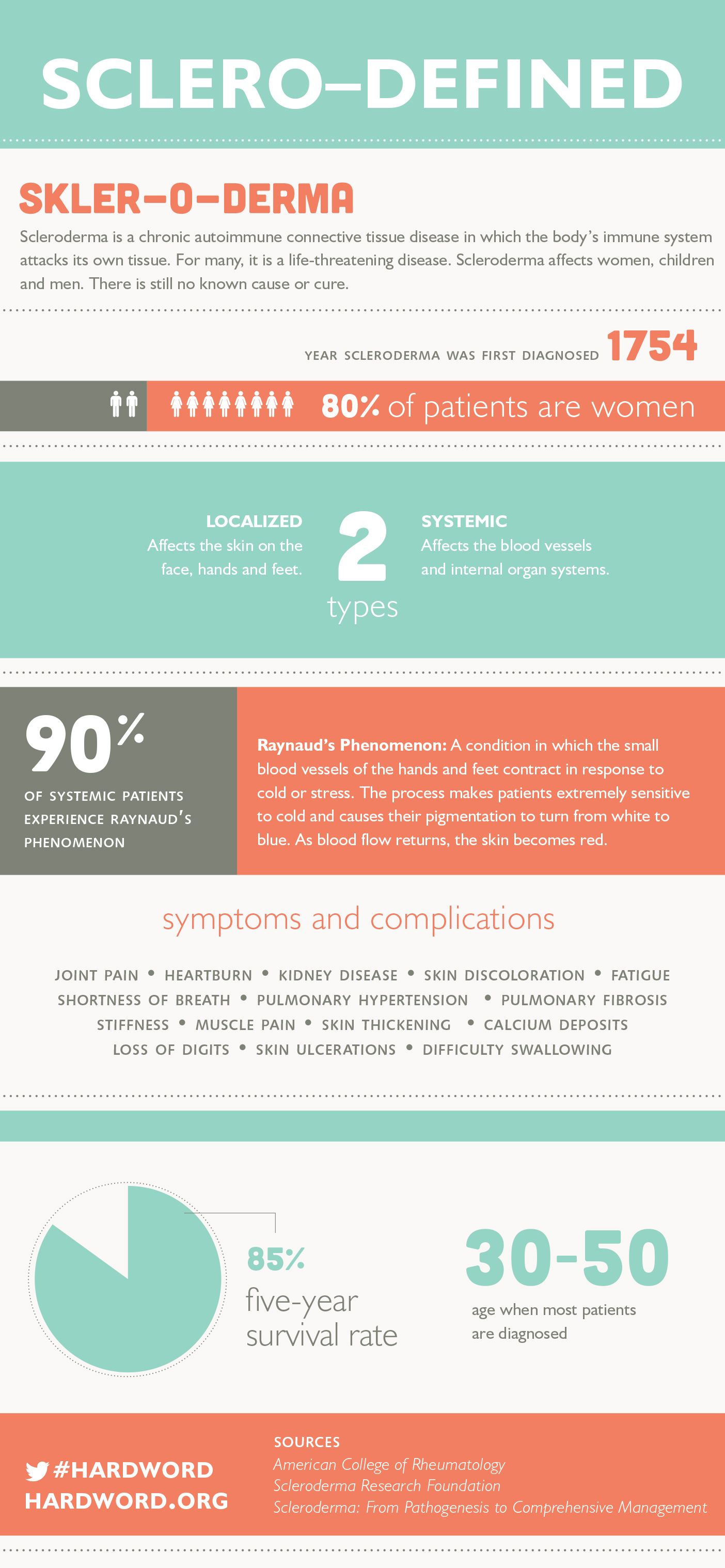 Not many people have heard of the autoimmune disease scleroderma as it is rare (scleroderma affects only 1 in 903 people, usually females) and it is often misdiagnosed.  Scleroderma involves hardening and tightening of the connective tissue and skin in the extremities of the body like the hands and feet and the skin.  It also affects internal organs, the digestive tract, and blood vessels as every case is different.  I have a good friend who has struggled with devastating symptoms for years; scleroderma appeared when she was thirty years old and now 50, she suffers from it.  Scleroderma is not curable but the symptoms are treatable.  We do not know what causes it.  As I watched my friend Ann struggle to raise a family when she could not use her hands to grip things. Trying to grocery shop was terrifying and she became agoraphobic for many years. She suffered terribly for years as her doctors told her it was symptomatic before she found the correct diagnosis. As her friend I became aware of this disease and the fact that we need research and a cure.  I hope you all join me in the month of June and become more aware of scleroderma.  Please take the pledge for scleroderma awareness – it costs nothing and offers us all an opportunity to learn!
Broad Z and I have both signed up and hope you do also.
Symptoms (Mayo Clinic Staff)
"Scleroderma's signs and symptoms vary, depending on which parts of your body are involved:
Nearly everyone who has scleroderma experiences a hardening and tightening of patches of skin. These patches may be shaped like ovals or straight lines. The number, location and size of the patches vary by type of scleroderma. Skin can appear shiny because it's so tight, and movement of the affected area may be restricted.
Fingers or toes.One of the earliest signs of scleroderma is an exaggerated response to cold temperatures or emotional distress, which can cause numbness, pain or color changes in the fingers or toes. Called Raynaud's phenomenon, this condition also occurs in people who don't have scleroderma.
Digestive system.In addition to acid reflux, which can damage the section of esophagus nearest the stomach, some people with scleroderma may also have problems absorbing nutrients if their intestinal muscles aren't moving food properly through the intestines.
Heart, lungs or kidneys.Rarely, scleroderma can affect the function of the heart, lungs or kidneys. These problems can become life-threatening."
So please readers, take a moment to sign up on the Scleroderma Awareness Website listed above and tell at least one other person about scleroderma.  I have an autoimmune disorder myself, and there is no lonelier feeling than to have people look at you and think you are lazy or a whiner when you simply cannot do things because a disease that is invisible strikes you for no reason and you cannot give a simple explanation!  Since 80% of scleroderma sufferers are women, let's raise awareness for this disease!
One of the symptoms of scleroderma is the difficulty digesting foods.  I have included a recipe here for people who suffer from the difficulty of digestion due to scleroderma.
As scleroderma is a very individualized disease, always ensure that a recipe's ingredients meet your dietary needs.
Chicken Noodle Soup with Vegetables
Prep Time: 10 minutes
Cook Time: 25 minutes
Total Time: 35 minutes
Serves: 4 Serving Size: Approximately 2¼ cups
 Ingredients:
½ Tbsp. olive oil
1 cup chopped celery
2 quarts water
2 cups chopped carrots
4 chicken bouillon cubes
½ tsp. salt
2 cups (3 oz.) uncooked, large egg noodles
2 cups diced, cooked chicken breasts
2 cups frozen peas
2 tablespoon cornstarch Instructions:
Add olive oil to a large pot.
Add celery and sauté over medium-high heat
Add water, carrots, bouillon cubes, thyme and salt.
Bring to a boil.
Add egg noodles.
Cook 8 minutes or until noodles are tender.
Add diced chicken and peas.
Cover and simmer over medium-low heat for 5-10 minutes
You can find more Scleroderma recipes  on the Scleroderma site. 
Come on Ladies let's help spread the word!