DERMAFLAGE
Conceals Scars Instantly Silicone Filler for the Face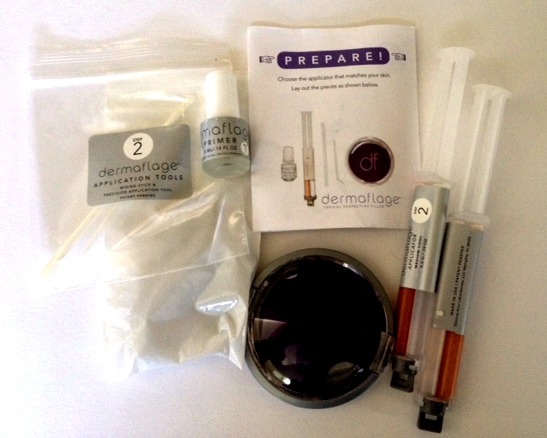 When I was 26 I had skin cancer (melanoma) directly under my right eye.  I remember raging at the poor old Italian man who was the unlucky person to be my plastic surgeon.  "Trust me," he said, "I am the best." "Why should I trust you," I said, "it's not your FACE!."
We argued – a lot – but when I finally got on the table Dr. Cappalano performed a miracle.  I only have fewer wrinkles on that side of my face under my eye! But I wish I had Dermaflage then so many years ago as I was so embarrassed as I healed to go to work with no makeup!  It was real to me and terrifying!
When I read about Dermaflage, a topical skin filler made in Hollywood for special effects that uses silicone, and looks like real skin, I was intrigued.  What a great product for my readers!
Dermaflage covers and fills recessed areas on the skin/face and it is the "first at home cosmetic that fuctions as a second skin to fully cover skin cancer scars on the face or body."  It is translucent and moves with your skin as well as being waterproof.
BEFORE and AFTER from the Dermaflage website:
The application process is almost exactly the same as applying makeup (but do not apply foundation over the Dermaflage application on your face).
Three simple steps:
prime skin
 apply Dermaflage
texture with the included applicators.
Dermaflage is great for wrinkles, acne and chicken pox scars also!  I have only tried the product once with good results.  Like any product, it takes a couple of tries for me to "get it down." I found it simple and it works! The Dermaflage went onto my skin easily and covered beautifully.  I could not get over how realistic the product looked.  And what a great way to affordably cover scars and blemishes that would require surgery or botox or other expensive methods to fix.  No more surgery for me!
Here is the Dermflage YouTube video so you can see for yourself:
The Dermaflage Starter Kit with everything in it that you need for 60 to 200 applications can be found at www.dermaflage.com  and costs about $50.00.  You can also find it on Amazon.com.
Dermaflage says:
Silicone that looks like real sin fills in recessed skin imperfections
Applied like any cosmetic, it lasts for 36 hours and is waterproof
Non-invasive
Dermatologist and clinically tested