The items in this post were sent to us by the brand. We do not charge them for consideration or placement as we prefer to retain the right to not place an item that we don't truly love. We may receive a commission when you purchase via our links.
Thank you to Zippy from Champagne Living for sharing this article with us as we are new parents of an almost 8-week-old and will be celebrating his very first Halloween in a few weeks.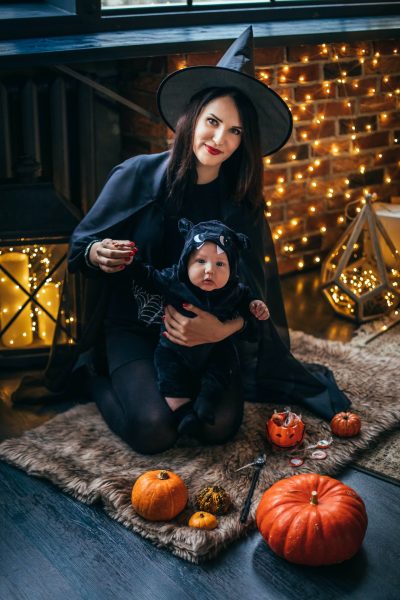 Celebrating your baby's first Halloween is a fun and heartwarming experience that brings joy to both parents and little ones alike. Imagine the older brothers and sisters helping to pick out a costume or have the baby in the carriage as they go house to house. While your infant may not be old enough to embark on the traditional trick-or-treating adventure, there's a world of excitement in dressing them up in adorable Halloween inspired PJ, reading them some not-very-scary Halloween stories, and cuddling with soft stuffed animals that embody the spirit of the season. It's a magical opportunity for parents to create lasting memories and start cherished family traditions, all while relishing in the sheer cuteness of their little pumpkin, ghost, or fairy. So, as the crisp autumn air settles in, let's explore the enchantment and wonder of celebrating a baby's first Halloween in a way that's as heartwarming as it is fun.
They'll be calling for MUMMIE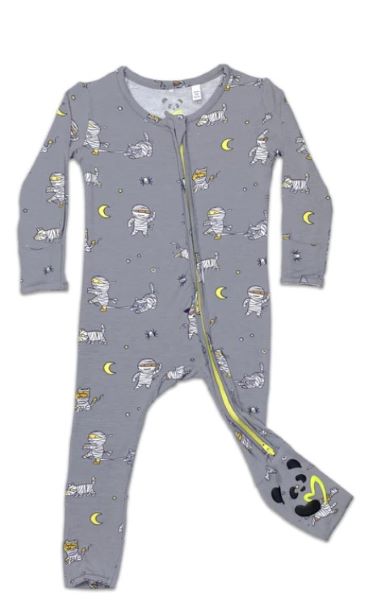 They will Crawl into a world of cozy spookiness in these adorable Mummies Halloween Bamboo Convertible Footie PJs, where cute charm meets comfort for your little one's scary adventures! Crafted with love, this footie pajama showcases an adorable mummy design that captures the enchantment of Halloween. Made from premium bamboo fabric, it ensures your child's comfort is never compromised, providing a snuggly and warm experience. The cute mummy pattern adds an extra dash of excitement to Halloween festivities, making it an essential addition to your little one's Halloween wardrobe. Designed for versatility, this footie pajama features convertible options for quick changes and easy movement, ensuring your child is always ready for playtime or bedtime.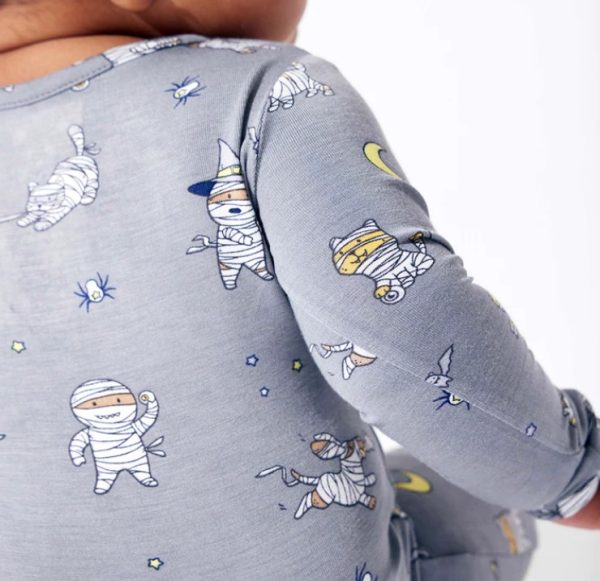 These convertible footies are designed to ease the transition from night to day, cold to warm, feet in or out, making them suitable for all seasons. They feature slip-resistant grips on the feet, a two-way zipper for easy nighttime changes, and hand covers to prevent scratching. They are Oeko-Tex Certified to be completely free of chemicals and pesticides and are tagless for sensitive skin. Made from 95% Rayon from Bamboo and 5% Spandex for stretch, they offer the softest fabric, breathability, thermo-regulation, and hypoallergenic properties, perfect for any climate and your baby's delicate skin. Plus, with each purchase, you contribute to a good cause, as Baby2Baby provides essential items to children living in poverty. Remember to size up for extra room to grow.
Don't miss out on this limited-edition treat! It's been awarded the Seal of Acceptance from the National Eczema Association with a 5 Star Rating, making it a skin-friendly choice that's great for kids.
No Scaredy Cats Here
A fun first touch and feel book that is filled with seasonal fun for little ones. This engaging board book introduces Baby to all of the wonderful delights of Halloween including things like "pumpkin", "costume" and "Trick or Treat" as they feel the textures that make Halloween FUN!
This book offers simple text accompanied by adorable Disney Baby illustrations along with touch and feel elements with some of your favorite Disney characters along the way to help to create a memorable first Halloween experience!
Messy Monster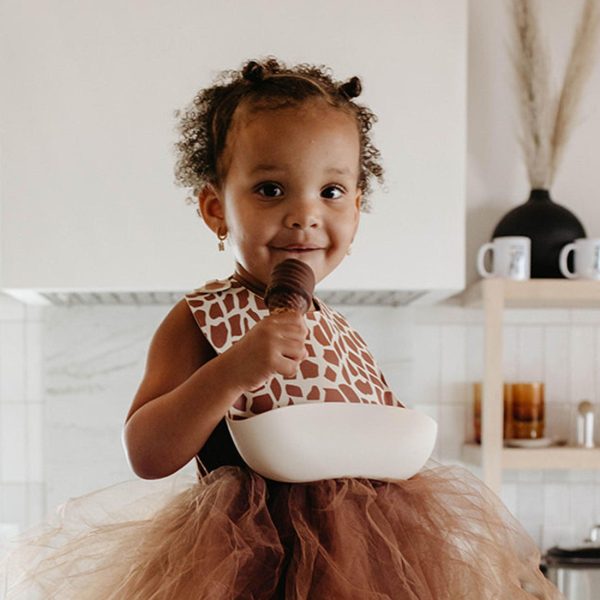 Cole & Gwen has the cutest silicone theme bibs that are perfect for Halloween mealtime. Whether it's dressing your little tot as a hippy in the tie-dyed Shibori bib, a cameo-clad toddler, or a zoo animal print like the Sedona 'Giraffe' repeat Cole & Gwen has an option for all. with fun prints and thoughtful color palettes, these will add some PIZAZZ to mealtime and become a fun way to enjoy a little Halloween treat in style.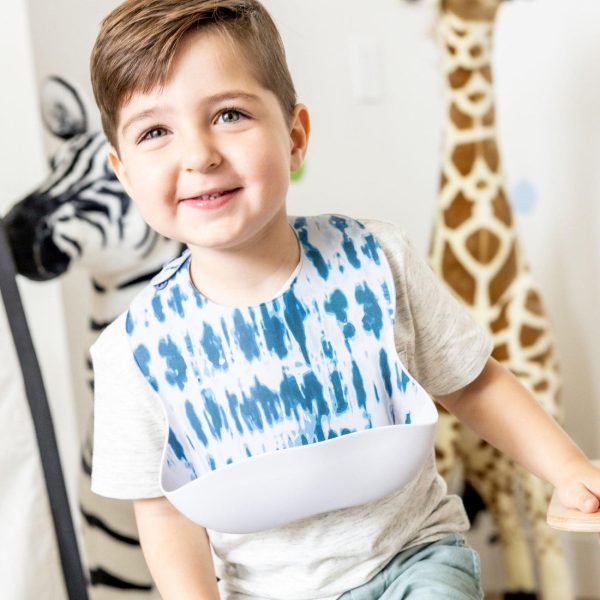 You see these bibs are more than just a mealtime accessory – they're crafted from silky soft food-grade silicone that's FDA-approved, and not only are they gentle on your baby's delicate skin but also 100% free from harmful chemicals like BPA, PVC, and phthalates. What sets them apart is the attention to detail. With built-in snap neck fasteners and a redesigned neckline for a snug and comfy fit, they ensure that mealtime is a comfortable and mess-free experience for your little one.
With a range of beautiful prints and thoughtful color palettes that add a touch of style to your baby's mealtime ensemble the deep front pocket is perfect for catching food crumbs, and keeping your baby and the surrounding area clean. The only hard part is deciding WHICH Halloween theme they want to wear.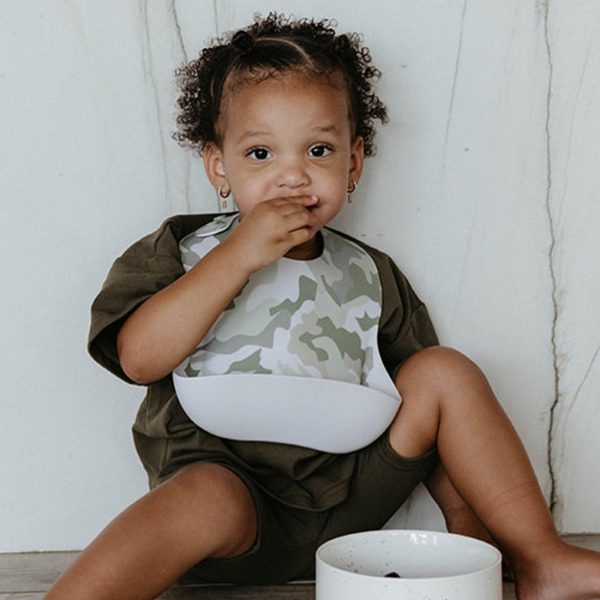 The bibs are recommended for ages 4 months to 3 years and Cole & Gwen donates one to Baby2Baby, an organization dedicated to helping babies get the basic needs they deserve when you purchase. So, when you choose our bibs, you're not just investing in a practical and stylish accessory; you're also making a difference in the lives of other babies in need.
GO AHEAD AND MONKEY AROUND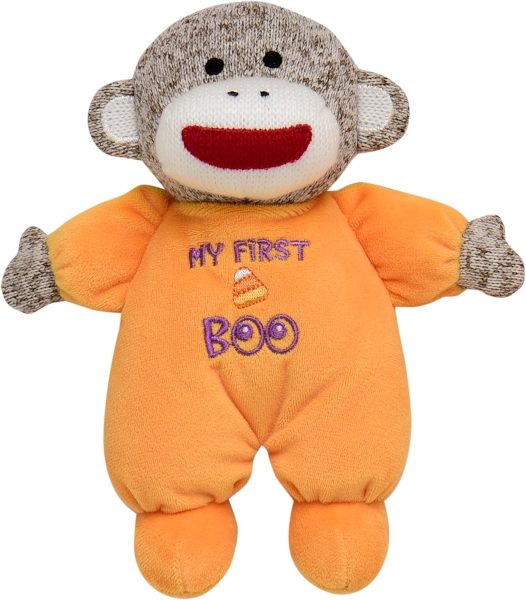 How cute is this 9-inch plush toy monkey with "My First Boo" embroidered on its tummy? This sweet iconic monkey is huggable and it doubles as a soft rattle for active engagement. Perfect for snuggling and cuddling at home or for use during for tummy time. Also, ideal while traveling in a stroller, baby car seat, and more. This adorable first friend will be a companion wherever baby goes.
Baby Starters plush toys are made from high-quality, plush material for a lifetime of hugs and play. Made with the highest safety standards for babies, including embroidered eye and nose details. Baby Starters dolls are very easy to care for and can be machine-washed on a gentle cycle for long-lasting use.
Baby Starters ??has everything a new parent needs for the first few years of a baby's life – fashionable clothing, super soft blankets, and fun plush toys. They deliver an unwavering attention to detail and a steadfast emphasis on quality.
Costumes from Scratch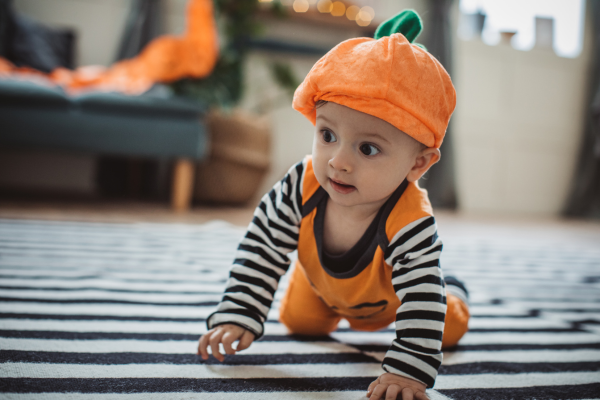 Creating homemade Halloween costumes for infants can be so much fun. Here are a couple of very simple, and adorable options
The classic "Baby Pumpkin" costume. Start with a soft orange onesie and add a hat with a green felt stem-shape at the top. To mimic the jack 'o lantern face you can either draw with fabric paint or sew the eyes and mouth onto the front. This costume is not only cute but also cozy and comfortable for your little one.
I've done this for my dog, and I can tell you from experience that this was easy. With a grandbaby that will only be 2 months old on Halloween, making sure that they are comfortable is key. That's why I love the "Baby Bumblebee" costume. Begin with a black onesie and attach yellow felt stripes down the front. Craft wings using yellow and black felt, attaching them to the back. Top it off with a cute antennae headband made from a black headband and yellow pom-poms. It's a sweet and easy-to-assemble costume that will have your baby buzzing with cuteness.
Baby's first Halloween is such a fun milestone filled with adorable homemade costumes and unforgettable moments for mom & dad. It's a time for making cherished memories, capturing those snapshots, and starting family traditions that will be cherished for years to come. This special day marks the beginning of many more magical Halloweens.