Ms. Porter wool lined dress size 10/12
Jackie on the day of the inauguration. 
Ms. Porter's dress design is Jackie Kennedy Onassis to a T.  The classic lines, with the curved folded neckline, three quarter length sleeves and a line shape and hemline beg a Prince Charming with its allure.  And then add the Marilyn Monroe body hugging design – and you are back in the 60's once again.  All that's missing is Jackie and Princess Diana.
Wool, grey or camel, and a sheer classic.
Fit:  well, my body could not quite fit the decade or the deal with a sag here and a sag there.  This lien runs very small.  The 10/12 (I usually wear a 6) is fitted to the body tightly at the waist and is looser at the top.  Because it is wool and lined, this gorgeous piece must go on after the gym and Pilates classes.
The elegance however is worth the calisthenics.  Made in a vintage style, there is no give to the wool.  This is how dresses used to be designed, and Shabby Apple has fit this dress to the 60's mold.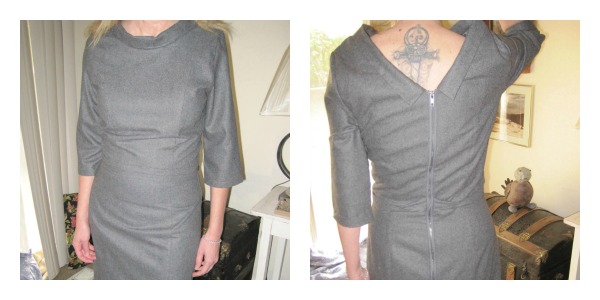 So, if you are fit this dress is the unbelievably chic LGD (little grey dress) for the holidays, weddings or just dinner out.  Throw it on and watch the stares at the office – that CEO will follow your every move.
Pair it with a tiny pillbox and a pair of gloves or pearls and even Jackie would glance your way.
Shabby Apple and Ms. Porter wool lined dress = sublime.
We received product to facilitate this review. All opinions are strictly our own.