BEAMS & NUZZLES
The Honest Kitchen Serves Up the Best Treat Fest
I am one of those people who believe that what we eat is what we are, and I do not believe that is just for humines!!  I believe it is for other creatures also, especially our dogs and cats.  One of my favorite books is Foods Pets Die For, and another is Dr. Pitcairn's books on dog and cat nutrition.  I have fed raw for 20 years, to big dogs (Bouviers) and little dogs (Clem my dachshund) and I CAN SEE the difference.  I am a huge believer in raw dog food, dehydrated, freeze dried or frozen, and there are some companies that I love more than others.  Trust is a better word.  For if there is nothing else you do for your dog or cat, please RESEARCH what you are feeding them.  No one can believe kibble based on straw leavings and leftover rancid oil and grease and some kind of meal that contains garbage is good for your dog! Read read read the panels on the food, and research what they mean.
I have believed in and used The Honest Kitchen for many years.  In 2002 Lucy Postins started this company in her kitchen because she saw her dog Mosi getting ear infections and skin problems.  She knew what makes sense: dogs need healthy fuel based foods that are organic if possible and human grade.  With the trillion dollar dog food business, we cannot know what goes into the bag.  And Lucy Postins was passionate about feeding good food to her dog.
What started in 2002 has become my GoTo dog food company.  And with all the recalls on pet treats, I decided to follow through and try some of The Honest Kitchen's new selection of dog treats because….I knew I could trust them to be not only delicious and beneficial to Clem, but a natural source of good food for my pet.
Clem tried BEAMS (dried catfish skins) and Nuzzles (duck and cherry cookies) and I only have to show you his pictures to tell you that he LOVES The Honest Kitchen!  So did I!  When I opened the catfish BEAMS, they smelled FRESH and FISHY!  And the NUZZLES smelled so good I almost popped one into my mouth!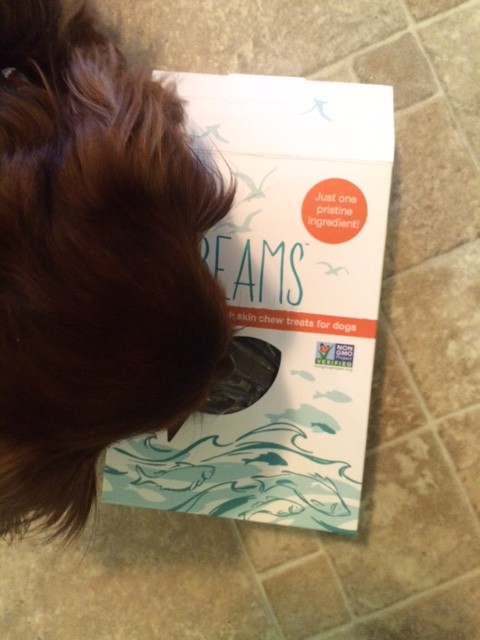 I don't have to wax poetic about The Honest Kitchen.  I can tell you I have been in the dog nutrition industry for 20 years selling and buying, and there are only a few companies that I will allow buy for my pet.  And I have to be sure that it is as good as my home made dog meals.  And The Honest Kitchen has always hit the nail on the head for my dog.  Thank you Lucy Postins for believing in and manufacturing an HONEST product for my pet, for my pet is my family.
From The Honest Kitchen website:
"Speaking of things organic, we use as much organic produce as we can, and we never use GMO produce. Our dehydrated pet foods are made from the most pristine, whole food ingredients available. I know that choosing a new pet food can be very overwhelming; there are so many opinions (not to mention quite a bit of misinformation) and so many different choices available.
I think what sets us apart is the fact that we put our hearts and souls into making The Honest Kitchen's products with the finest quality ingredients, uncompromising standards, and a really common-sense approach to food – just like we would if feeding human children!
Everything we make is human grade, which I see as a real line in the sand regarding the quality, safety and integrity of our products – and peace of mind when it comes to what we're sending to other people's Kitchens. We think we've got the perfect balance of safety, convenience, quality and tastiness – and ultimately, a finished product that actually speaks for itself…. It's no wonder our tribe of passionate fans continue to tell their friends and help spread the word when they see the effects in their own beloved dogs!"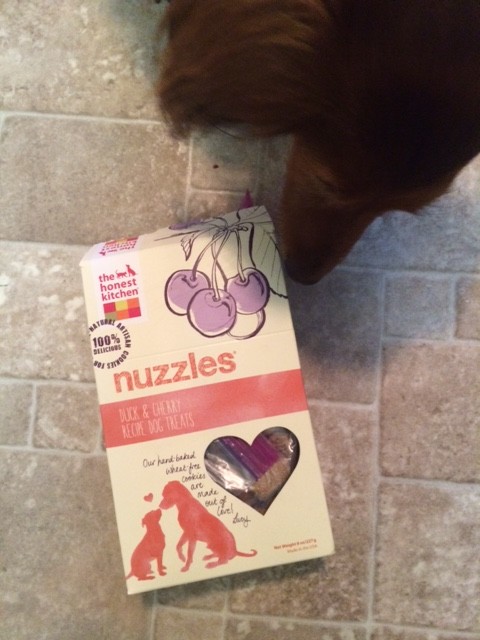 Ratings are based on a 5-star scale 
Overall: High 5 For The Honest Kitchen Dog Treats BEAM and NUZZLES!!!!!!
Review by Broad "A" 
We received a product to facilitate our review. All opinions are our own
DETAILS