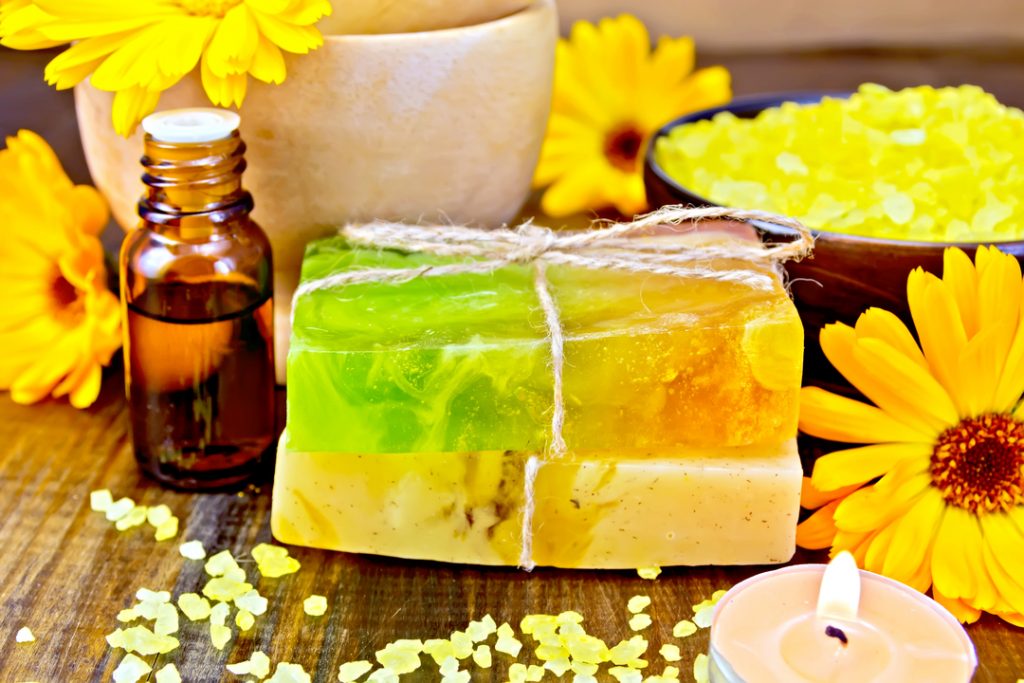 If you look at the list of ingredients on the back of your product packaging, you will see many names that you don't recognize. The cosmetic industry uses various types of chemicals and some are good for you but others may be harmful. Here we dish the dirt on five ingredients you should avoid in your skincare products.
Sodium lauryl sulfate
Would it surprise you to learn that your face wash and shampoo contain some of the same ingredients as found in laundry detergents, garage floor degreasers, and carpet cleaners? One of these is sodium lauryl sulfate, a very effective foaming agent that gives you that clean spic-and-span feeling after washing and makes your hair squeaky-clean.
Unfortunately, sodium lauryl sulfate strips the skin and scalp of natural oils that are essential to our skin's protection and can irritate the skin, eyes and respiratory tract. Look for skin cleansers, shampoos and other personal care products marked as "SLS Free." There is a related ingredient called sodium coco sulfate which may be less irritating, or you could try shampoos made with essential oils.
Fragrance
Leave that gloriously scented face wash on the shelf. The ingredients list will contain the word "fragrance", and while that one little word sounds harmless enough, it represents the addition of one or more different chemicals; fragrance formulation is protected as company proprietary information so manufacturers are not required to identify the individual ingredients that make up the fragrance.
When listed just as "fragrance", the scent is artificial and is less expensive to produce than using natural ingredients that convey scent such as essential oils. Many of these manufactured aromas can cause allergic reactions such as headaches, asthma attacks, and hives as well as dry out the skin. Look for products using essential oils or extracts of fruits and plants. Find more information here on fragrances.
Petroleum and mineral oil
Cosmetic companies use petroleum and mineral oil as hydration ingredients because they're inexpensive, odorless and never go bad. While these additives do indeed add moisture, oils are "occlusive" agents, which mean that they seal off the surface of the skin like an invisible film, blocking pores and the skin's natural ability to breathe. Anyone who is acne-prone will know that blocked pores lead to trapped dirt and oil, causing outbreaks.
Unless you have extremely dry skin, shop for oil-free cleansers; avoid isopropyl alcohol, propylene glycol, butylene glycol, paraffin, mineral oil, and petrolatum. Instead, watch for natural plant oils, which will provide your skin nourishment without clogging your pores. Find out more about proactive products to help your acne-prone skin.
Parabens
Parabens are the most widely used preservative in cosmetics; they prevent the product from spoiling by keeping bacteria and fungi from propagating. Parabens mimic estrogen and there has been fear that they may increase the risk of breast cancer but so far the studies that have been conducted show no concrete link between parabens and any type of cancer.
The one instance where parabens can cause problems, though, is with skin already affected by open wounds or inflammations such as eczema. This is known as the "Paraben Paradox". These preservatives rarely cause problems on normal skin but can cause allergic dermatitis when used on an active skin disorder. For this reason, antibiotic ointments or topical hydrocortisone creams never include parabens.
Alcohols
Alcohols are the base ingredient in many beauty products to make a thick product feel lighter and to help ingredients penetrate the skin more effectively by breaking down the skin's natural oils. Even though this may help other ingredients work, it damages the skin's own barrier and makes dry skin even drier. Avoid ethanol, alcohol denat, isopropyl alcohol, benzyl alcohol and methanol as ingredients.
However, there are good alcohols; fatty alcohols derived from vegetables are usually solid and pearly white and are used to help emulsify cosmetics by keeping the oil and water from separating. They do not dry or irritate your skin and actually act as emollients which protect the skin and help it to retain moisture. If you see cetearyl, stearyl, cetyl or behenyl alcohol in an ingredient list, these are the good ones. Find out more here about alcohol in your skincare products.
Well, we've dished the dirt and we'll leave you with this final thought – whatever you put on your skin is absorbed directly into your body. So as the skin is your body's largest organ, it's vital to know that what goes on your skin also goes into your system.