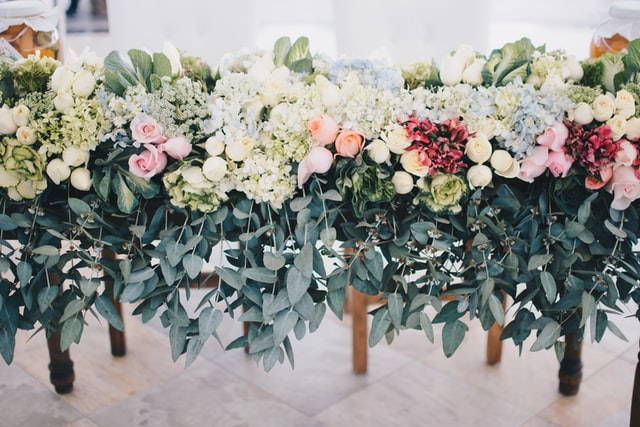 It's certainly no secret that weddings tend to produce a lot of waste. There is this major pressure, now more than ever, that a wedding needs to be Instagram-worthy. It needs to be both expensive, beautiful, and it needs to be a major experience for your guests. The idea alone is wild. A wedding is meant to be a union between two lovers, not a party meant to blow your guests away or to wow out people on social media. These expectations and ideas for modern-day weddings have now only created debt for the couple, but it also contributes to massive amounts of waste too. This then in turn creates higher carbon emissions and it also keeps the landfills growing too.
 It's everyone's responsibility to cut down on waste and to work towards being more sustainable. There is no better time to begin being sustainable than right now, today. Even when it comes to your wedding, you can still have an unforgettable experience while still helping the environment. So here are some simple tips for creating an eco-friendly wedding.
Look into buying ethical rings
When it comes to being more sustainable, ethics have got to find a place in the equation. So before you say "I Do", it's best to look into rings that are ethical.  There is a long history of gemstones and diamonds on what they have done to laborers in continents such as Africa. Plus there is a negative history on the fact that mining can be incredibly harmful to the environment. So the best move in the right direction would be to find ethical wedding jewelers. These ethical ones can sometimes be a fraction of the price compared to ones that are unethical. A great example would be lab-grown diamonds as these are ethical, no harm to the environment, plus they're significantly cheaper (and just as pretty) as a mined diamond.
Rent instead of buy
Not only could this save you tons of money, but you'll be fighting off waste as well. When it comes to weddings, such as décor, why buy it? You'll only use it once, plus you're going to have a lot of leftovers. This can include items such as centerpieces, faux flowers, arches, plates, cutlery, décor, and so much more. Sure, it's understandable if you're wanting to create your dreamy Pinterest wedding but this could be far more costly and wasteful. So why not instead look into renting everything you need for your wedding?  There are plenty of wedding rentals for you to look into, sure, it may take some research but you're saving the environment and some money at the same time.
So what can be rented?
While it depends on how you plan your wedding and whether or not the venue provides items, some things that could be rented can include
Linens such as table runners and tablecloths (or other décor purposes)

Cutlery

Dishes

Tables

Chairs

Décor such as centerpieces

Clothes such as the tuxedo and wedding dress
There are plenty of other items that could be potentially rented as well, these are just to name a few.
Compost
Composting is your friend, and it's a very easy task that you can incorporate into your life. When it comes to weddings, this should be incorporated as well. Depending on where you're having your wedding such as a venue, there may already be a chance that this is something that's already been done. You may be surprised about the large amount of food and flowers that go to waste after the end of a wedding. These sometimes end up in a landfill when they could have just been easily composted instead.
One option for avoiding waste could include bringing containers with you so you can have some leftover food, or even letting your guest know they should bring some in case of leftovers. This could help combat wasting food and it will even stretch your dollar a bit further. As for wasted flowers at weddings, some flowers can get pretty unhappy throughout the day.  These could be thrown into the compost bin, but if there are any happier-looking flowers, it may be best to donate them. There are plenty of organizations that will happily take these flowers or you can even give them as gifts to your guests too.
Be wise with your caterers
If you're worried about not having a classic wedding then think again. Of course, catering is very important but you can still achieve a sustainable wedding while still being traditional. Sometimes the caterers are already provided in your ideal wedding venue, sometimes not too much. Depending on where you live, you just may be limited on options, but it also doesn't hurt to just look into this.  
You should try and do some thorough research on your local caterers such as whether or not they support local farmers, how they handle waste, and how eco-friendly they are. There is so much more to catering than just the pricing of the food or how affordable it is.  It's best to look into caterers who source food that's local as these are going to be the most sustainable.
Decorate with potted plants
Sure, flowers are absolutely beautiful but you don't have to have flowers at your wedding. You could even opt into something like potted plants. Some ideas could include little succulents, aloe vera, or maybe some cacti. Many couples will just go and get married at a botanical garden as this is not only cost-effective but there's no need for décor thanks to all the fabulous plants. Potted plants as décor can be doubled up as a wedding favor or even some new plant babies for your home.
Make your own wedding invites
Papermaking is becoming increasingly popular because it allows for the paper to be reused, it has a rustic appearance, plus it's super eco-friendly. There are plenty of eco-friendly companies that wedding invites but making your own can be just as special, if not more special. Even having plantable paper can really take your game up an extra notch as these are super easy to make, plus all you need to do is to throw in some flower seeds into the mix.
Skip wedding invites
While creating eco-friendly wedding invites are great, there is some debate on how eco-friendly it is since you're having to mail them which costs resources. So another option would be skipping out on wedding invites and just creating a cute e-invite on Canva instead.