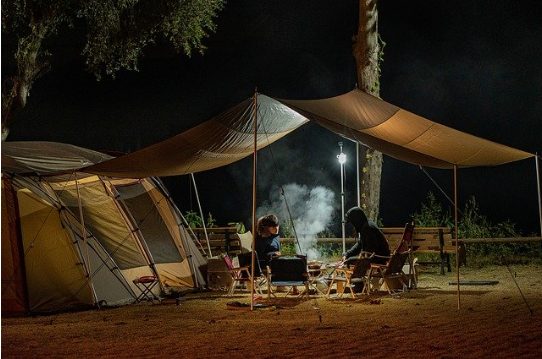 Camping is not everyone's cup of tea, but as a holiday it has definite and undeniable advantages. For one thing, given the cost of hotel reservations, the ability to spend the night under canvas brings a range of holiday destinations within the reach of more people. That's no minor thing; if you can cover the cost of your travel, then camping means that dream destinations can become reality for you and your family.
Of course, as we already mentioned, camping is not for everyone, and there are reasons for that. What some people may not realize is that, if you have a specific qualm about this form of holiday, there is probably a perfectly good answer to that misgiving which makes it less of an issue. As we will go on to see, there are definite choices you can put in place to ensure that the holiday goes as well as you could dream. 
Make use of camping's versatility
When you hear the word "camping", you no doubt picture a simple tent, perhaps pitched in the middle of a field, but there are plenty of different options for how you can camp while on holiday. For an upfront outlay, you could buy an RV or a caravan that allows you to stop and sleep wherever you see fit. More affordably, you could find a roof top tent for sale and benefit from many of the same convenience and versatility benefits. An additional benefit of this type of camping is that, unlike with a standard tent, you are positioned off the ground, which is much more secure.
Research campsites before you go
There is no shortage of places to stay when you're prepared to camp out, and no matter where you go in the world there will be ample campsites to welcome you. The mistake some people make is in thinking that one campsite is much like any other. In truth, campsites can vary in quality and comfort, and before booking a camping holiday you should make sure that you have an itinerary of quality sites set out. Just pulling up to any old site and expecting it to be a decent place to sleep is not a good way to go about things – just as it would be with hotels.
Arrive at a campsite early in the day
The longer a day goes on, the more a human being's desire to do anything more complicated than flake out with a decent meal and a cool drink dissipates. Remember this when you are camping, because if you get to a site shortly before bedtime you will need to erect a tent in failing light, with the rigors of a day's traveling weighing you down. This ensures that:
a) it will take longer to get the tent up

b) you won't do as good of a job as you otherwise might, and 

c) your mood will suffer as a result of both a and b
If you arrive early, however, you can put up a tent and then explore the site and its amenities and, particularly if you have brought bikes, you may get the chance to check out the nearby town.
If you've never considered camping before, it might be time to adjust your expectations; it can be a truly wonderful way to travel.