While slowly emerging out of quarantine, you and everyone else is thinking about when and where to book their next vacation to soak up some rays, bask in the sea, and sip some margaritas. But there's just one problem – where will your beloved pet go? For people who adore their pets, leaving them behind is difficult – okay, it's heartbreaking. And so, to quell your concern, summarised below are a few options for you to consider, to make sure your furry friends are taken care of while you're away. 
Take Them With You
Because let's be honest, you'll miss their company. Pets, in general, are proven to reduce stress, which is particularly vital when you're fumbling around for your travel documents, or halfway to your destination, and you forgot to turn the electronics off at home (we've all done it). You more than likely need their emotional support probably more than they need you. And with plenty of travel equipment catering specifically for cats, dogs; you're only a few clicks away from a smart cat backpack to keep your kitten close with you on your travels. Or a portable pet water bottle to quench your pooches thirst on the go.
Hire A Pet Sitter
The internet has opened up an immense stream of solutions, some of which are incredibly useful if you need a trustworthy, experienced pet lover who is willing to look after your pets (and sometimes your house) for cash while you're away. As with most businesses online, reviews and reputation are everything, and so to fulfill your role as an excellent pet owner, be particular when deciding what individual you think will take the best care of your pet. Below are a few sites to get you started, so take a browse through and see if you can find any potential pet sitters from;
Trustedhousesitters.com

Petbacker.com

Trustmypetsitter.com
Kennels and Cattery
If the above two options are out of the question, you could search for kennels or cattery near you and contact the owners to get a better feel for the service they provide. Perhaps eventually you could book a visit to view the place too. In terms of cost, pet boarding homes usually charge a set daily fee a day with additional fees on top if, for example, your pet needs regular medication, grooming, or has special dietary requirements. 
As with sourcing pet sitters, while searching for a pet boarding home, read reviews and ask friends and family for recommendations. On top of that, use your gut to help you decide if a boarding business you're viewing is somewhere your pet will be safe, secure, and content.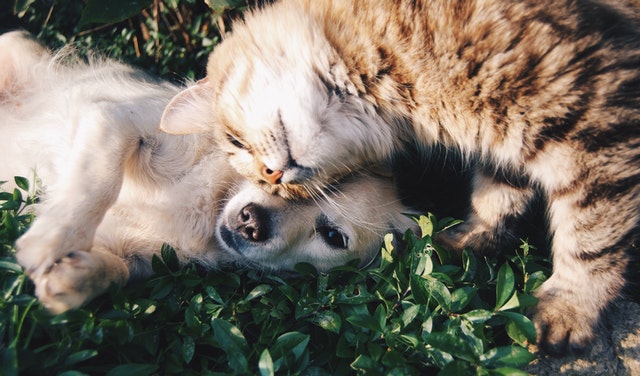 Whether you choose to take your pet along for the ride, or you think it's best if they stay at home while you're away on your travels, select the option that gives you the utmost peace of mind. Only then will you truly enjoy your vacation and take comfort in the fact your pet is happy and content.