While the majority of dogs can be harmless your chances of sustaining a dog bite are more common than you might think. A dog can bite for all kinds of reasons, they could be scared, protective, or even suffering from a medical condition. Being bitten by a dog can be scary, painful, and have potentially serious consequences. So, if you are bitten by a dog follow these essential steps to help you deal with the aftermath.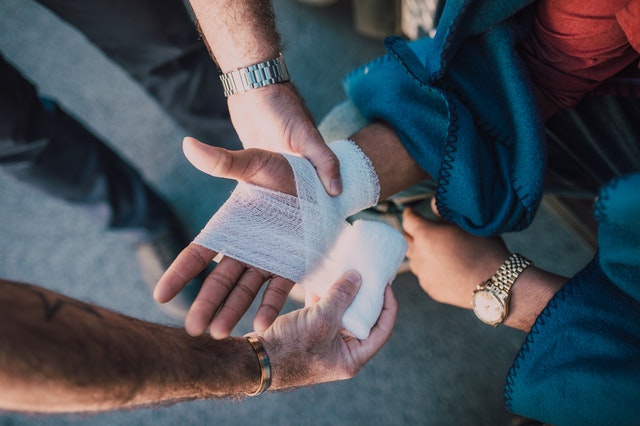 Firstly, you want to take care of the wound and you may need medical attention to do this. Dog bites can cause punctures, scratches, lacerations, and bruising. One of the biggest concerns following a dog bite is infection. Therefore if you have sustained a deep or serious wound then ensure that you seek the appropriate medical attention. 
As infection is the biggest concern here are some steps you can take in the immediate aftermath to help prevent infection;
Rinse the wound using warm water for five to ten minutes

Slow any bleeding using a clean cloth. 

Use

antibiotic cream

on the wound.

Wrap the wound in a sterile bandage and visit your doctor or hospital. 

Ensure the bandage is changed regularly and watch out for signs of infections such as swelling, redness, increased pain, or fever. 
Visiting your doctor is of paramount importance, not only for infection control but to ensure that your tetanus immunizations are up-to-date. If they are not you may need to undergo a tetanus shot following a dog bite. 
Compensation claims following a dog bite
If you are bitten when out and about and by a dog that is not your own then it can complicate matters. Typically most dog owners will be apologetic and sympathetic however in some instances it can lead to difficult situations. If you are bitten by a dog that isn't your own, here are some things you should do. 
Locate the owner and ask for their name and contact details. Be sure to tell them exactly what happened if they did not see it themselves. 

Obtain any witness information. If someone saw what happened, approach them for their name and contact details. You may be able to pursue a claim for compensation following a dog bite and any witness information will be valuable. A

compensation lawyer

will be able to assist and advise you as to the merits of your claim. 

Seek medical attention where necessary. Even if your bite does not require hospital treatment it is still recommended that you advise your doctor of the bite and have it recorded on your medical notes.  

Write down what happened. In the heat of the moment, you may forget or lose track of the events as they happened. To help you keep a clear mind and recount the incident accurately, write a note of the events and be sure to take photographs. 

When it comes to taking photographs you want to ensure you take photographs in the immediate aftermath and throughout the healing process to document the nature and extent of the injury. 

If you suffer any financial losses, difficulties, or ongoing pain and suffering as a result of the accident be sure to keep accurate records. These records will help substantiate a claim for compensation.