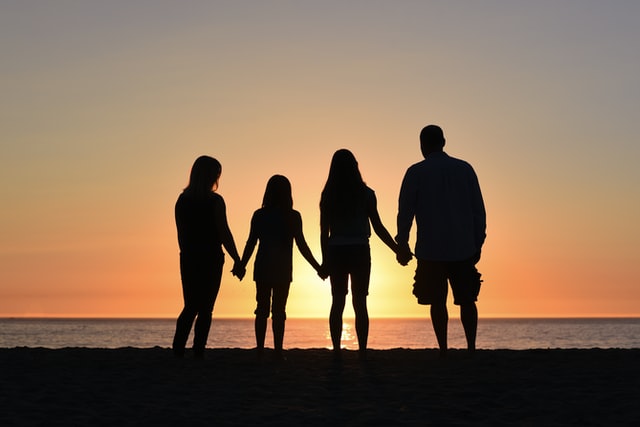 In life, the idea is to go through all these years we have on the planet with as much joy as possible. We only get one go at this life, so we might as well enjoy it as much as we can. Some people go through their entire existence, trying to find the negative in every single instance. They also try to put others down because it makes them feel a little better about their own situation. It's a strange way to operate, but that's just how some people behave. 
One of the main aspects of life is family. Obviously, not everyone has one to come home to every single day, but it's something we all deserve. We all deserve that kinship and companionship when things are going both well and badly. We all deserve to feel loved by people who cherish our every moment on this planet. We take for granted those around us, but we really shouldn't as they really are a priceless facet that supplements our overall happiness and contentment. 
Strangely enough, many families out there function pretty well, but there's an aura of awkwardness around them. By no means is it a terrible or toxic atmosphere, but it could be a lot better. Families and friendship circles are supposed to be comfortable, and people are supposed to feel positive within them. If there are some unrest and slight negativity, then something needs to change. Your family situation is supposed to be one that makes you feel so much better about your day. 
If you're currently in the process of raising a family, or you're about to start one with your amazing partner, then the chances are that you're going to want to figure out how best to keep things positive and happy. Fortunately, it's not exactly the most difficult task in the world. It takes a little concertation and consistency, but it's absolutely doable for everyone. In order to ensure you have a situation that is the opposite of toxic, have a little go at doing a few of these:
Be Positive In Every Instance
If you constantly act optimistic and positive around your family, then everyone will benefit. Sure, being overly optimistic in times when a little realism is needed probably won't help, but being happy and looking on the bright side for around 90% of the time will improve everyone's lives. You'll obviously get to feel much better about everything, which will lead to you making more positive decisions that benefit the family. This kind of behavior will also benefit everyone else due to the fact that it's a contagious way of acting. If people see you behaving this way, then they'll subconsciously pick up on it and mimic it. Imagine raising children in a negative atmosphere – they'll probably be miserable and never push for the best things in life. Do your best to be happy and positive around them regarding most aspects. 
Be Honest With Each Other At All Times
When it comes to the things you say to each other, you might not be completely comfortable opening up. That's absolutely fine – especially to begin with. Some people just aren't ready to share any issues they have if they feel insecure or if they feel as though it could cause large amounts of friction. One thing you shouldn't do, though, is completely lying about something. Lies don't ever work out in the end as people will always discover holes. They may be found out the next day or five years after it was told, but they will be caught. If you have something to say, then be honest about it – even if it's slightly awkward. It's the right thing to do, and it will increase the respect between everyone. 
Choose The Perfect Home For All Of You! 
The house you're situated in matters a lot. Sure, just having a place to stay and call home is very important, but we all deserve to have nice things on top of our basic rights. Every individual is different, and so is every family. We should all get to determine the kind of home we spend years inside. The point here is that, if you're not comfortable with the abode, then it can affect lots of other things in your life. We often talk about having to get things handled 'closer to home', and this one of the most important, relevant points. If you're unhappy with things domestically, then it can affect everything else. Make sure you choose the right house – choose one that suits every family member. It might not seem like the biggest decision, but it has quite an impact. 
Have Rules And Jobs For Everyone

 
Nobody likes doing tedious chores, but they do need to be carried out if we're to have happy, organized lives. If everyone in the family knows what they have to do each day, then there will be a lot more order in this house – meaning everyone will feel a lot more content. The home will be in better condition, which helps an awful lot. While some of the jobs are awkward and tedious, they're still productive and allow us to feel like we have a purpose. This sense of belonging makes us feel a lot better about life. With everyone feeling good, the overall ambiance is excellent – and that is, of course, what we're trying to achieve here. 
Perhaps Think About Adopting A Fur Baby! 
Not everyone likes the idea of adopting a pet, but they can be amazing for companionship. They can also do a great job in terms of bringing everyone together. While it's obviously not the same as welcoming a baby boy or girl into the family, it can be nearly as rewarding overall. Not only will they make you feel warmer, but they'll also teach everyone in the house to be more responsible as you've all got to look after them. If you're interested in adopting, say, a dog, then you'll learn all kinds of things before, during and after. You'll learn about their behavior, what to do regarding Dog Bites During Pandemic, how they eat, and a multitude of other things. It's a great move if you want to introduce more positivity to the household.
Actively Try To Be Nice To One Another!
This should go without saying, shouldn't it? Unfortunately, some people can't help but be a little nasty to others at times. It might be due to the people they go around with, or it may be something to do with sibling rivalry. Whatever the cause, you're going to want to make sure you limit the amount of argument and mean comments being thrown around. This is, of course, if you have to deal with a lot of arguments already. If you're a peaceful household, then this shouldn't concern you. Being pleasant to someone is a skill that you can train – you're not born a certain way. 
Get Into Sports Together
Sports aren't for everyone, but that can provide the right kind of escape from everyday life – especially if you have lots of pressure in your work and personal lives. As a family, they can allow you to get out of the house and boost your adrenaline a little. Playing sports is obviously healthy in terms of fun, fitness, and competition. Heading to an arena and watching top-class sports games can also do good things for everyone. It doesn't matter if it's football, golf, basketball or hockey – if you like it, then get involved. 
Actively Encourage Each Other To Improve

 
When you have someone behind you, urging you to do what you love, then that task becomes a whole lot easier. It's so good to have that kind of positive reinforcement on your side. It's even better when it's someone in your family and someone whose opinion you respect. Just make sure you're not nagging – that's a terrible thing to do in this instance. 
Get Professional Assistance If Urgently Required 
Sometimes, families struggle to get along. Sometimes, families need help with running their everyday lives. If you're finding yourself in this predicament, then you could always get some help from people that know what they're doing. If you feel as though you need some counseling, then there will be people near you that can talk to you all about what's happening. If you're struggling with childminding, then there will be babysitters/nannies available. Housekeepers and cleaners will also work for you if you have the money!
Don't Spend Too Much Time Around Each Other!

 
This final point sounds sort of counterintuitive because we all want to get along with each other. We also want to look at our family members and see nothing but good things. That doesn't mean we have to be around them all of the time, though. Have you ever been sick of the sight of your best friend because you've been in their presence for way too long? You'll run through a brick wall for your friends, but sometimes even THEY can be too much. The same applies to your family. Absence makes the heart grow fonder, remember? Just don't be in each other's' space for TOO long, and things will be a lot better.