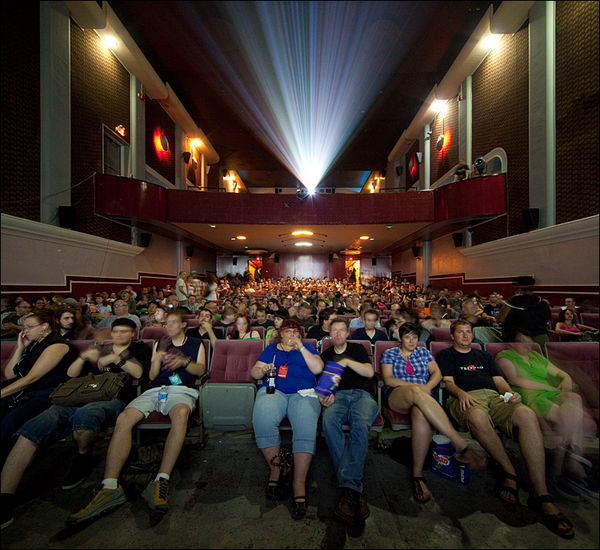 As an amazing movie reviewer (sic) with absolutely no ego in my taste in film, I am often asked which is my favorite?  I reply differently almost every time.  So, either people have to stop asking me questions like that or I have to make a decision.  Some times I just stare at them blankly hoping they realize that I'm not to be bothered with such idiocy.
Getting back to the point…WHAT IS MY FAVORITE FILM?
It really is a question of demographics. I'm sure if I were hanging out at the Cinema in London when growing up my favorites would be completely different.  When I was a child I had two favorites: Goonies and Ghostbusters.  I am fairly certain that I have seen Ghostbusters more than any other film in my almost 30 years.  A lot changes in 30 years though.  When I saw Ghostbusters I convinced myself that one day I would be in fact a Ghostbuster or a Thunder Cat.
As I have matured or regressed whatever you choose my taste in film matured when I got my first job at a video store at the age of 18.  Around then I discovered Donnie Darko and my mind was blown.  10 years later I want to slap myself for enjoying the film in the least.  Also, at the store I discovered David Lynch.
Even now David Lynch blows my mind. But a story first.  People get really offended that I think Nicholas Cage is amazing.  This is because of David Lynch's Wild At Heart.  If you have not seen this film you need to watch it now.  This could be one of my all time favorites and it was my favorite for a long time.
Then I went to film school and immersed myself in the cinema arts. 
I feel in love with Capra, Eisenstein, and Vertov.  On my own I watched anything and everything.  I watched so much Kubrick, Spielberg and Goddard.  But a pair screenings changed me forever: Sunset Boulevard and Rosemary's Baby. It wasn't until then did I understand the power of film. During the screening of Boulevard I fell for the films of Wilder and immediately and went home and rented The Apartment immediately.  I sat there and watched it three times in a row.  The Apartment is my all time favorite film to spend a lazy morning with.  The screening of Rosemary's Baby was much different.  That movie showed me how much control a film has over its audience.
 So what is my favorite film? 
It's either Ghostbusters or The Apartment.  However if I grew up in London watching films like Get Carter and Pulp I'm sure my answer would be completely different.
Photo credit: wvs / Foter / CC BY-NC