Damage from UV rays, pollution, and the general passage of time can all wreak havoc on our skin and the way that it looks. Fortunately, there are things that we can do to help minimize the effects caused by these. Read on to find out more.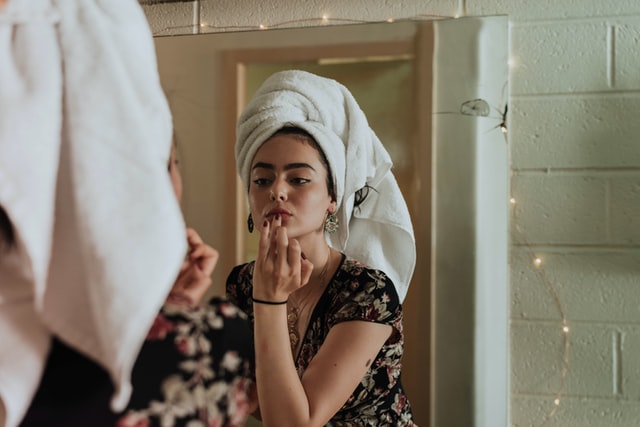 Look after your skin
There are so many things you can do to take care of your skin that there is no reason not to. You can make your skincare routine as complicated or as straightforward as you want; even the tiniest thing can make a huge difference.
The most important thing to remember is to remove your makeup at the end of each day. This helps your skin to breathe and restore itself, as well as preventing any dirt or pollution that may have adhered to your makeup during the day from being rubbed deeper onto your face overnight and clogging your pores. To do this, use a good cleanser and baby oil to remove any waterproof mascara.
After that, apply a toner to close the pores and tighten the skin. Finally, apply a moisturizer or serum, ideally one that is designed for nighttime use such as one from Revinia. 
It's also crucial to prime or moisturize your face and morning before applying makeup. Because of this, a barrier will be formed between your skin and the products you use. This will prevent the skin from absorbing too much makeup, which can clog pores and result in spots.
In addition, regardless of the weather, you should use sunscreen or, at the very least, a base with built-in SPF protection every day. This will also protect your face skin from UV damage and signs of premature aging.
Sort out any problems
Why should we put up with skin problems? We are less likely than ever to put up with them. After all, blemishes, acne, and skin disorders like rosacea may have a significant effect on one's self-esteem and mental well-being. While many skin problems can be solved with a new skincare routine, some need medical attention, so do not be afraid to seek support from your doctor for mole and wart removal.
Experiment with makeup
Of course, if nothing else works, you can still make something up. The makeup industry has exploded, and the number of items and techniques available is nearly overwhelming. Contouring is one of the most effective ways to imitate healthy skin and facial shape.
You can slim down your nose and forehead, lift brow lines, make cheekbones look more pronounced, and shrink crow's feet by combining lighter and darker makeup.
Hydration
Drink plenty of water and use a decent moisturizer to keep the skin hydrated. It is recommended that you drink one ounce of water per pound of body weight to stay hydrated, particularly during the summer months. If plain water is not your thing, try adding a slice of lemon or lime to give it a bit of zing.
Visit An Expert 
If you feel as though you have exhausted every method to spruce up your skin yet still aren't achieving the results that you desire, then the best course of action would be to visit an expert. There are so many amazing skin experts that you can book in with, and they each specialize in their own area of practice so that you can expect the best outcome from the procedure you choose. Visiting a dermatologist is one of the best options that you can explore, as they are experts on a number of conditions and procedures from laser treatments to skin peels. If you want long term results then you can choose to visit a dedicated cosmetic procedure clinic instead, as things like fillers and facelifts should only be performed by those who have all of the necessary knowledge and training. No matter what kind of expert you end up visiting, they will be able to examine your insecurities and issues and come up with the best course of action that will help you to gain the greatest confidence in your skin. Always listen to their advice, as they have years of experience and study on their side and likely know exactly what they are talking about! 
By following these tips, you can help your skin to look plumped up, refreshed, and healthy. What are your tips for great-looking skin?