When you welcome a new baby into your home, you may feel as though you have to do hundreds upon hundreds of things to prepare for their arrival. For example, you may need to ensure you buy plenty of baby clothes, attend parenting classes, or arrange to take some time off work. Furthermore, you also need to ensure that you have their nursery set up ahead of time – as having a dedicated baby space in your home will help make it easier to take care of a newborn. 
However, decorating a room for a baby can be an incredibly difficult task – meaning it's hard to know exactly where to start. After all, it's not as though your child can offer up an opinion on which color scheme you should choose for them (at least not for a few years, anyway).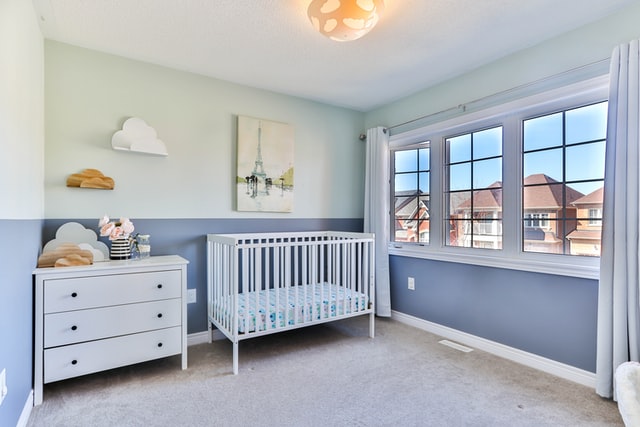 With that in mind, here are some top tips for decorating your baby's nursery and creating the perfect family home.  
Keep it simple. While your baby is young, the design of their room does not need to be particularly extravagant – in fact, you should focus much more on ensuring that it is functional. For example, you should be able to split the room into separate areas – as space for sleep, a place for play, and a space to do everything else, such as getting them ready or changing them. 
Go for neutral colors. Pastel shades or neutral colors are always a great choice when it comes to decorating a nursery because they create a naturally calming environment for your child. They also look great! 
Get your hands on the right furniture. The next step to creating the perfect nursery for your child is getting your hands on the right furniture. While this will likely vary, you'll typically need to purchase items such as: 
Baby basics.

This includes items such as a cot, nursing chair, or changing table, alongside plenty of toys, blankets, and throws. These items will likely take up most of the space within the room. 
Storage items.

Your baby will end up having a lot more belongings than you can imagine – especially as they grow out of their clothes so quickly. Therefore, you should ensure that you have plenty of storage options readily available to you – from a chest of drawers to a wardrobe. Shelves and toy boxes are also great for storing any additional belongings or clutter. 
Fun items.

This includes items such as

baby rockers

. Not only are they a lot of fun, but they are also great for helping your child calm down and could even help them fall asleep peacefully. You should also try to get your hands on age-appropriate toys, games, and puzzles that your child can play with. 
As you can probably tell, decorating your nursery could quickly become expensive – but try not to worry too much. In fact, you can buy plenty of items secondhand at local charity shops or even through online groups such as Facebook marketplace. Many parents even advertise things they no longer use for free to help others – so be sure to keep an eye out for these offers. 
Make a small room seem bigger through good lighting. As your baby is only tiny – you don't need to set aside the biggest room in the house for them. In fact, there are also plenty of different ways in which you can make a small room seem much bigger than it is. The easiest way to achieve this goal is to make the most of natural light. For example, you could get rid of heavy, clunky curtains in favor of lightweight blinds so that it's easy for the sun to shine through the window each day. Natural light is also wonderful for both you and your baby – as it can help you feel happier, more relaxed, and even more focused. You can also make a small room seem bigger through clever storage solutions. 
Fill it with fun. The final step towards decorating your child's nursery is the fun part – i.e., when you can fill their room with toys, games, and other activities that will help them grow and develop. For example, this could include items such as a mobile that hangs above their cot. In addition to looking simply adorable, mobiles are a great way to keep your baby entertained and are sure to bring a smile to their face. You should also ensure you buy plenty of teddies and soft items for them to cuddle or play with.