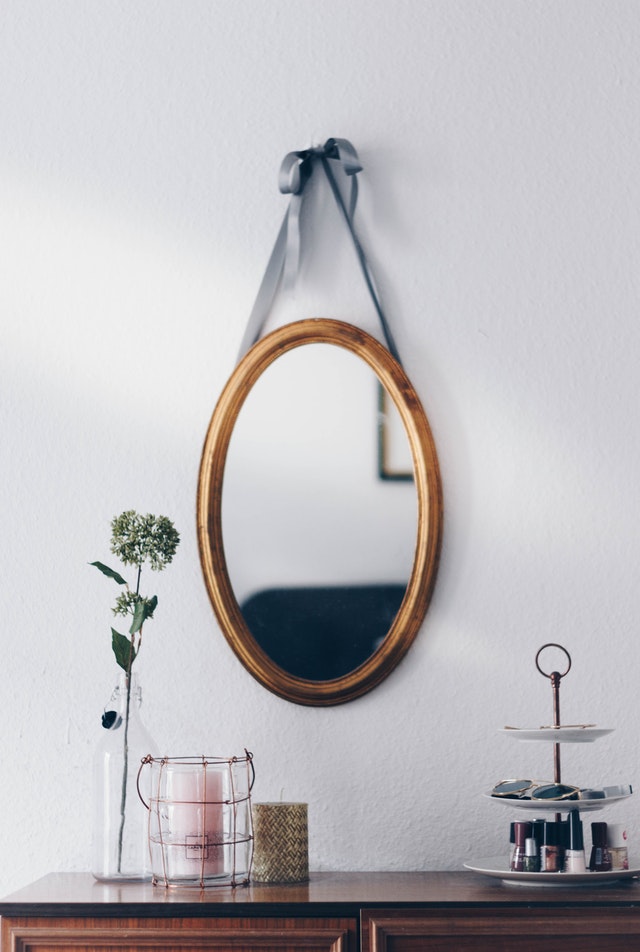 Mirrors can serve a greater purpose than simply allowing you to see your reflection. When used strategically they can make a room feel brighter or bigger. Below are just a few tips on how to decorate with mirrors. 
Use large mirrors to make rooms feel bigger
Mirrors can add the illusion of extra depth to a room. A large rectangular mirror can look like an extra doorway while a mirrored wall can make the room look twice as big. This could be a great way to make a poky bathroom look bigger or it could be a way of making a cramped hallway feel larger. 
Place mirrors opposite windows to reflect sunlight
A mirror placed opposite a window can make the room feel as if it has two windows, giving it a more airy feel. The mirror can also help to reflect sunlight coming through the window so that the room feels brighter. If a room only has a small window, placing a mirror opposite could be a great way to make it feel less gloomy.
Take into account feng shui
Feng shui is an ancient Chinese way of decorating that emphasizes creating a sense of flow and a sense of 'good energy' within the home. Mirrors can be used to create good energy in your home, but there are times when they can have the opposite effect. You should use mirrors to reflect things that you want to see such as a good view out of a window or a piece of fun artwork on a wall. Feng shui experts advise against putting a mirror opposite the front door as it can make a home feel less welcoming. You also shouldn't have to wake up facing a mirror in your bedroom – neither should you have to look at a mirror while you work at a desk or look at a mirror while you're on the toilet. Looking at yourself in a mirror should be something you can do optionally when you want to do it. 
Think about your décor style
Mirrors come in all different styles and not all styles may fit the decor of your home. An antique mirror with a wooden frame is likely to look better surrounded by other antiques, while a frameless modern mirror is likely to look better among more contemporary-style furniture. The shape of your mirror is also worth considering – square mirrors can pair well with the more angular decor, while curved mirrors can pair well with softer curved decor (although you can use both to deliberately contrast the other).
Try some mirrored furniture
You could consider buying furniture that is mirrored for some multifunctionality. A mirrored wardrobe or mirrored chest of drawers could help to make a small bedroom feel bigger while also providing you with some storage solutions. You could also consider a mirrored wall cabinet in a bathroom above the sink, helping you to see your reflection while providing storage for bathroom items. You could also consider mirrored coffee tables for brightening up a living room.