CHOCOCURB 
Chocolate for the Dans and Divas!
At last!  A monthly subscription service for my favorite food in the world – CHOCOLATE!  And  not just any chocolate !  With many many artisan and organic chocolates to choose from, you can send a mini box or a full subscription box of the world's most tantalizing chocolates to yourself or a loved one!  With free shipping for orders over $35.00, how can you go wrong?
And I love tasting new things.  I have always noticed that British chocolate is far richer and smoother than American chocolate (try a Digestif) and I realized that all chocolate is not created equal!  So when Chococurb sent me three bars of chocolate to try – I loved some, did not have the acquired taste for others.
Nibble is a 77% cocoa organic dark chocolate made of organic cocoa beans and organic cane sugar.  It was very dark, very earthy and strong a tad bitter while a tad sweet.  Very distinct, old earth flavor.  YUM!
Videri was a dark milk chocolate, 55%, with cocoa nibs, cane sugar, dry while milk and cocoa butter, also organic in a 14 ounce bar.  Absolutely pure chocolate high, smooth and creamy, richer and tarter than most chocolate bars, made in Raleigh, N.C.  Delicious.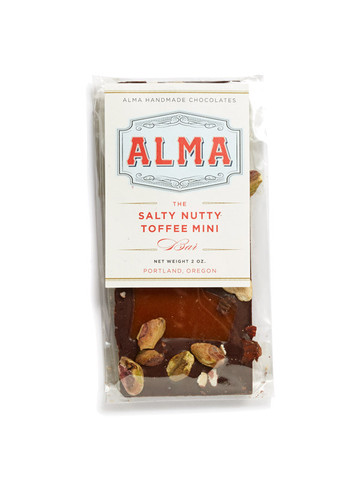 And the last was Alma chocolate, dark salty nutty chocolate bar with 74% Dominican chocolate (pure cocoa mass, cocoa butter), pistachios, toffee (turbinado sugar, butter (milk), sea salt), hazelnuts, and sea salt. This was heaven on earth!
The point? Chococurb offers the largest selections of chocolates I have seen online and you can try something different in every monthly order!  I absolutely loved trying the different tastes and types of chocolate – and I think you will too!
Their website offers all kinds of different bars in both milk and dark chocolate, organic and percentage of beans given.  What an exciting and fun subscription for anyone – me me me!  If you want to send me a present this is it!  Love it!
Ratings are based on a 5-star scale 
Overall: 5
Review by Broad "A" 
We received a product to facilitate our review. All opinions are our own
DETAILS