HULA BEDDING COMPANY
THIS PRINCESS FINALLY REMOVED THE PEA
Every morning for the past five years I have woken up with a sore back and legs. 
I assumed it was because I am aging although I am extremely active.  It never occurred to me that it was because I had been sleeping on a twelve year old box spring mattress – you see, I hate change.  But then my HULA Mattress, provided for me by Hula Bedding Company to review, came into my life and I feel like the princess without a pea in Once Upon a Mattress:  I slept like a baby.  This mattress is IMMEDIATELY comfortable, no settling in, forming deliciously under my body without sinking: very simply, this is the MOST COMFORTABLE mattress I have ever owned or slept on!
I know there are disbelievers out there and I don't know how to make you realize that I am so impressed with my queen size mattress.
Let me describe it!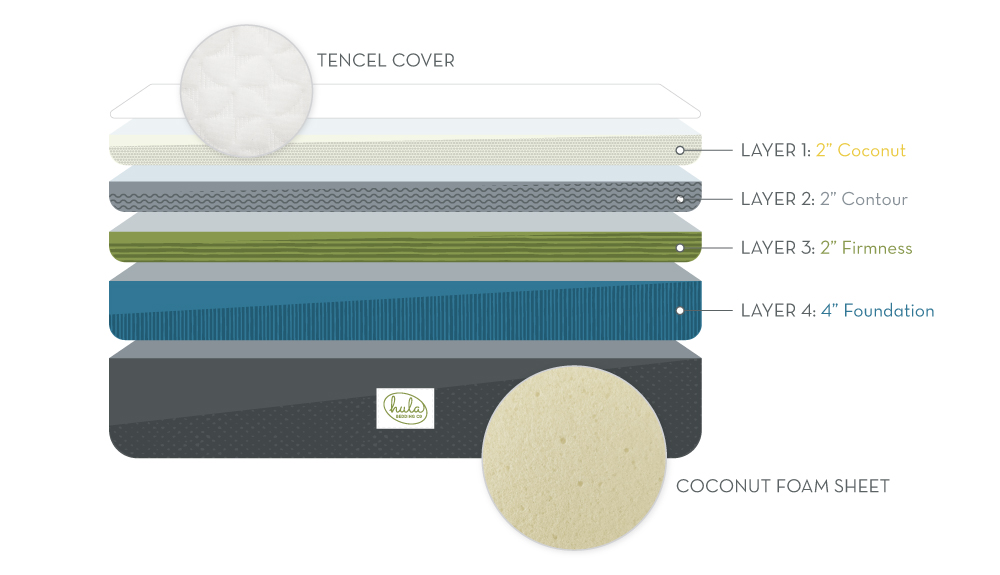 The top is Tencel covered and very soft, almost like a pillow top but rather depends upon the first 2" layer of foam based on coconut oil foam and it provides a cool airflow and comfort beyond description.  Tencel is made from wood pulp and is natural, absorbent and softer than silk.  It is also a cool fabric on the body.  The first layer is the 2 inches of coconut foam, which has a composition of 30% natural coconut polyol.  The coconut polyol is 200% more breathable than regular foams.
The third layer is 2 inches of high density, high ILD (high firmness) support to prevent any sinkage feel of the mattress. It provides pressure relief.
And the last layer is 4 inches of high density foam to support all layers. The Hula Bed mattress is available online only and comes with a 90 day guarantee that says Hula Mattress Company will pick up your mattress and refund your money one time within a 90 day period. There is a different process for returning your pillow as it allows for return by box – paid for by the Hula Bedding Company of course! The delivery time is phenomenal also – a couple of days from order to delivery in my case.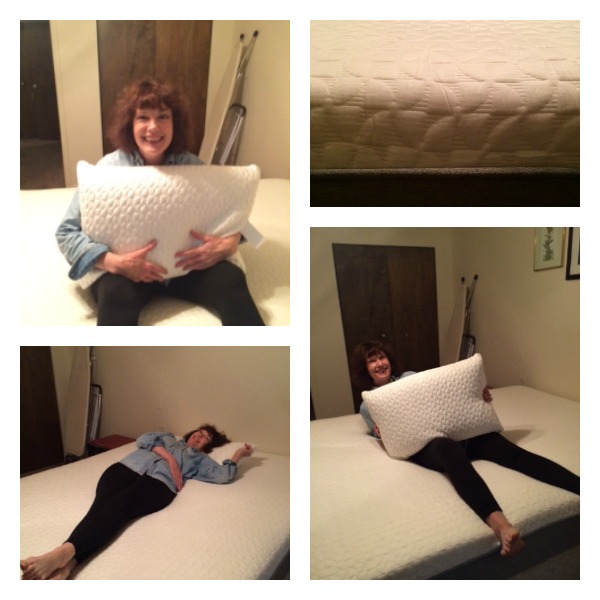 DO NOT even think I am giving up this mattress! 
On a comfort level from one to ten from the first moment I slept on it I am giving it a 10.  Firmness underneath the stunningly comfortable 2 inch coconut foam first layer was also a 10.  I woke up and wanted to stay in bed – forever.  I am not kidding, readers.  This is the best sleep experience I have had in 20 years!!!  The coconut foam is soft and supportive, and yet not slinky – it is perfection plus for support.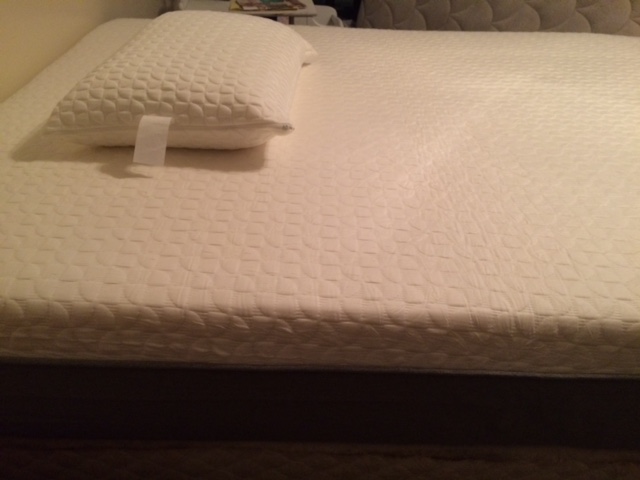 And Hula Bedding Company offers a dream pillow also. 
I love my Hula Bedding Company pillow as much as my mattress!  For the first time in ages I don't have a sore neck and slept throughout the night.  I have been using my mattress for 7 days now and every night gets better.  Easy and beautiful, this is the Queen of Hearts of mattresses and this Princess loves it.
Hula Bedding arrives in a box that looks like the size of a POOL float…
Check out how easy (and fun) it is to open it up….
I am going to quote from the HulaBed website:
"How does a coconut bed create an incredible night's sleep?

As with so many things in life, it's what's inside that counts. Underneath the tough exterior of a coconut lies a soft interior – perfectly suited to create a naturally elastic material for a luxurious sleep surface. Equal parts support and softness means a coconut foam-based mattress that is breathable, and yet doesn't leave you with "that sinking feeling" of other foam mattresses.

Hula's coconut foam-based mattresses and pillows provide a more natural sleep environment. Renewable elements. Resilient materials. Unparalleled comfort. That's something you and your family can rest easy on.

WE KNEW FROM THE START THAT COCONUT FOAM WAS THE BEST.

Luxuriously comfortable, extremely durable and topped off with unmatched airflow for a cool sleep experience. During our testing, we found the perfect combination of three additional foam layers to provide the right mix of comfort and support and topped it off with a TENCEL® cover for the perfect finishing touch".
Since pictures tell the story best
I am showing my readers the comfort this mattress offers I am posting pictures of this delectable mattress so you can see for yourselves.
Ratings are based on a 5-star scale 
Overall: Hula Bed BROKE OUR SCALE – This is a 10 plus for me!
Review by Broad "A" 
We received a product to facilitate our review. All opinions are our own
DETAILS