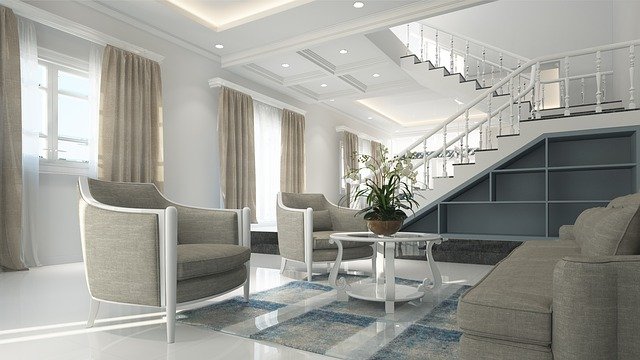 If you have ever booked yourself in a high-end hotel, you will already know how enjoyable a luxurious environment can be. Wouldn't it be great to have the same feeling at home? While you may not be able to make your home look like or feel like a hotel (who would want that anyway?), you can infuse your property with features that you love. 
Have a look at some of the tips below to help you to create a luxurious space in your home: 
Clear And Spacious
If you look closely at well-put-together hotels or homes, you will notice that they are never cluttered. There may be many items, but they all serve a purpose. The room has to be considered for every item that goes in it. So, have a look around your home, and think about what should be there, and what can go. Remember its quality over quantity when it comes to luxury. 
Upgraded Fabrics And Floors 
You may not think it, but, luxury is about comfort. If you aren't feeling comfy, then your home is luxurious. Now, this will also mean something different to every person. When moving forward think about luxury vinyl tile vs. luxury vinyl plank, and think about upgrading your fabrics. If you have old linens that are starting to look worn out, it can be hard to create a luxurious feel to your home, and be able to sink into deep relaxation. The fabrics and floors in your home are some of the few areas you should think about spending a little bit more on, you are sure to notice the difference when you get home after a long day of work. 
Get The Perfect Temperature
If you want your home to be luxurious, then you cannot be continually battling with the temperature. It can be hard to enjoy your surroundings if you are too warm or cold. You need to get it just right. There are obviously going to be fluctuations throughout the year as the seasons change, but there are ways you can ensure you are at the right temperature more often than not. Think about your structure and fix any drafts. Then look at your thermostat, could you upgrade to a smart thermostat that you can control via an app? 
Amaze With Your Entrance 
Your front door and hallway are the first thing that you guest see when they visit your home. So, you should start as you mean to go on. Think about any luxury hotel you have stayed at, and you will understand the importance of a grand entranceway. When it comes to the entranceway of your home, you need to ensure you are setting the scene. The idea is to create a serene, calm place from the moment you enter the door. Make sure you always keep it clean and clear of clutter and you are off to a great start. 
Think About The Senses 
Whenever you visit somewhere luxurious your senses are being stimulated. You may jump straight to touch when you think about senses, however, there are many that work well with luxury. For example, what you smell. There are many aromas that you can add to your home that will help you to create a relaxed and luxurious space. You should also think about the lighting in your home, it can have a huge impact especially as there is a massive difference between harsh lighting and soft, atmospheric lighting. If you have harsh lighting in your home, you may be surprised by how much difference it makes just by changing the overhead lights to side tables. For example, instead of having a big overhead light in your living room add a lamp to the side table or in corner of the room. 
Adding A Luxury Bathroom
This applies to all the bathrooms in your home including any downstairs, guest facilities. You can make a huge impact on the luxury feel of your home by looking at the bathrooms. In fact, these are some of the areas that have the biggest impact. There are even rooms that can be left without luxury, for example, you don't really need to have a luxurious laundry suite for your home to feel luxurious. Instead, you should tackle key rooms like the bathrooms, these will be noticed the most. If you get these right, you will be living a life of luxury in no time. 
These six tips should help you to easily add a touch of luxury to your home. Do you have any other tips that could help? Please share a few ideas in the comments below.