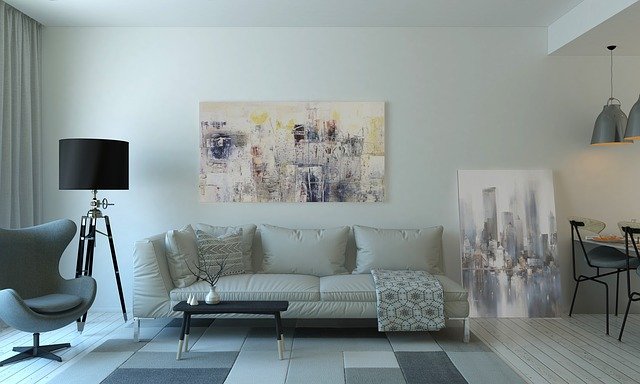 Once spring arrives at home some amazing things happen. First of all, flowers start to bloom in our garden and this can make a huge impact on the space. Secondly, with longer days you can enjoy light entering your home for longer periods.
What you may notice with longer days though is some of those niggling issues in your home that need to be fixed. A faulty light switch, a chip in your plaster, or even stained paintwork – any of these small things can impact the overall look and feel of the home. Today we want to talk about some of the small ways you can spruce up your home for the spring and get it looking bright and new. 
Add a splash of color 
Color can be such a gamechanger in your home. Whether you decide to add a fresh bunch of flowers to the kitchen table or brighten up the bathroom with some colorful towels – there are plenty of ways to do it. Find ways to bring bright spring colors to all of the rooms of your home and it will instantly add a design element that is just stunning. 
Consider solar panels 
If you want to start making the most of the spring and summer season, one way to do this is by saving money on your energy bills. You can consider solar installation on your roof this spring and start harvesting sunlight for your own gains. You'll not only save money but you'll be doing some real good for the environment too. 
Repaint an old piece of furniture 
If you don't want to fork out for big changes in the home this spring – one thing you can do is take an old piece of furniture and bring it back to life. Let's say you have a chest of drawers in a dark wooden tone. You can easily change this with a tub of gloss paint in bright white or grey and bring a whole new feature to your living space. Upcycling old furniture like this is more cost-effective but it will also be a great way for you to bring some fun back to your home. 
Create an indoor jungle 
One of the ways to add some fun and color to the home in spring is to bring a few houseplants into your living space. Houseplants will provide you with a great sense of comfort as well as freshness in your home and you simply need a sunny spot in the house to place them. Succulents are a great option as well as some herbs such as basil that thrive on the warmth of being indoors. 
Change the flooring 
To make a huge impact on your home in the spring, relaying either carpet or laminate flooring is a great idea. This is a costly spruce up but it can change the whole dynamic of your home in a few hours and will last you for years to come. 
Try some of these fun ideas today and bring some life back to your house in spring.