This post was sponsored by Hasbro's Joy For All brand as part of an Influencer Activation for Influence Central. All opinions expressed in my post are my own.

When I was a kid, we drove down to Florida to see my grandparents every Christmas.  My grandparents, two elderly Irish Catholic seniors, loved their grandchildren.  The smells of cookies, roast beef and gravy and the sight of a tree full of baubles and presents underneath were laid out every year. I remember crying to open my presents early, and my grandmother holding me down and offering me candy instead – how I wanted those presents under the tree.  Now I find it is my turn to give them something back.
As they got older, it became my job to take care of my aging grandparents and that was often a hard task as I saw them aging and having less and less to do with the outside world.  When I discovered the Hasbro Joy for All Pets (Pup and Cat), I remembered how my grandparents loved their pets and how lost they felt when their pets passed away.  Somehow, just being able to pet them and interact with them allowed my grandparents the great joy. 
Well now Hasbro has introduced the All for Joy Pup and the All for Joy Cat and as you can see, they interact with seniors in a way that brings a smile and some joy into the holidays as seniors are often left behind.  These darling interactive "pets" offer barks and meows and more!  Our entire family enjoys seeing my grandparents brush their Pup and pet them and it brings a smile to their faces that makes us all feel useful.  As hard as it is to see them age, Hasbro's Pup and Cat has found a way to their hearts which makes our family happy!  Loneliness happens in senior homes, and companionship is so important, especially as our elderly loved ones lose some of their sensitivity to outside matters.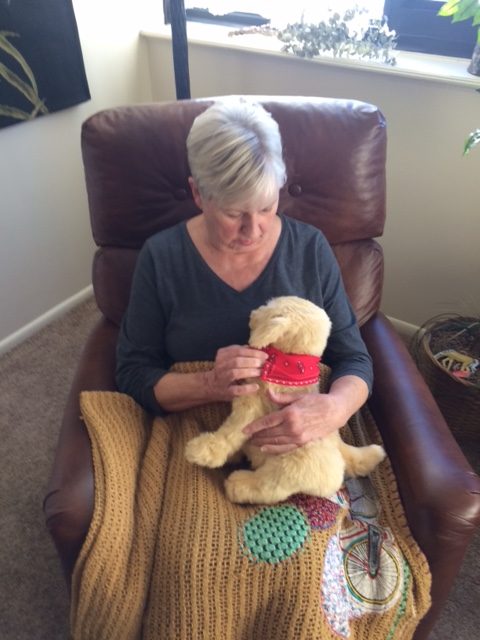 These darling Pet companions are interactive; Hasbro has long been involved in the play, joy and happiness of generations of people.  Not only soft and cuddly, the Pup and Cat offer functions that will help seniors stay actively interested.
The Hasbro Joy for All Pup and Cat offers:
On the bottom of the Pup and Cat, there is an On, Off and Mute button.  The Pup and Cat come with 4 x 1.5V C Alkaline batteries already loaded and instructions on how to reload batteries.
Both Companion Pets offer soft fur for a realistic touch.  The cat comes with its own brush and in three different patterns of fur.  The Pet Cat also comes with a brush for a Senior to be able to brush his or her pet.
The Hasbro Joy for All Pup responds to voice with a bark-like sounds and its body responds in different ways to petting and hugging in a very real manner.
The Hasbro Joy for All Cat purrs, turns its tummy up for petting and interacts realistically to its owner's voice and petting.
Both the Pup and the Cat give the hugs and companionship that seniors need the entire year around.  Give your grandparents, and seniors the gift of involvement with Hasbro's Pets this year for Christmas or Chanukah and watch them enjoy them the entire year long!  Happy Holidays!

Head to JoyForAll.com to purchase your very own JOY FOR ALL COMPANION PET today and use JOY2016 for 10% off your purchase! And to find out more information check out: