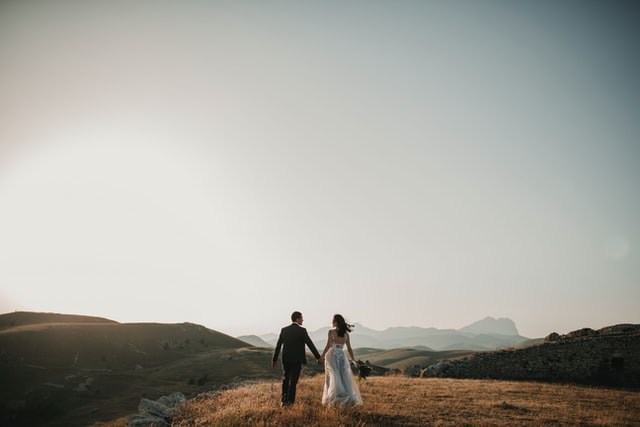 Everyone wants their wedding to be personal. The idea of having a day that is all about you can be quite exciting, and many people think about this part of life for years before the big day actually rolls around. Of course, though, making a personal wedding can be more complicated than you expect. To help you out with this, this article will be exploring some of the key areas that need to be considered when you are working towards a personal wedding, giving you the chance to get started with confidence.
The Clothing
The clothing you wear to your wedding will always be very important. While men and women traditionally wear different outfits for their wedding, you can do whatever you like with this, and straying from the options that other people choose is a great way to push yourself closer to a personal wedding. There are a few different ways to take the personal approach further when you're figuring out your wedding clothing.
Bespoke Outfits: There are loads of tailoring companies in the world that specialize in wedding clothing. Businesses like this can work with you to

create a dress or suit

that is incredibly personal to you, with decorations and designs that you love being used from the very beginning.

Heirlooms: It's likely that you or your partner have family members that have been married before, and this means that they will have found outfits for themselves all those years ago. Using a dress or a suit from another member of your family can be a great way to make your special day feel more personal.

DIY Outfits: Alongside the options above, those who have experience making clothing in the past could consider the idea of

making their own wedding garments

. This type of work takes a lot of skill, and this makes it worth making sure that you feel very confident before you get started.
The Venue & Decor
The venue you choose will always be important to the success of your wedding. There are loads of options out there, but picking something that will feel personal can be a challenge for many people. Thankfully, there are a number of approaches that can be taken with this, giving you loads of room to make your venue unique to you.
Some people choose places that were important during their childhoods, and this is perfect if you met your partner when you were young. Others will pick places that were significant to their family members, like the church that your parents were married in, and some will even decide to pick places because they find them particularly romantic. It's always worth picking a venue that makes both you and your partner happy.
The decor you choose for your wedding also ties into this. There are countless ways to make your decor more personal, and this gives you an excellent opportunity to make your wedding unique with subtle touches. Plants from your home region, ornaments that relate to your hobbies, and other items that make your day feel extra special will always be a good way to decorate.
The Music & Entertainment
Entertainment is always a big part of a wedding day, with music being one of the most crucial elements of this whole event. There are loads of ways to handle this aspect of your wedding, but a live band will usually be the most exciting option for you and your guests. Choosing music that appeals to both you and your partner is a good idea. This can be challenging, but there are loads of sites around the web that are dedicated to helping people to find musicians for events like this.
The type of music you play will usually change throughout your wedding day. There will always be a time before the ceremony starts when people can chat and mingle with one another, and this will call for calmer music. Once you get to the tail end of the day, though, people will be in the mood to party, and this means that you're likely to benefit from music that has a little more energy to it. DJs and other electronic musicians will usually be best for the evening wedding celebrations you arrange.
The People
Picking the right people to go to your wedding can be a challenge, and this can often cause arguments between husbands and wives to be. It can be hard to make both sides happy, with both people in the relationship having friends and family members. It's usually best to create a list to achieve the right results with this. Your list should start with your essential wedding guests, like family members and your closest friends, with a sub-list for people who aren't crucial to the whole event.
It's very important that both you and your partner think about each other as you go through this. While someone may not be important to you, they could mean a lot to your partner, and they will need to attend to make your loved one happy. It is all too easy for arguments to start at this point, and this makes it worth taking a relaxed approach. Even if your partner wants to invite someone you don't like, you can still enjoy your big day and simply ignore the fact that they are there.
Wedding invites also tie into this section, and it makes sense to spend a lot of time on this part of your wedding. The style you choose for the event itself can carry over to your invites, with the piece of paper you give to each guest reflecting the personal touch you've given your venue. Of course, making your invites by hand will make them feel a lot more personal, and it can be worth learning skills like calligraphy to ensure that you can get the best results. 
The Food & Drink
Food and drink are at the top of this for many wedding planners, as this area can be complicated and hard to arrange. Food should always reflect the meals that you and your partner like the most, but you can also work to give your guests as many options as possible to ensure that everyone is happy. Companies that offer buffet services can be best for this, giving you the chance to save money on serving staff while also opening the options to keep everyone happy.
Drinks can be just as challenging, with many people only enjoying specific beverages. It's becoming increasingly common for people to source their own booze so that they can offer an open bar to their guests, and this option is often much cheaper than paying for a proper bar. Of course, though, much like your food, there are companies that can provide drinks for your wedding, giving you the chance to forget about this aspect of your big day. You can tie the drinks you choose into personal aspects of your life. It's always worth thinking about dietary requirements when you are working out the food and drink for a wedding.
The Ceremony
The legal element of modern weddings is usually held before or after the ceremony, with the time you spend in front of your family is more for show than anything else. This means that you have a lot of control over your wedding ceremony, and can choose to make it as traditional as you like. Many people choose to have someone they care about to handle this part of their big day, with their friends being able to give the ceremony a personal touch that a religious leader might struggle with. 
The Rings
Wedding rings have long been considered one of the most crucial elements of an event like this. This small token symbolizes the bond you share with your partner and is one of the few parts of your wedding that you will be able to carry with you for the rest of your life. You can try to design your own engagement ring from scratch, though this will usually be a lot of work and far too difficult for those without experience. Instead, companies like Allurez can solve this problem for you, giving you the ability to make your own ring from a range of tried and tested designs.
Of course, some people will prefer to take a similar route to their clothing here. Using a ring that has been in your family for a very long time can be a great way to this aspect of your big day far more personal. Jewelers will be able to resize and restore your old rings, giving them new life and making them perfect for your big day.
Your wedding should be one of the best days in your life, and this is something that you will have to work hard to achieve. Some people find it easier than others to get what they want out of their big day, but this doesn't mean that you have to worry. With the help of your partner, you should be able to achieve absolutely anything.