When you buy a home, most often, you picture yourself living there for years to come. However, you might just find that reasonably quickly, you want to make changes or invest a little more in the interior. 
When it comes to spending money, though – where should you be saving, and where should you be splurging? 
Where you spend your money on your home will make a massive difference to the maintenance, and if you choose to sell eventually – the sale price too. 
From redecoration, finances, and comfort, here are your spend vs. save.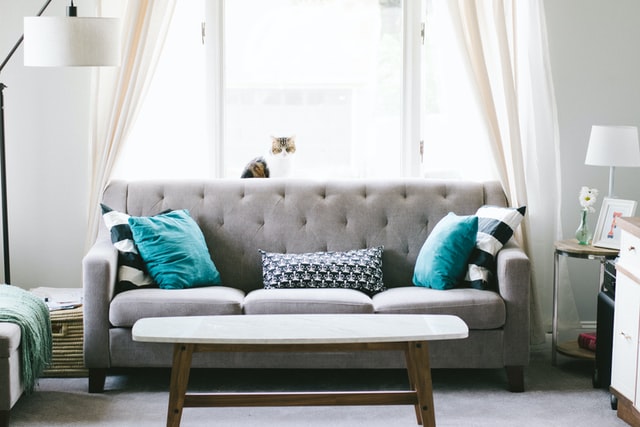 Living rooms
The living room, for many, is the heart of the home. You want it to be as comfortable and relaxing as possible. 
The chances of it being the living room of your dreams with a hard sofa are pretty slim. Instead, think about splurging on the most luxurious sofa that you can afford. 
You want your sofa to last for years, and often something that comes with the price is quality. 
Most often, people can't afford to spend hundreds or thousands of dollars on a sofa, so this might be one to add to your savings plans. 
If you splurge on the sofa, then you can certainly save on making the even cozier. You won't need to have expensive cushions and blankets once you have a couch that is designed to feel like a warm hug – the rest doesn't need to be the star of the show.
Insurance 
When it comes to making intelligent financial decisions getting home insurance is one of the best. 
If your home is involved in a fire or caught in severe weather, or you become the victim of a break-in, then your insurance will help you recover for the cost of replacing the content of your home. 
Most homeowners have several rules and also language that not everyone is comfortable with. This does lead to people buying policies that don't offer them the coverage they need, or ever too much. 
What's more, is that insurance companies know that many people don't fully comprehend their policies and reject claims that should be accepted. When this happens, you can contact insurance claim attorneys and move forward to ensure you get what you are entitled to. 
Security 
Security is one area that no one can afford to skimp on. Installing a simple CCTV set-up can make a huge difference in deterring would-be thieves. And, if anything does happen, you will have the evidence you need for the police available. 
Simple options like motion sensor floodlights can often be enough. 
Many people find that the Ring doorbell system is a huge benefit and gives peace of mind too. 
Bathroom
If you have ever watched Grey's Anatomy, you might remember that Merideth wanted a bath that covered her chest, knees, and tummy. 
When it comes to your bathroom, if you have room for a bathroom, you should try to get one that offers you the type of bath you want. 
If you don't have room for a bath, your showerhead should offer a range of streams and enough pressure to give you a great shower. 
Another place to consider having something a little more luxurious than usual is the toilet seat. After all, there is no reason to have an uncomfortable toilet visit. 
You can increase the light and the feel of the size of your bathroom very quickly by using mirror panels that are stick on. You can get them from most homeware stores, and they are a safe item but make a huge difference. 
Bedroom
Your bedroom is a sanctuary, and it should be somewhere that you can relax and drift off into a peaceful and deep sleep. 
There are a couple of places that you should consider a splurge when it comes to your bedroom. The first is a mattress, and the second is the linens. 
Your mattress shouldn't be more than eight years old, as, after that point, they often don't offer the support you need to have a comfortable night's sleep. 
The bedframe is the second place that you should consider a splurge. A sturdy bed frame will last for years, be comfortable and supportive. You can also get more for your money here if you invest in a bed frame that offers storage. Having storage in your bed frame will help to maximize the rest of the bedroom space. 
On the other hand, dressers don't need to be expensive, so long as they offer some storage and enough space to have a lamp on, they are usually fine. Small dressers are available from IKEA for around $30, and they can be decorated and painted to meet your needs. 
Homey Accessories
The little things can make the most significant difference in your home. One of the best things about accessories is that they are typically on the budget side. However, if you want to splurge, then there is one place where you should consider it. 
Setting some cash aside and spending it on more expensive candles will be a splurge item that you never regret. Typically more costly candles offer more high-quality essential oils and better ingredients. 
Mid-price candles like Yankee candles can offer a nice mid-point when it comes to sticking to a budget, though. Something to remember about the more expensive candles is that they often have a longer burn life, and the fragrances are usually better. 
When it comes to personalizing your home, art can make a huge difference. You don't need to splurge, though, unless you are a bit of an art critic. Etsy is filled with amazing artists that sell originals for very reasonable prices. 
You could also opt for prints of your favorite artwork by famous artists, frame them and create your gallery. 
If you want to make this even cheaper, you can explore your creative streak and create your artwork! 
When it comes to the splurge vs. save, there are only a couple of big-ticket items that make a significant impact on your home. For the most part, cheap and cheerful will do just fine! 
Are You Looking To Invest Some Cash In A Smarter Home? Handy Home Gadgets We're Loving Right Now