This post has been sponsored by WebProtectMe. All opinions are strictly my own.
WebProtectMe, the app that PARENTS HAVE TO HAVE!!!!
We all worry about our kids on their iPads and iPhones – we feel the need to sneak peek to make sure that they are safe, but we do not want them to feel that we distrust them.  With all that goes on in communication skills these days, it is essential to protect our children without hovering.  And the best way to do that safety is with an app like WebProtectMe with Safe Browser and Guardian.
Whether your kids are 8 or 18, we need to monitor their safety.  You would not allow your young daughter to go to a sleepover without knowing who was supervising and discussing the matter with the other child's parents.  Its not about trust of your child; it is about safety and parental responsibility.  We protect our children as we must as parents.
Internet web browsing requires the same thing with restricting and monitoring your child's web browsing. Checking the browser history or log does not work as kids can delete their history easily and you don't know if they are in a dangerous chat room or just talking to their friends.
Our children are now on mobile devices almost constantly.  When you decide that your children are old enough to use an iPhone or iPad, it is your responsibility to make sure that they are safe.  You may need to make some modifications on their mobile devise to ensure their safety.
A password that only you know
Remove the default Safari browser for a safer alternative that you can monitor.
Install a program like WebProtectMe,  Safe Browser, and WebProtectme Guardian, a set of apps that work simultaneously to allow you to monitor their devices safely based on the e settings that YOU choose.
So what is WebProtectMe and how does it help me keep my child safe on their iPhone and iPad?  WebProtectMe is a web browser with lots of protection built in to it. And it's free.
Guardian is an app that lets you fine tune and more tightly control what Safe Browser can do. Guardian is also the monitoring app.
Unlike Safe Browser, there is a $9.99 monthly fee to use it, but you can give it a try for a month for free, so there's no risk.
Some ways Safe Browser and Guardian can help you and your child follow:
The ability to block a specific site until your child has finished their homework (say a sports channel or other site)
YouTube has some very unchild friendly sites.  You can block YouTube from your child.
Rather than spy on individual sites that your child goes to, you can get a broad view of the sites that he or she visits, grouped by category.
Safe Browser can protect your kids, and you, from phishing and nefarious sites, as well as eliminate annoying popups and advertisements.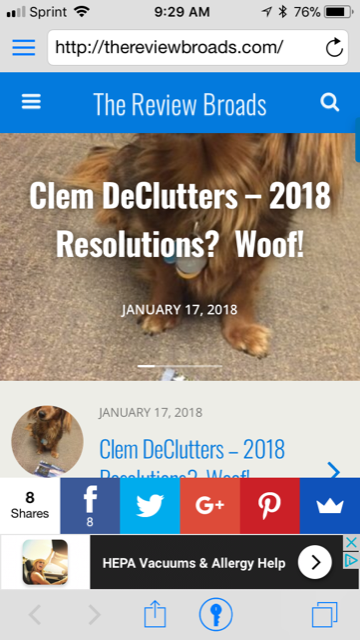 BEST OF ALL > it is easy to get started and up and running.
Getting started with WebProtectMe Safe Browser and Guardian:
There are more detailed instructions in this article from the webprotectme.com website. It shows you how to set up a passcode and age restrictions on content, and it's worth following these steps even if you decide you don't want to use Guardian for now.
First, install two apps from the App Store:  Safe Browser and WebProtectMe Guardian. To find them, search for WebProtectMe in the App Store.
After you install them, set up a free account with WebProtectMe, (even for the basic service that is free).
If you don't want emails, you can opt out.
Safe Browser gives you a lot of sensible restriction options, including Safe Search (for Google, Bing, Yahoo, YouTube, Vimeo and Tumblr). And the basic, free version blocks sites that fall under the headings below (among others):
Pornography, sex, nudity
Sex Education & Abortion
Drugs, alcohol, tobacco
Violence
And even adult users should appreciate that it blocks these nasty things:
Phishing
Malware
Key Loggers
Hacking
The premium pay-for account lets you block (or unblock) any of these, with more than fifty categories. You can completely customize your family's protection using
Customized whitelists and blacklists where you can explicitly allow or block specific websites.
And it's good if your kids share devices, letting you set per-user protection settings let an older family member have access to different websites than younger family members.
Monitoring without spying:Being able to control what Safe Browser shows you and what it doesn't is a good reason to consider getting the paid account. But the main reason you should do it are the advanced monitoring functions that alert you when your child has visited a site that you might want to investigate further. And while you could, if you wanted, look at every site in your kid's browsing report, it's much easier to see at a glance if there are trouble spots.
Why not give WebProtectMe a try and know that your kids (and you) are safe on iPad and iPhone!  Check it out!  I did!  And I love it.

We give WebProtectMe a 5+
For full details visit them online at WebProtectMe.com and download on your mobile phone