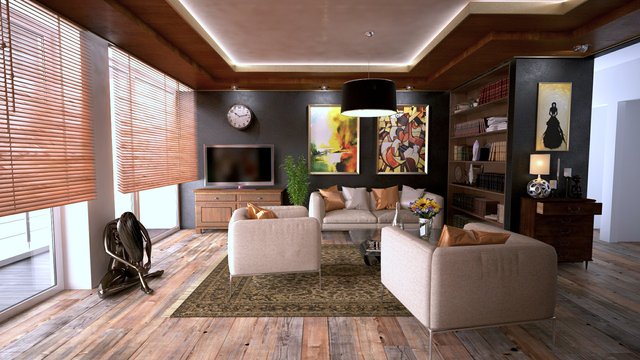 Considering upgrades and renovations before you sell your home can sometimes be a big risk. However, the key to a successful remodel is by carefully choosing projects that only add value to your property. Whether you're planning to move out soon or in the far future, prepping your home with profitable improvements can give you a great return on your investment and offer the benefit of selling your home faster. If this sounds of interest to you, we've collated an inspirational guide covering the best home improvements and tips that can bring huge profit and help speed up the selling process in the long run. 
Home Improvements Ideas
Many people think that the features that will impress potential buyers are the ones that are most expensive. However, it's important to remember that savvy home improvements begin with what you spend your money on, not how much you spend. Few of us have unlimited funds, so what home improvement features should you invest in to make your money go further? 
Kitchen Cabinet Painting
The kitchen is undoubtedly the hub of any home. With a few generous coatings, cabinet painting will transform your kitchen from dreary to dreamy. Remember to use high-quality materials, including primer, paint, and top coat to make your cabinets last long and look beautiful. Try picking tones in between grey and beige, as this can create a neutral impression of both warm and cool tones. Painting in the kitchen doesn't have to be just limited to cabinets – you can try painting countertops to look like granite or marble or painting muted tones on bare walls.
Bathroom Upgrades 
If your property's family bathroom is in need of some TLC, investing in eye-catching features such as new tiling, double sinks, or even a waterfall shower can modernize any home and attract buyers. While vintage bathrooms are charming in their own way, a sleek and contemporary bathroom aligns with today's interior trends and has a higher chance of winning people over to make that sale. Sometimes, less is more! Consider repairing or replacing old taps, showerheads, and bathroom mirror frames. To further capture a buyer's interest, try focusing on coordinating your chosen colors, layout, and fixtures with each other to create a harmonious theme. 
New Flooring 
Investing in new flooring such as new clean carpets, sheet linoleum, ceramic tile, or tongue and groove fittings can have a big impact on a home's appearance, and help to speed up the selling process. Running the same flooring throughout the property will allow rooms to have a seamless sense of flow, and can easily create the convincing illusion of having more space. 
New Lightning 
Installing new lighting fixtures can greatly open up the area within your property and complement the features inside. Older lighting fixtures will only detract the value of your property – aim to invest in new lighting fixtures that make a statement to potential buyers and add effortless style to the space that is being offered.
Replace Small Features
Sometimes, renovating a property to increase its value can be achieved through the simpler tasks such as purchasing new bedroom furniture, or replacing smaller features in your home such as wall switches, faucets, doorknobs and door handles. While these are all only minor details within the home, it's important to remember that many buyers tend to focus on the tiniest of details while viewing a property. Unattractive old fixtures can be distracting and often be off-putting to buyers. These small and inexpensive upgrades can give your property a more cohesive, modern look that buyers will be sure to notice.
Renovate Fireplaces 
For the ultimate wow factor, renovating your existing fireplace or investing in a wood-burning stove can enhance your property's salability by offering a cozy and homely element that many buyers look for. Whether in the dining room, living room, or even bedroom, a fireplace acts as a focal point in any room and offers a beacon of light, warmth, and relaxation – what's not to love?
Invest in Energy Efficient Upgrades 
Today, it can really pay off to do your bit for the environment. Solar panels, air pumps, energy-saving lights, as well as energy-efficient appliances such as dishwashers and smart fridges can all greatly reduce your utility costs and appeal to the increasing group of environmentally conscious buyers. 
Curb Appeal
As a homeowner, you'll know all too well the importance of curb appeal. An unkempt property exterior has the power to seal the fate of your property's saleability before the potential buyer has even stepped foot inside. Stay ahead of your competition by improving your property's exterior: this can include trimming your lawn, shrubs and bushes, laying out fresh mulch, power washing the exterior of your house, or even painting your door. 
Backyard Landscaping Upgrades
A beautiful backyard is arguably one of the main selling points of a home. Depending on the size of your outdoor space, a wooden decking or patio area alongside a lush lawn is an inexpensive home improvement and could be a deciding factor for a buyer choosing between your property and a neighboring one. 
Create more Space 
If it fits your budget, creating more space with a creative backyard office pod or shed can be an impressive selling point for your property. A quality, fully-insulated extra room shouldn't need any planning permission, and you'll be able to kit it out as you choose. Larger investments, including home extensions, basement, and loft conversions will give your property warmth, light, and best of all, increased floor space. Whether you choose to renovate upstairs or downstairs, both options will allow you to create anything from extra bedrooms, extended living areas, and the potential to add a considerable amount of value to your home. 
Final Tips
Hopefully, we've been able to inspire your next big project to increase the value of your home. Here are a few final pointers on what you should do next to ensure that you'll be getting the best shot in selling your property.
Research Buyer Trends in your Area
Before you invest any money on upgrades in your property, make sure to talk to a real estate agent who knows your area inside out, and can answer any of your questions regarding what adds value to homes in your market. Taking time to look at buyer trends where you live can be hugely advantageous when making home improvement decisions. Depending on your neighborhood and price point, certain features can appeal to different demographics. For example, if you are thinking of going forward with a major home renovation project, it's worthwhile to find out if this appeals to buyers in your area. 
Reduce any Maintenance Issues 
Once your home improvements are complete, it's time to focus on tackling any nagging maintenance problems that potential buyers may be unpersuaded by. If your property is 10-15 years old, any large items that buyers may have to repair or replace in the next few years could make or break a deal. From repairing leaky faucets to installing a new boiler, taking on these hassles now can help you get your best asking price. 
Declutter
While it may seem obvious, clearing out basements and garages allows the liveable space in your property to appear larger and more desirable for potential buyers. To really impress, you could even try painting walls and floors in storage areas for an even more refined and clean appearance. 
Invest in A Professional Cleaning Service 
A home that appears neat and tidy can go a long way in terms of a buyer's first impression. 
If necessary, it can be helpful to hire a cleaning service to deep clean your home and ensure it looks inviting, fresh, and good as new for its future residents. Of course, it's totally possible to thoroughly clean your home without cost on your own, however, it can be time-consuming, and you could miss certain spots. Mentioning to buyers that your home has been professionally cleaned is also a bonus selling point, making it an extremely worthwhile investment. Having your property professionally cleaned will mean you'll be able to meet your buyer's expectations, and they'll appreciate the extra step that you've taken. 
Unsurprisingly, it can be difficult for buyers to vividly imagine furniture in a room unless they are able to see it in person first. Staging your property with furniture will give off a warm and friendly ambiance that potential buyers are looking for. What's more, it'll help them envision what they plan to do with the space. You don't have to splash your cash on professionally staging your home – you can alternatively hire a staging consultant who can offer you expert advice on how to organize your furniture with the aim of effectively influencing buyers. This could include adding style in key rooms or arranging furniture in a way that keeps walkways clear and helps to present open airy spaces.