The Spectacular World of Waldorf
Series of Children's Books
Authors: Barbara Terry and Beth Ann Stifflemire
I love a good children's book, and a good children's' series of books is even better.  In this Waldorf series, the authors introduce Waldorf, an adorable Labrador retriever who takes a turn out and about.  The four titles in this series are Mr. Waldorf Travels to the Great State of Texas, Mr. Waldorf Travels to the Wild State of Alaska, Mr. Waldorf Travels to the Huge Russia, and Mr. Waldorf Travels to the Mysterious China.
As Mr. Waldorf the Dog finds new places and makes new friends, he introduces children to a delightful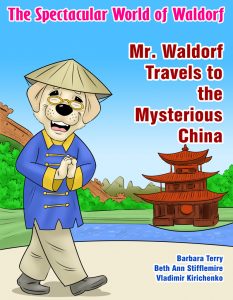 geography lesson.  In China, he loses his glasses and as he stumbles he discovers some of the wonders of China and imparts them to young children in a way that they remember and adore.  In Russia, Mr. Waldorf (who has lost his glasses once more) visits Saint Petersburg, Lake Baikai, the Ural Mountains and much much more.  In Alaska, a clueless Mr. Waldorf cannot see again – those darn eyeglasses – and children can help him find them as he travels throughout the state.  And finally, in Texas, Mr. Waldorf ends up at the Alamo, rides a bull – for just a second or two – meets up with longhorns and meets some NASA astronauts.
Beautifully illustrated, these soft cover books are alluring and exciting as they introduce little kids to the world of Mr. Waldorf with his gallop to find his glasses hidden in great geography lessons.
This lovable canine series is full of unforgettable, amusing and educational adventures that will have small children falling in love with the adorable fuzzy Mr. Waldorf and begging parents for the next Mr. Waldorf book (I used to do the same with my Little Golden Books, which are very similar!).
Ratings are based on a 5-star scale 
Overall: 3.5
Review by Broad "A" 
We received a product to facilitate our review. All opinions are our own
DETAILS