Everyone has a busy life, juggling work, family concerns, chores, and other responsibilities. It's easy to get overwhelmed and feel as though you're neglecting your social life or even family quality time. While there is a time to plan something more interesting, like a family outing or date night, sometimes "Netflix and Chill" can mean just that. Chilling out and having a relaxing night in.
This is a perfect way to switch off from work and other concerns. However, you don't need to plan a night in as extensively as other activities, it does still pay to put some thought into it. Here are some tips to help you to destress, the right way.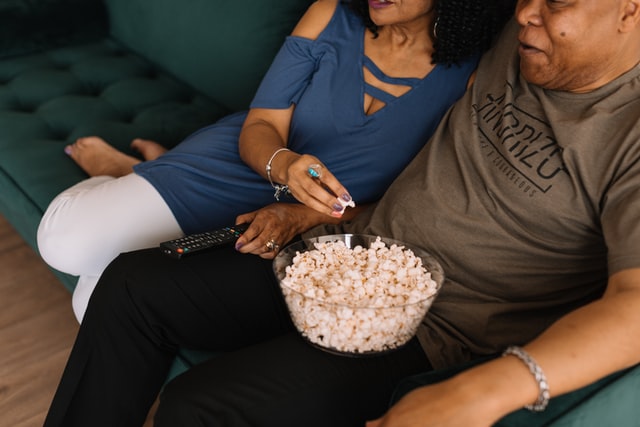 Set Aside Time
When planning a night out, you have to organize. You need to put aside money, decide on a time, place, and activity, then get ready and go on the evening. You might have a fantastic time, but you can have just as much fun when having a night in with your loved ones, with as much planning.
The main thing is to set aside time for your night in. Life is busy and things get shoved out of place when more important things come along, but your leisure time should take priority sometimes. We need to rest, otherwise, we risk getting burnt out. A night in gives us this chance. Plan an evening or a weekend.
You don't need to do much planning, simply set aside that time in your schedule. A night in is best with people you love, so whether you want to relax with your family or invite some friends over for a night in, make sure that you let them know. You're never too old for a girls' or guys' night in. 
Pick Your Snacks
A relaxing night in isn't the same without snacks and drinks. This is the perfect time to treat yourselves and order takeout. You don't have to cook, there's less washing up to do, and most takeout food is delicious and perfect for this kind of relaxing and indulgent evening. 
As well as the main meal, most people like to watch films or television shows with snacks and drinks. The classic snack options are popcorn and chips, but you can be more imaginative if you like. Try some quick snack recipes to mix things up. 
Making the snacks yourself does require more forethought, but it can also make your relaxing night in more special. Even better, if you have dietary restrictions or are concerned about your weight, you can make some healthier snacks so that you can eat them without the slightest hint of guilt. 
As well as snacks, you should also have some drink options. Water is always a good option and it's best to always have some available to keep you hydrated. However, soft drinks are a movie night classic, and now that you're all grown up, you can mix them with alcohol if you like. 
Choose Entertainment
As well as good company, good food, and some time set aside for your relaxing night in, you need to choose your entertainment. You can do this on the evening, but this can often result in spending ages trawling through streaming sites until you find something that you actually fancy watching. True, this can still lead to a good time, but it can also lead to some frustration.
Ideally, you should plan your entertainment before the evening, so that you can settle down right away and get watching. If you're on Netflix and can't find a show or movie that you want to watch, then consider looking at how to change Netflix region. Some things are available in one country, but not another. Changing the region gives you more options.
There are some fantastic things to watch on Netflix and other streaming services. For example, the first half of the latest season of Stranger Things is out and many people are getting together to enjoy it together. You can plan to watch the upcoming final episodes with friends if you don't have time to binge-watch an entire season.
If you do want to make your movie or binge night more of a big deal, you can arrange a themed event that's based on your chosen show or movie. For example, if you want to embark on an epic, all-day Lord of the Rings (or whatever you choose) marathon, then get some appropriate food together, get some good friends, and put aside a day. 
However, you want to plan your relaxing night or day in, remember to have fun and chill out.