IT'S NATIONAL PET MONTH! 
I'm ON IT with PETSMILE pet toothpaste
WHAT? You smirk…that Review Broad is BRUSHING HER DOG'S TEETH?  NO NO NO wwith PETSMILE I don' have to brush Clem's teeth!  Did you know that I have NEVER had to give Clem a veterinarian's dental because at 9 his teeth are pristine!  That saves me a lot of money and gives Clem a longer life span as gingivitis is as bad for our dogs and cats as it is for us, loosening teeth and having to have them pulled.
There are so many myths abounding about dog tooth care! 
Myth 1: Just use human toothpaste on your pet

NO NO NO! People paste usually contains fluoride, which can be toxic for pets. Only use a good brand dog toothpaste on your dog's teeth!
Petsmileis an affordable pet friendly toothpaste made from a unique formula that combats the buildup of plaque and tartar in your dog's mouth while also eliminating odor causing bacteria.

Myth 2: All pets have bad breath

Dogs and cats often have bad breath due to bad dental care and the use of kibble as a continuous food. Kibble does NOT clean your dog's teeth.  There are many reasons for dog and cat breath, but bad teeth is one of the main reasons.  CHECK with your vet and USE PETSMILE for NO ODOR at all!

Myth 3: Dogs should eat real bones

Clem had his two back molars cracked by chewing supposedly safe raw bones. It cost $1,500 to have them pulled and he was sick for weeks.  Spread a layer of Petsmile pet toothpaste on your pet's favorite toy to increase dental hygiene regularity and their love for you! I always use toothpaste since then, and Petsmile  Made by the folks who make Supersmile this toothpaste lasts, Clem loves the taste and IT WORKS!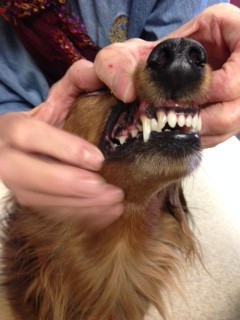 P.S. I have bought a lot of other "pastes" for Clem and tried gels etc.  This WORKS!  And he LOVES the taste!
INGREDIENTS
Deionized Water: Ion-free water that maintains the texture of the toothpaste
Glycerin:A natural sweetening and preserving agent
Citric Acid:An organic acid that assists in reducing tartar and removing stains
Dicalcium Phosphate Dihydrate:A polishing agent that restores tooth enamel
Calprox:Our proprietary, silica-free, whitening ingredient that dissolves stains and cleans teeth without abrasion
Cellulose Gum:A vegetarian based thickener that creates a creamy texture
Urea Peroxide:A natural preservative and whitening agent
Carbopol 934P:A gelling agent for smooth, glossy texture and easy flow from tube
Potassium Hydroxide:Prevents tooth decay by neutralizing acidity
Flavor:Natural London broil beef flavor
Phosphoric Acid:A stabilizer and polishing compound
Sodium Benzoate:Protects the natural London Broil flavor
EDTA:A stabilizer used to maintain our unique formula
Cetylpyridinium Chloride:A germ fighter that reduces halitosis producing bacteria
Petsmile uses only safe, food grade ingredients and contains no parabens, silica, sulfates or dyes.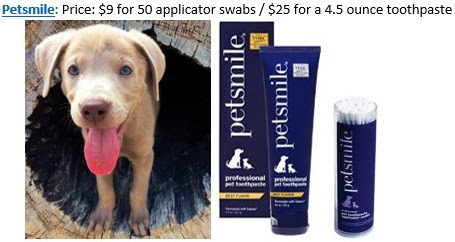 From the Petsmile website:
"Introducing Petsmile®, the only dental care toothpaste recommended by the Veterinarian Oral Health Council (VOHC). Petsmile's exclusive Calprox® formula is clinically proven to safely inhibit plaque formation for healthier teeth and gums. Petsmile also keeps your pet's breath fresh. All without the need to brush.Petsmile can be applied with a fingertip or our exclusive swabs. Or you can use a toothbrush if your dog will let you. Petsmile goes to work immediately to attack plaque from bacteria, acid, food and saliva. And it dissolves in the mouth safely and effectively. No wonder it's recommended by pets and vets".
Ratings are based on a 5-star scale
Overall: 5
Review by Broad "A" 
We received a product to facilitate our review. All opinions are our own
Details
Petsmile is available for purchase on Amazon:  Petsmile and PetsmileUSA.com– $9 for 50 applicator swabs or $25 for a 4.5 oz tube of toothpaste