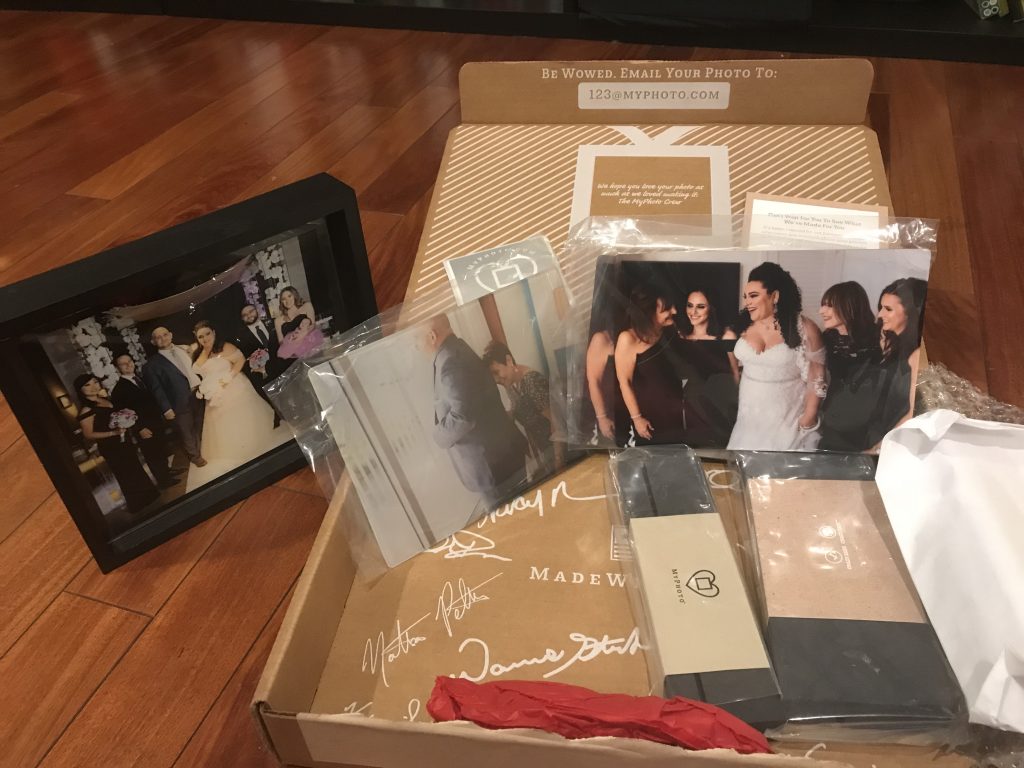 When it comes to buying gifts for the moms in your life, it can sometimes be a tough call. This year, I wanted to give the gift of photos because we had a TON of family milestones. But I found myself STUCK.
If you've ever been in a situation where you're like, "Wow, I have this great photo – but what am I going to do with it? How should I frame it? I wish I could see multiple options at the same time" – I have the solution for you. Recently, I was introduced to this wizard of a product/website called, "MyPhoto."
I'll legit never use another site again for my photo printing needs.
The motto of MyPhoto is, "Crazy Easy. Crazy Fast."
– and they're not kidding. Here's how my experience using this site went.
Wednesday I realized I didn't have anything for my mom, mother-in-law, aunt, and sister-in-law for Mother's Day. Panic set in.  I logged on to the site and was prompted to upload a photo. SHOOT – I didn't go through my computer, or FACEBOOK yet and I had no idea what I was going to use. It was like MyPhoto KNEW I was panicking, and prompted me to upload my photo from my computer, phone, Facebook, Instagram or even my Google drive.
Instantly, I was able to connect to Facebook and sift through my wedding album to find the perfect family pictures to print. With the upload of one photo, I had multiple options to choose from in NO TIME. The pricing is reasonable, the quality looks great, and I figured…let's go to town.
All I had to do is email 123@myphoto.com – no need to upload anything. Literally email them the photos that I want.
Once you're finished with one picture, you can upload another until your desired order is completed. From there, I hit send and waited. According to the owner, Warren, the guarantee is 5 days.
Again, I ordered on a Wednesday, and by THAT Friday, my entire order was there. Beautifully packaged with a personal letter from the owner (I love the little touches like that! Truly makes the brand feel so special).
The product? SO GOOD.
Far exceeds what I thought I was going to get. I'm struggling to keep my presents a secret until Mother's Day!
If you're still looking for the perfect gift for the moms in your life, look no further. Let MyPhoto turn a memorable moment into a timeless piece of personal art.