Far Out Isn't Far Enough:  The Tomi Ungerer Story
I'm not a big fan of biopic documentaries.  They tend to cover a lot of ground which is always informational.  However, documentary biopics tend to be all too brief and kinda just skim the surface of the subject.  They don't really ever go into enough depth for me.  I'm a huge fan of really of talkie documentaries, as in Paradise Lost or anything by Errol Morris.  Also, going into this movie I knew nothing about Tomi Ungerer.  So, how would I like this doc?
First a Synopsis
Far Out Isn't Far Enough: The Tomi Ungerer Story shows his lifelong adventure of testing societal boundaries through his use of subversive art. He is a man who, is armed with an acerbic wit, an accusing finger and a razor sharp pencil, gave visual representation to the revolutionary voices during one of the most tantalizing and dramatic periods in American history. Far Out Isn't Far Enough explores the circumstances of his meteoric rise and fall on American soil, but also delves into Ungerer's formative years.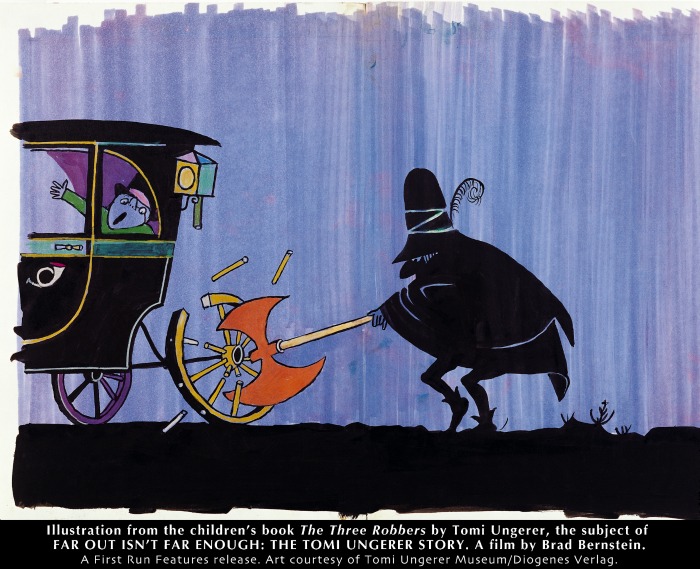 What's amazing about Far Out Isn't Far Enough is that it is just as exciting to watch as a feature biopic.  It was so easy to watch. Ungerer is very engaging when he is talking to the camera and he does plenty of talking to the camera.  All of the interviews with Maurice Sendack and Julie Feiffer were interesting enough to keep the film going.
The real gift of this movie is the animated sequences.  They look great the style is fantastic, and very telling of Ungerer's style.  They are stop motion animations of his artwork.  The animation kills at a level of storytelling and narrations as well.  The narrative level in both the animation and the interviews are both impeccable.
Overall, Far Out Isn't Far Enough is a solid documentary where the visuals and interviews really carry the narrative.  The documentary of her really proves that Ungerer is a force to be reckoned at his age still and he is worthy of the all the acclaim that he got.
Review by Bro "B" – Ben
We received a screener of this movie to facilitate this review. All opinions are our own
Far Out Isn't Far Enough is playing in limited run at these theaters.
| | | |
| --- | --- | --- |
| New York, NY | Lincoln Plaza Cinema | Opens June 14, 2013 |
| New York, NY | IFC Center | Opens June 21, 2013 |
| Los Angeles, CA | Landmark Nuart | Opens June 21, 2013 |
| Chicago, IL | Gene Siskel Film Center | Opens June 21, 2013 |
| Montreal, QC | Cinema du Parc | Opens June 21, 2013 |
| Lafayette, LA | Cite des Arts | June 30, 2013 |
| Richmond, VA | Criterion at Movieland | Opens July 5, 2013 |
| Miami, FL | O Cinema | July 11 – 14, 2013 |
| Boston, MA | Landmark Kendall Square | Opens July 12, 2013 |
| Washington, DC | Landmark E Street | Opens July 12, 2013 |
| Denver, CO | Landmark Theatres | Opens July 12, 2013 |
| Columbus, OH | Gateway Film Center | Opens July 12, 2013 |
| Seattle, WA | Landmark Theatres | Opens July 19, 2013 |
| Minneapolis, MN | Landmark Theatres | Opens July 19, 2013 |
| San Francisco, CA | Landmark Theatres | Opens September 6, 2013 |
| Berkeley, CA | Landmark Shattuck | Opens September 6, 2013 |