The items in this post were sent to us by the brand. We do not charge them for consideration or placement as we prefer to retain the right to not place an item that we don't truly love. We may receive a commission when you purchase via our links.
Welcome to our lights ablaze gift guide, where we're about to light up your Chanukah celebrations with some Menorah Marvels! If you've ever thought, "What on earth can I gift this year that'll truly shine brighter than eight nights of candle flames?" Well, you're in the right place! We've scoured the web and sought out some unexpected gifts to make your Festival of Lights even more luminous. From outfits that'll make your grandma do a double take to gifts for the mensch who loves a nip in your life, we've got it all.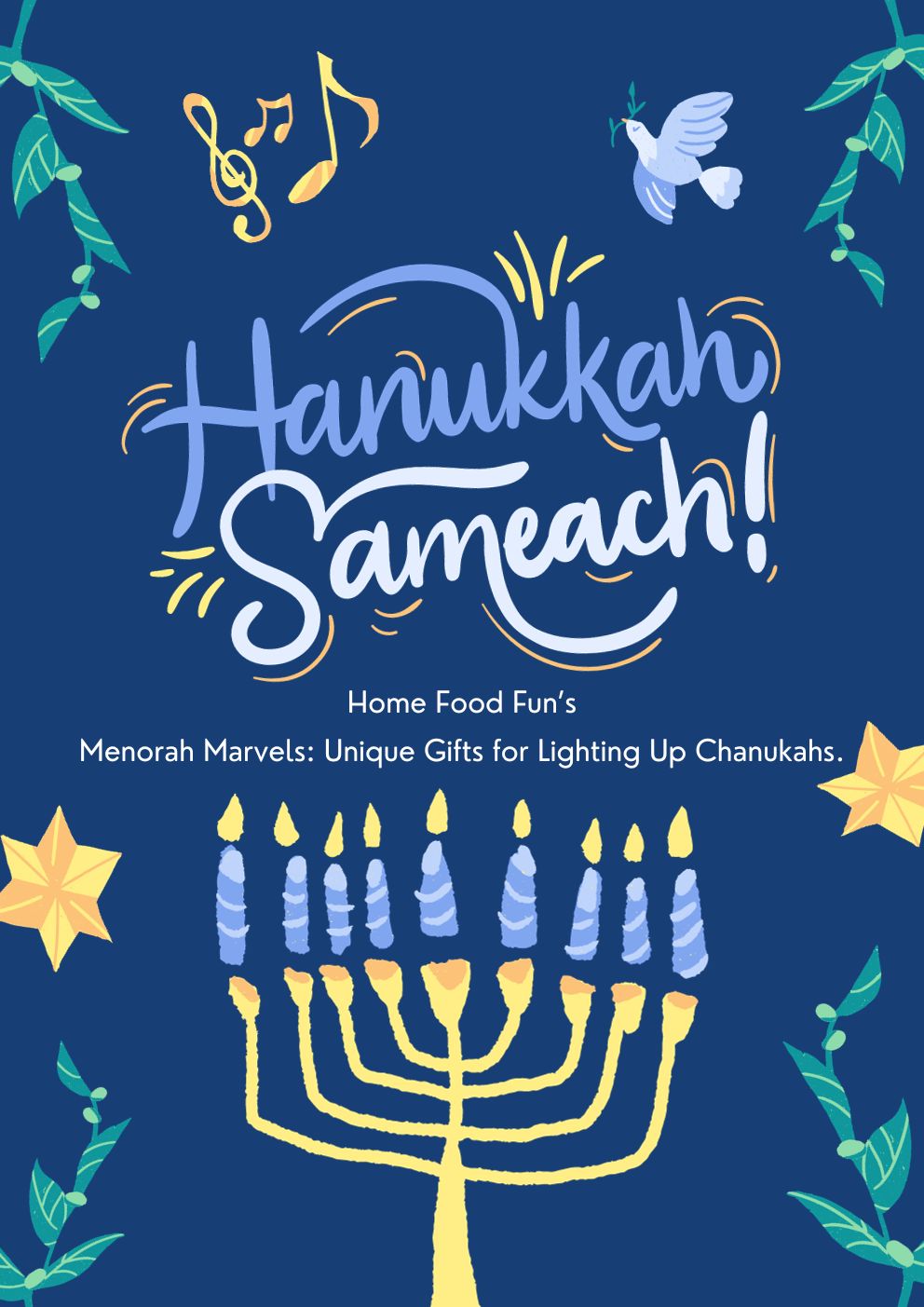 So, grab your latkes, cozy up in your favorite Hanukkah dress (you know the one with the dancing dreidels), and get ready to discover the quirkiest, coolest, and downright hilarious gifts to light up your Chanukah. Let's dive into this menorah-shaped rabbit hole of Chanukah gifting goodness!
NOT a Schmatte
Show up to your Chanukah party in STYLE with this cute sweater dress. This acrylic knit dress is navy and white with royal blue accents. The yoke has Happy Hanukkah and Jewish Stars with sliver tassels hanging.
You'll Rock this Women's Fringe Hanukkah Sweater Dress to any of your festivities. Best of all, at sizes XS-3XL the dress is size inclusive.
Indulge in your love for bagels with this delightful baby bodysuit and toddler tee shirt, which declares, "You're my everything'"  Bagel enthusiasts, it's time to unite and celebrate your passion for these doughy, circular delights. Crafted from 100% certified organic cotton and hand-printed to order in our Orlando, Florida studio, these pieces offer both comfort and charm.
Sizes range from 0-3 month-old bodysuits to Youth XL t-shirts! So, go ahead and pass the cream cheese. Be sure to check our size charts to find the perfect fit for your little bagel lover!
Elevate your baby's comfort and style in this bamboo bodysuit, designed to provide an unparalleled level of softness and coolness unmatched by other baby clothing options available today. These bodysuits are meticulously crafted to maintain your baby's body temperature, ensuring day-long comfort, all while adorning your little one in one of our 12 popular, irresistibly adorable designs including this adorable dino design.
Constructed from a luxurious blend of bamboo viscose, each baby bodysuit not only caresses your baby's skin with a gentle touch but also possesses natural moisture-wicking and odor-repelling properties, promoting freshness and minimizing allergies. Mix and match these outfits to your heart's content, creating a wardrobe that both you and your baby will adore.
A Little Nosh
Let it snow (even in Florida if you're like we are). This one-of-a-kind winter treat features blue and white decorations and an edible snowflake image that is PERFECT for your Chanukah celebration. Select your favorite cake flavor from vanilla, chocolate, red velvet, or even strawberry, and Bake Me a Wish will finish the cake with vanilla icing.
Each cake will arrive in a festive box with a greeting card (yes, they will send a Hanukkah Card for you) that you can personalize.
New parents have enough
on
their plate already, give them the gift of TIME back in their day to enjoy that new little bundle, take away all their prep, mess, and clean up, and give them the quick and easy solution to knowing they are feeding their littles the absolute best when it comes to nutrition, immunity, gut and brain health support too. Trusted by parents, craved by kids.
Clean Label Project Certified, 
Once
Upon
 A 
Farm
 is proud to be the first baby and kids food brand to receive the Clean Label Project Purity Award. 
Farm
 to fridge making moms and minis happy.
This completely customizable subscription plan lets moms choose their delivery and the variety to ensure she is only getting what she knows that baby and kids WANT!
Organic
snacks and meals for every occasion. From Overnight Oats, Dairy-Free Smoothies, Immunity Blends, new oat bars, and more!
Build Your Box Subscription – starting at $70 for a 24 box, also offered with 16 counts at Once Upon a Farm

40% off first Subscription Box Code:

SAVE40

 valid through 11/30/23 for new customers

on

 the first recurring subscription charge. Not valid with any other discount codes.

Giving Tuesday – 11/28/23 only – 30% of all sales (subscription and a la carte) will be donated to Once Upon a Farm's A Million Meals x Save the Children program. *Donation cap: $25,000
Spin the dreidel as you indulge in the delightful and tangy satisfaction of Sour Punch Individually Wrapped Twists! Whether you're throwing a party or simply stocking up your pantry with delectable snacks, these sour candy twists are a must-have addition to your collection of favorite treats. Conveniently wrapped for on-the-go enjoyment, you can toss a handful in your bag to combat those long days or savor them while lounging on your couch. However you choose to relish these, do it with Sour Punch Twists!
Delight in a whopping 3.9 pounds of mouthwatering SOUR PUNCH® sour candy twists neatly packed in a resealable tub for easy storage. Inside, you'll discover a medley of flavors, including Blue Raspberry, Cherry, Strawberry, and Apple, making it perfect for sharing with friends and family. Plus, this candy is a guilt-free pleasure, being low in fat and sodium, and YES, they are KOSHER.
The kids will squeal with delight when they see this tub of the classic favorite Red Vines (and you may have to remind the adults not to eat them all). This BIG Red Vines Jar is brimming with delectably soft and chewy licorice twists that will set your taste buds abuzz with delight.
With its vibrant color and classic flavor, it's a must-try for all those with a penchant for sweet treats. So go ahead, grab a handful, and prepare for the ultimate snacking satisfaction and stock your pantry with this 3.5-pound jar of RED VINES® Original Red® Licorice, neatly stored in a popular resealable tub that keeps each licorice twist soft and chewy with every bite. Each container offers about 53 servings of the finest red licorice, and the best part? It's a guilt-free pleasure with only 100 calories per serving, as RED VINES are fat-free, low in sodium, and Kosher-certified.
A Glessle of Tea 
Introducing the Blue Way Mug – an exquisite piece of handcrafted ceramic artwork that will elevate your morning coffee or tea routine. This Handmade Ceramic Coffee Mug features a captivating blue Evil Eye design, symbolizing protection and warding off negativity, coupled with striking gold details. The perfect color combination for your Hanukkah coffee (and after).
Did you know that the Evil Eye design is not only aesthetically pleasing but also carries profound symbolic significance, offering protection and warding off negative energy? Every sip from this mug will start your day on a positive note! Gift a piece of art that's both functional and symbolic and treat yourself to a piece of beautiful art that you can enjoy every day while you're gift shopping as well.
The Dog is Kvetching Again
SpaDog Box is your go-to destination for pampering and spoiling your four-legged best friend. At SpaDog Box, they are passionate about enhancing the well-being of your furry companion, and their mission is to make your pet's life more luxurious and enjoyable. All of their subscription boxes are carefully curated to include a delightful assortment of high-quality spa and wellness products for dogs, providing them with the ultimate relaxation and indulgence.
From all-natural grooming essentials to delectable treats and fun toys, each item in the box is handpicked with love and attention. They understand that your pets deserve the very best, and that's why SpaDog Box is dedicated to delivering top-notch products that promote their happiness and health. Treat your beloved pet to a monthly dose of canine luxury.
Subscriptions can be purchased at SpaDogBox
Use Coupon Code LUXURY fir 50% off your first

box

.
As we wrap up this Hanukkah gift guide, we want to extend our warmest wishes to you and your loved ones. May this Festival of Lights bring you eight days filled with joy, laughter, and the delight of exchanging presents that reflect the true spirit of the season. Whether you're lighting the menorah, indulging in delicious latkes, or spending cherished moments with family and friends, may this Hanukkah be a time of togetherness, love, and endless fun.
From all of us, we wish you a wonderful holiday season, and may the glow of Hanukkah brighten your heart for years to come.
Happy Hanukkah!