Here are the top 5 things we LOVED about the all-new NORWEGIAN BLISS!!
If you're already one of the world's greatest cruise lines, how do you set yourself apart and step your game up? You don't just build a 168,028-ton vessel – you deck it out with exciting entertainment, amazing restaurants, bars and nightlife, and so much more.
WELCOME HOME
Let's talk staterooms.  Sized just right (both the room and the balcony), it makes it easy to share a room without feeling claustrophobic. Also, you know how you'd normally go to take a shower and pray to not touch the walls when you get in? T
his is the first cruise line bathroom that I truly wish I could have picked up and brought home with me. Double sink, a wide layout to the bathroom and an amazing showerhead that came with not one, but 6 full-body shower head options. The only thing cooler than the bathroom (sounds like a weird thing to talk about, but it's happening, so get onboard) is the digital buttons outside your cabin under your cabin number. This was truly something innovative. You could hit a button to indicate you were home, that you wanted the room made up, or to indicate you'd rather not be disturbed.
Worried about getting lost? Oh, Norwegian has thought of that. There are fish designs within the pattern of the carpet that are facing the direction of the front of the ship. That means way less of a chance to get turned around and lost (even when it's on your own floor, and you're trying to find the elevator).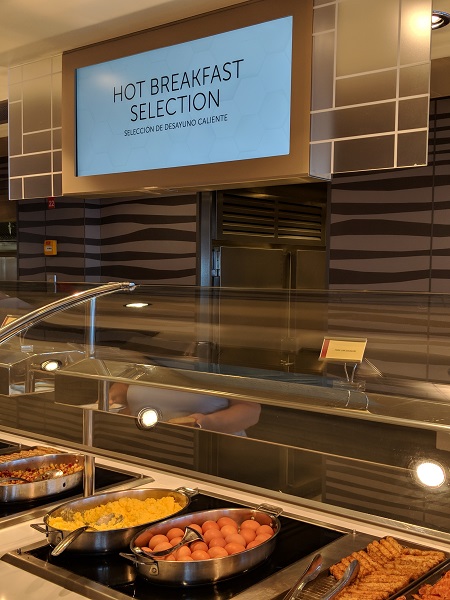 FOOD
We hopped on the ship and figured we'd just see what the buffet had in store. It was already getting late, so we didn't want to spoil our dinner with something heavy. BUT usually, the buffet tends to be dicey. Usually you're forcing your way through people, food is cold and has likely been sitting there since who knows when, and sometimes it seems better to just wait it out than to take your chances. It's safe to say that this was hands down some of the best "buffet food" out there. Everything was either hot as it should be, or chilled as it should be. From Pho, to charcuterie stations, to salads, Indian food, American comfort food and a seafood station – if you could think it, it was most likely there.
There are a ton of specialty restaurants on board, and I'd encourage you to try as many as you can, because frankly it's hard to go wrong. We had dinner at Food Republic where we shared Asian-inspired tapas and sushi. Fresh, lite, and perfect for a table full of hungry people (because then you get to try EVERYTHING!). Definitely get the firecracker shrimp and the teppanyaki chicken. Trust me. More in the mood for a little barbecue? Head to Q for an evening of delicious meats smoked over hickory, oak and pecan wood. It's as close as you can get to authentic Texas BBQ while out at sea. Also, as the night went on, we had some awesome live Country music that had everyone hopping out of their seats and on to the dance-floor.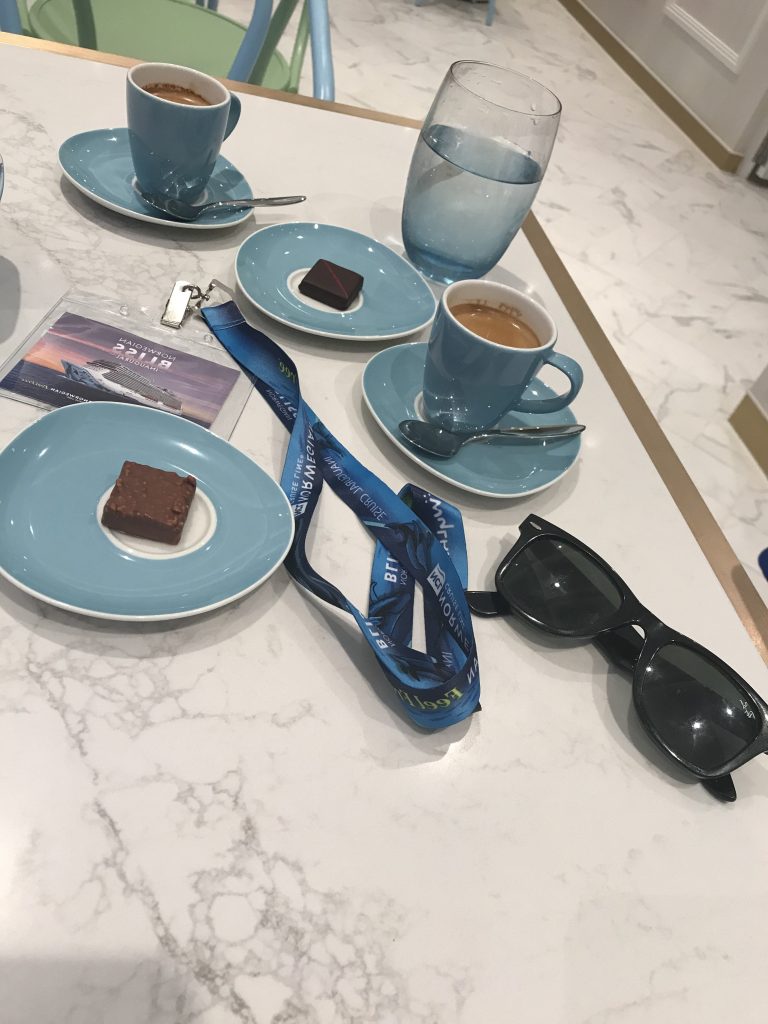 If you're looking to snack in-between, be sure to visit Coco for an espresso or Mexican hot chocolate or treat yourself to a milkshake that is out of this world.
Regardless of what you're hankering for, with Jimmy Buffet's Margaritaville (which is poolside, so great to not disturb your day by the pool), Los Lobos (Mexican), Cagney's Steakhouse and so many more, Norwegian Bliss makes it hard to go hungry.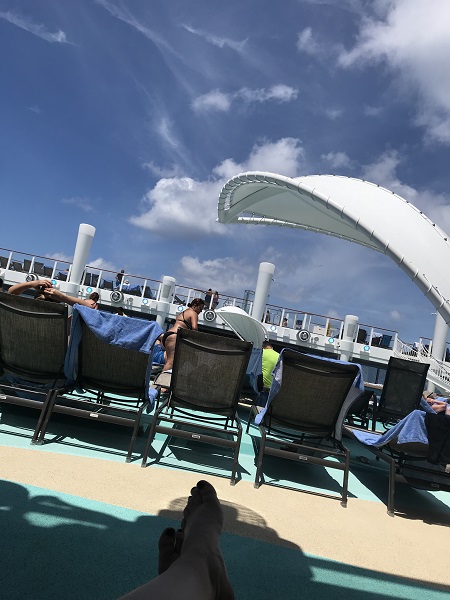 FUN!
Norwegian Bliss has something for everyone. A comedy bar for the evening, live music in various areas of the ship during the day, and even a bumpin' aqua park for the kiddos (should you have them and choose to bring them). We started our morning with what we like to call, a breakfast piña colada (it's a thing. Well, we're working on making it one!) before grabbing a chair in-between the TWO main pools. Yes. I said two main pools, and that I was able to grab a chair. Both of those things can seem impossible, but on Bliss we were able to get it done with no problem. That meant more relaxation time, and less time worrying about where to park myself.
After some rest-and-relaxation, we hit up Jimmy Buffet's Margaritaville for lunch (the coconut shrimp and nachos? Yes, please!) and then let things settle before hitting the waterslide. There are two main waterslides on board, and while we were only brave enough to try the one, I'll tell you about both. You can take a smooth ride in a single or double float down a VERY cool (video below) winding tube into a splash pool on the Aqua Racer, which is what we opted for…three times. For the thrill-seekers, you can take the plunge straight down into a tube over the water that loops you once using your own momentum and pops you out into a wave pool.
While we weren't brave enough to do that second waterslide, we WERE bold enough to hop on the world's longest cruise line race track on the Norwegian Race Track. Go carting was awesome onboard. EVERYONE should do it. It's so freeing and FUN, and we had the chance to see the two go karts that were painted by legend Alex Vega, who is who the stars call when they want their cars done RIGHT.
We were able to catch a packed Jersey Boys show that was truly amazing. It wasn't what people think of when they say, "I saw this on a ship." This ship, was legit. This show, was legit. It wasn't my first-time (or even my third time) seeing Jersey Boys. I can whole-heartedly say that it was an amazing show with an awesome cast, who kept me singing in dancing in my seat the entire time (and the guy behind me, too). The night ended with a standing ovation that was very, very, well deserved.
Havana was another show we saw on the ship, and I've got to say, it was truly a stunning masterpiece to watch. The electricity from the songs, the vibrancy of the dancers and the energy they gave off kept us up (and at the casino) until 1:30AM.
That said – be sure to visit the casino and the variety of bars for any taste imaginable. A whisky bar (the bourbon blackberry smash is awesome), the Sugarcane mojito bar (honestly, I had them all and they are ALL GOOD – also, don't judge me!), a craft beer bar and a wine bar are ALL worth a trip to!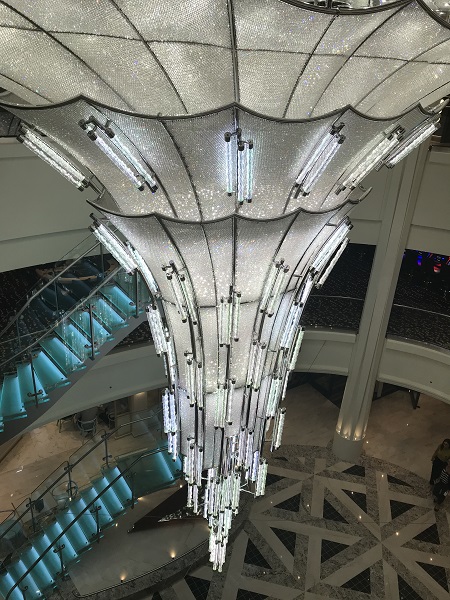 ART
You may have noticed those big whale murals on the front of the Norwegian Bliss. What you may not know, because I didn't until THIS cruise, is that artist Wyland paints ALL of the Norwegian Cruise Lines ships. NO WONDER THEY ALL LOOK SO AMAZING.
Something that I thought was exceptionally unique is the art inside the ship. Instead of traditional looking, classic "ship artwork," what I found all-over the ship was truly stunning, creative, UNIQUE pieces. Whether by the theater with typography pieces that say "showtime" in big, bright yellow font, or a beautifully constructed bowl of fruit piece that is made out of different color crayons (it's stunning, and in Food Republic) – the art was truly imaginative and beautiful and a treat to encounter.
We can't forget about the beautiful color-changing chandelier and stairs that spans three floors either. Just a well-done, beautiful piece.
THE PEOPLE
There are a lot of great things to love about the Norwegian Bliss. But if I had to choose the differentiating factor (aside from being one of the top 10 world's largest ships now), I'd say it's the people. Everyone on board is so kind, so accommodating and so eager to ensure that your time away from home is worth it. They anticipate your needs, their ship is intuitive, and it is just one of the greatest experiences that I could have shared with my mother-in-law as an early Mother's Day gift. To me, it's an ideal place to take a family of all ages. Whether you're a small gathering for a romantic getaway, a getaway with friends, or a family reunion – this is the place.