Your dog is your best friend and what better way to show them how much you love them than by throwing them a birthday party? The following blog post will outline everything you need to know in order to throw the best birthday party for your furry friend. From decorations to food and gifts, this blog has got you covered!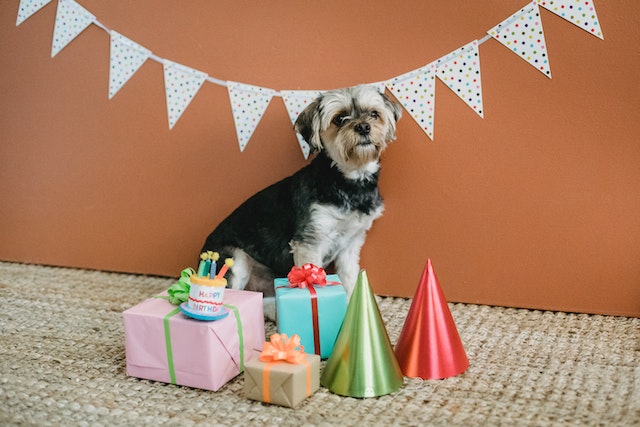 #1 Decorations
When it comes to decorating for your dog's birthday party, the sky's the limit! You can go all out and get creative or keep it simple with streamers and balloons. If you want to get your pet involved in decorating, try making DIY paw print decorations. All you need is some construction paper, paint, and your four-legged friend's pawprint.
Another fun decoration idea is to make a doggie photo booth where guests can take pictures with the birthday pup. All you need for this is a backdrop (a blank wall or sheet will do), some props (hats, sunglasses, etc.), and a camera or smartphone.
Finally, don't forget the all-important birthday banner! You can either buy one or DIY it using construction paper, markers and string.
#2 Food
What kind of food will you be serving at the party? Will there be a birthday cake for your dog? Make sure to have plenty of snacks and drinks for all your guests, both two-legged and four-legged.
And speaking of cake, if you're going to make one specifically for your pup, make sure it's something they'll like. There are lots of recipes online for doggie-safe cakes and treats that you can make at home. Just do a quick search, and you're sure to find something perfect for your pooch's big day.
Last but not least, don't forget the goodie bags! Every guest – human or canine – should leave the party with a little something to remember the fun they had. So put together some bags with a few of your dog's favorite treats, a new toy, and maybe even a doggie-safe birthday cake for them to take home and enjoy.
#3 Gifts
What kind of gifts would your dog like? If you're not sure, ask their friends! A good rule of thumb is to get them something that they can smell. Dogs love new smells, and it will be a nice change for them.
Another option is to get your dog a new collar. This is a great way to show your dog how much you love them. A new bow tie collar for dogs will also make them look their best for their big day!
#4 Games
No party is complete without some games! Dogs love to play, so why not make their birthday party a fun-filled event with lots of games? There are plenty of dog-friendly games out there that will keep your furry friend entertained.
In conclusion, these are just a few tips to help you throw the best birthday party for your dog. With a little bit of planning, your pet's big day is sure to be a success!