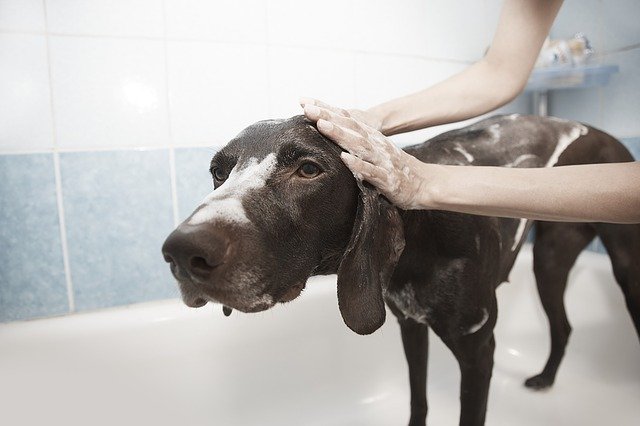 Grooming your dog is essential if you want to be a responsible dog owner. It's also important if you want to keep your home looking and smelling fresh! While some dogs naturally take to grooming, others need a little persuading. Fortunately, there are easy ways to implement an effective grooming schedule…
Start Young
Puppies are most receptive to new things when they are just weeks old. After this, it can be harder for them to acclimatize to new situations and environments. Due to this, it's best to start grooming your puppy when they are young. This will help them get used to the feeling of being brushed and having their fur trimmed. 
For many dogs, being brushed is relaxing, so you may find that it's a good way to calm an anxious pup. While you may not want to start bathing your pup when they're very young, you can certainly introduce them to the basics of grooming. 
Choose the Right Time
Trying to groom your dog when they're full of energy and eager to play probably isn't going to end well for you or your pet. Your dog may find it hard to keep still when they'd rather be chasing a ball or running around. As well as being frustrating for you, this can increase the risk of accidental injuries. To make the grooming process easier, choose a time when your dog isn't too energetic nor too sleepy. 
Many owners find that after a walk or play session is the ideal time to plan a grooming session. When your dog has burned off their excess energy and is feeling more content, they are more likely to keep still and allow you to groom them. 
Learn how to Groom your Dog
Before you begin grooming, you'll want to learn exactly what you're doing. This ensures a stress-free experience for you and your dog – and it will prevent your furry friend from being a laughingstock at the dog park too! 
The first thing to learn about grooming is what your dog should look like. This sounds obvious but different breeds have different grooming requirements. If your dog has a double coat, for example, you'll need to brush them at least two or three times every week to prevent tangles. Alternatively, short-haired dogs usually need grooming around once a week, so you can relax your schedule a little. 
While there are plenty of classes to help dog owners learn how to groom their pets, there is endless information online too. By conducting a little research and looking for breed-specific guidance, you can hone your grooming skills in no time. 
Get the Right Equipment
If you're thinking of digging out some old scissors to cut your dog's fur – think again! Sourcing the right grooming equipment needn't be expensive, but it is important to have the right tools at hand. As well as ensuring your dog looks fabulous when you're finished, using the right equipment will make the process more comfortable for your pet and minimize the risk of injuries. 
For terrier breeds, you'll want to get a 'stripping brush', for example, as this helps to remove dead hairs that they're unable to shed naturally. If you own a long-haired dog, you're going to want to invest in some clippers, so that you can keep their fur at a manageable length. To keep silky coats looking their best, a handheld hair dryer (on a cool setting) is the way to go. 
Your First Grooming Session
The first time you groom your dog, you're probably going to be more nervous than they are. By being well-prepared, however, you can ensure it goes smoothly. Most owners start off by cleaning their dog's fur, particularly if you've just come back from a muddy walk. You may want to shower your dog, run them a bath or simply wait until the mud has dried and brush it off. 
If your dog's fur is wet, you can let it dry naturally or give it some help if you prefer. Silky coats respond well to being dried with a hairdryer, while towel drying a double-coated dog can help to remove excess water. Smooth and wire-coated canines can be towel dried to and either left to dry naturally or you can speed the process up with a handheld dryer.
When your dog's fur is dry, you can begin trimming. If you're using shears, be sure to guard your dog's skin with your free hand. Use the tips of the shears only around their feet and face, as this helps to prevent an injury if they move too quickly.
If you're using clippers to shave your dog, it's a good idea to start from the neck and work your way down. Using a guard will help to protect your dog's skin but do be sure to check the temperature as clippers can get hot when they're in use.
Keep Your Dog Looking Great
Once you've trimmed their fur and removed mud, debris and excess oil from their fur, your dog is almost looking their best. With bowtie collars and matching leashes, you can ensure they have the accessories they need to maintain their new style. Whether you're heading to the dog park or going for a leisurely stroll, your dog will enjoy being the talk of the town. 
Of course, grooming your dog isn't a one-off activity. In fact, some dogs require daily brushing to keep them comfortable and looking great. While all dog owners should learn how to do this interim maintenance, don't feel under pressure to groom your dog yourself.
Some dogs don't enjoy the process, which can make it stressful for them and their owners. Alternatively, some owners may feel too apprehensive about accidentally hurting their dog to undertake grooming. If in doubt, it's always best to seek advice from your veterinarian or a professional groomer. Whether you groom your dog at home or take them to a doggy salon, regular grooming will keep them happy, healthy and content.