Sometimes you just have to go big. You know?  
Just eat the most over the top food and not give a care.  The Sandlers recently visited The Venu in Boynton Beach, FL for one epicly decadent brunch. Now admittedly this place is a little out of the way but it was Sunday morning, we were hungry and a drive sounded like a good idea.
A menu that is INSANE!
Sunday's on Rt 95 tend to be quiet. We made great time on the road (Boynton is closer to Fort Lauderdale than I had realized) sat down and looked at the menu and damnnnn it was insane!  It is highlighted by the great offering names. With pop culture names like Chewbacca's Breakfast, Le Royale With Cheese and Thyme is Illmatic how could you go wrong?
Cocktails?…why yes, thank you.
But, as it was Sunday morning we opted for drinks first. Yes….there were MIMOSAS and more! Because we wanted to spread the love,  we opted for a standard mimosa and a Kiwi Mojito with a popsicle in it.  Both were great….Allyson had the mojito and loved it (truth be told it was a bit sweet for me) and I opted for the classic, because if you know me…my tastes run a bit simpler when it comes for cocktails before noon.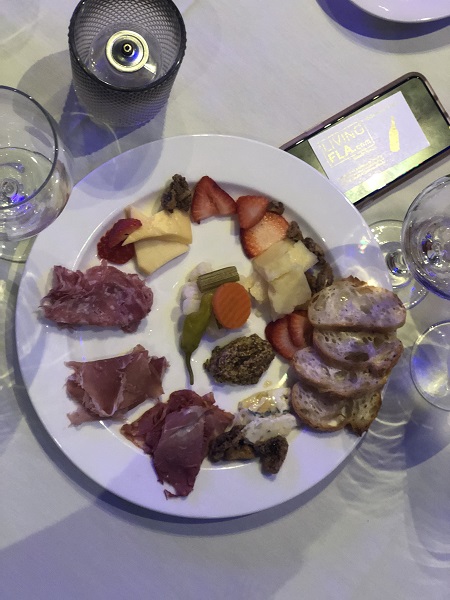 The brunch begins
The first course was was our absolute favorite, as we love a good charcuterie board. The board at The Venu consists of soppressatta, capicola, prosciutto di parma. parmigiana reggiano, maytag bleu, aged havarti. pickled onions, raw crudite, whole grain mustard, and honey.  PURE HEAVEN! They were all awesome including and especially the meats.
Bring it on
We decided to try a little bit of everything since we know that you want to know about what to order when you go. Because we love a good Star Wars Theme, we ordered the Chewbacca's Breakfast (loaded browns, 3 fried eggs, chipotle hollandaise), The Standard (2 eggs however, thick cut bacon, seasoned home fries) and Thyme is Illmatic (fried chicken & cornmeal thyme waffles, maple syrup, powdered sugar).  While all very good, we must write home about the Chicken and Waffles as the chicken was perfect! If you're on the fence? Order them (or even better…do what we did).
Bring on the band
The band started playing and they while were great, we had been seated right next to the stage and it got pretty loud for any conversation. If this is a concern for you, make sure you ask to be seated away from the speakers.
Would we go back?
YES! We found The Venu to be a good experience and we will definitely make the 30 min drive to again.

The Venu – 8794 W Boynton Beach Blvd #101, Boynton Beach, FL 33472
Check them out online at thelocalvenu.com