MUSTARD GIRL All American MUSTARDS
In five great flavors guests your July 4th celebration!!!
Tang!  Tangy!  Tangiest!  
I'm hoping these declensions are grammatically correct!  I just put a taste of Mustard Girl yellow mustard in my mouth and I am so overwhelmed with tanginess that I can't spell!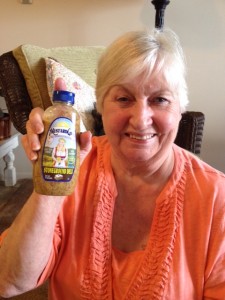 Mustard is one of those spices that I HAVE TO HAVE!  Yeah, I admit, I throw away mayonnaise after three years in the fridge – I don't use it.  Never buy ketchup.  AND I HAVE to have my Dijon mustard!  So when Mustard Girl sent me bottles of all their flavors I went a little wild!  I made potato salad (with yellow mustard), egg salad (with a dash of horseradish mustard), chicken salad with just a teensy tad of deli mustard….I could go on and on!  My fridge is full and I invite you all over for a little snack of salads!!
So not to make a fuss, but I HAVE to GUSH about this mustard!  The story is great (sweet lady becomes entrepreneur with great product and makes it to the bigtime), the mustard is amazing (you can see the mustard seeds in the mustard) and all in all, this is a MUST for your July 4th celebration!  Oops, you didn't see me eating the mustard out of the jar – did you??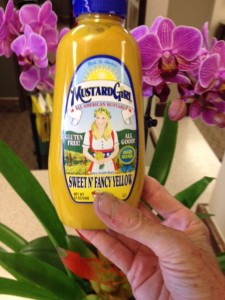 In five different flavors:
Sweet 'N Spicey Honey Mustard         (great over chicken cook at 350 degrees for half an hour!)
Stoneground Deli Mustard                  (spicy brown, wonderful in salads and on sandwiches)
Sweet 'N Fancy Yellow                      (back to basics yum yum in potato and egg salad)
American Dijon                                  (I'm swooning as I eat my Dijon and sour cream spread)
Zesty Horseradish                               (sauerbraten, brats, hot dogs, steaks, and just a tap over fish – illuminating flavor!)
These flavors crush your taste buds into delight so grab some Mustard Girl Mustard
Made In America!!!!
Ratings are based on a 5-star scale
Overall: 5
Review by Broad "A"
We received product to facilitate this review. All opinions are our own
Mustard girl mustards are available at Whole Foods and LOCATIONS nationwide.
Mustard Girl All American Mustards have a suggested retail price of $3.29 per 12-ounce bottle.
 MEET MUSTARD GIRL, PLEASANT PRAIRIE, WISCONSIN
Jennifer Connor is the Mustard Girl. Long ago, Jennifer met a dear old man who made this legendary mustard on his farm outside of her hometown of Madison, Wisconsin. His mustard was so good, it brought happiness to everyone's taste buds! After years of spreading mustardly joy, the mustard man retired and passed his recipe on to Jennifer, because he knew how much she loved his mustard. He said, "Behind any good mustard, stands a good mustard seed, be happy in heart and keep on spreading that sunshine." Jennifer felt so touched, but didn't know if she could handle the responsibility and make the mustard on her own. She needed a sign! She went to church searching for a sign… the sermon that day was the "mustard seed" story and Mustard Girl was formed on the spot! So, using the old man's recipe as a guide and infusing her own love, Jennifer combines nature's highest grade mustard seeds with all natural ingredients to create 5 distinct and delicious gluten-free, gourmet mustards.