BARE FRUIT APPLE FROM BARE FRUIT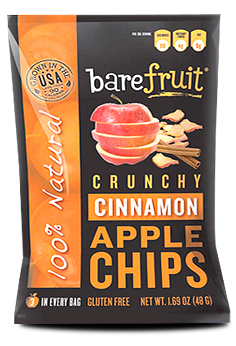 WHAT IS BARE FRUIT?
Bare Fruit is a new "snack" that consists of 100% apple chips with the equivalent of three apples in each bag.  The only additions are the spices: cinnamon, lime, caramel, sea salt as designated on each bag of different apple types.  And oh man, are they delicious!
I don't know if you all know that I am in my organic and unprocessed food stage, but for one month I have eaten only green smoothies, natural shakes, and a bit of chicken or fish in salads.  I feel better, better, best – I was falling apart trying to keep up the energy for blogging, writing, and rescuing dogs!  And Clem my doxie was sick.  I had to build up some energy and fast!  My answer: try the raw life and eat well.  I always eat this way anyway but I had fallen off the wagon and was munching out on the run: YUCK!  No way for a Broad to Be!  From the Bare Fruit website:
Bare Fruit is Fruit Undressed…
The fruit, the whole fruit and nothing but the fruit.
Bare Fruit is Delicious…
First and foremost; Bare Fruit Apple Chips and Fruit Chunks are Delicious. This is important because, let's face it, if a snack does not taste great, you aren't going to eat it.
Bare Fruit is Healthy…
Imagine a great tasting snack that is healthy too…Perfection! There are really several types of snacks on the market. Some are great tasting (potato chips really do taste good. But they aren't good for you.) Some snacks are "better-for-you" (think of granola bars). But there are very few "good-for-you" snacks out there. An apple chip, baked (not fried or freeze-dried) tastes great while still being good-for-you in every way.
Our exclusive process bakes the chip in a way that the natural sugars caramelize on the outside. This provides a sweet and tart flavor combination without adding sugars or flavors. In some of our products we add organic cinnamon and other natural flavors to provide a variety to our customers.
Bare Fruit is Good for the Environment…
At Bare Fruit we focus a lot of our energy on not using energy. And, by 2013, we will be 100% carbon neutral. You can be proud that the snack you're eating was farmed in a socially responsible way.
Bare Fruit is sourced in the United States…
Which is important for several reasons. US grown apples, pears, and other fruits have a quality advantage over those grown elsewhere. For example, the climate in the Pacific Northwest is perfect for growing the sweetest apples in the world. Also, by keeping things close to home, we reduce carbon emissions and support the US economy. We control the process from our Organic Orchards through our exclusive Bake-Dried processing, we use no additional preservatives or chemicals ensuring that you are giving your family the very best.
MY EXPERIENCE: 
These chunky chips of apple are simply refreshing and delicious.  They are crisp.  I usually buy dried apples and they taste gunky and squishy, so I loved the crunch and freshness of Bare Apple.  The flavors I tried (and they were gone in 3 days!  Sorry I ate them so fast I forgot to take pictures!!):
All Natural Apple Chips
Cinnamon, Fuji Red, Granny Smith, Sea Salt Caramel, Chile Lime
Organic
Fuji Red and Granny Smith
I could not tell the difference between the All Natural and the Organic, I just kept chunking them away, and loved every bite.  Delicious, natural and low calorie and fits right in with my lifestyle.
P.S.  I also put them in my smoothies, fed them to my dog Clem, and used them on top of salads and WOW they tasted good!  Thank you Bare Fruit I love you!
Ratings are based on a 5-star scale
Overall: 5
Review by Broad "A" – Ava
We received product to facilitate this review. All opinions are strictly our own.
For more information about this product & to purchase go to: