Jupiter Beach Resort & Spa is one of our favorite places to escape to for the ultimate weekend getaway. Situated along 1,000 feet of secluded Atlantic shoreline, Jupiter Beach Resort & Spa is an award-winning destination that embodies South Florida's barefoot elegance.
One of the best things about the resort is the exceptional service. We're always greeted with hospitality that goes above and beyond, which is one of the reasons it's one of the top-ranked resorts in Palm Beach, Florida.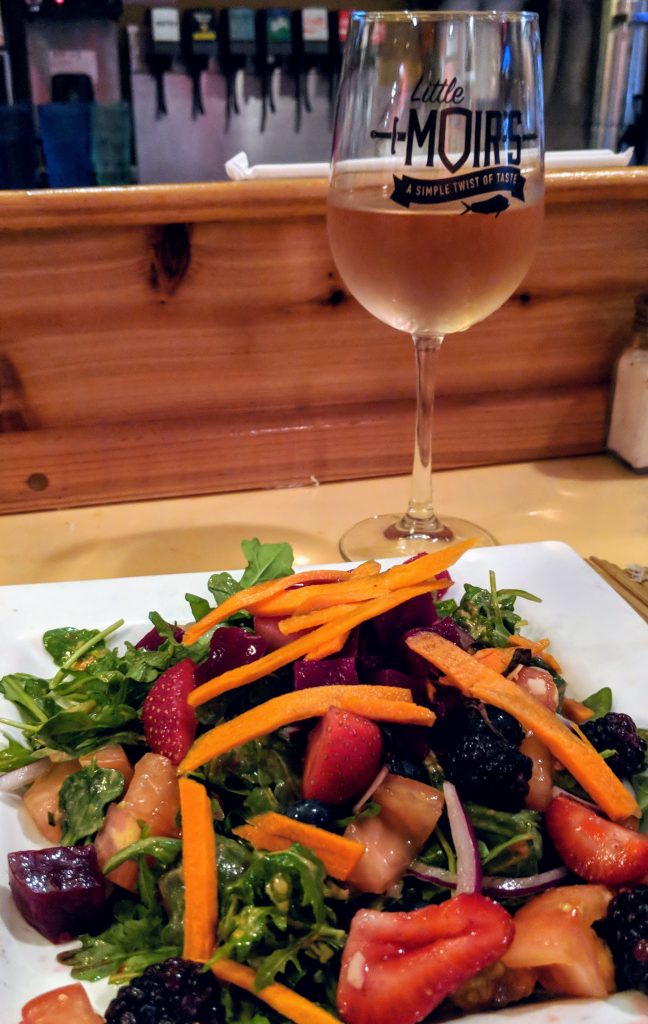 Our stay started out by hitting a local spot for dinner – Little Moir's Food Shack. It's an ideal place for anyone looking for local flair, that's SERIOUSLY delicious.  Their daily specials are hand-written, and once they're gone – they're gone. By the time we got in, so much was already sold out! But we were lucky enough to have panko fried oysters, the coconut shrimp, Freddy's fish dip, and a Mongolian steak bowl.
Then – and I'm not sure where we put it – we ordered the Stoner's Delight for dessert. Nutella, Reese's peanut butter cups, and marshmallows? It was a T-R-E-A-T that's unrivaled to anything we've had THIS YEAR.
Back at Jupiter Beach Resort, we relaxed on our balcony with an epic view of the beach as the waves rolled in. It's a boutique hotel, which means it's not an overwhelming place to walk around or stay. You're not bombarded by guests, despite how busy it is there. With 168 rooms and suites, and a variety of family-friendly activities – it's the perfect place to unwind together. We even saw a wedding taking place – which seems ideal for those who are looking for something on the beach, with an intimate feel!
There are two great dining opportunities available, that we took advantage of. Sinclairs Ocean Grill, and also The Sandbar (which is poolside).  Sinclair's is great for a romantic evening or a family gathering. Their perfectly grilled Mahi was our fave! The Sandbar makes it easy to keep enjoying the pool and beach without having to dry off and head inside. (Also, EXTREMELY delicious).
While we didn't get the chance to try the spa out ourselves, we DID get to glance at the space and the offerings. It'll be something we definitely hope to take advantage of next time, as the options to pamper yourself seem endless! (And lord knows, we love a spa day.)
Regardless of what brings you to Jupiter Beach Resort & Spa, this jewel of Jupiter Beach Florida is guaranteed provide you with a uniquely relaxing time.
A weekend getaway makes a GREAT holiday gift or even better, a gift for YOURSELF this holiday season.