Romantic comedies are rarely hip and sexy and generally suck these days. I'm blaming my generation. Callow, soulless, selfish film makers that think their self-obsession is hilarious. My whole generation wants to be some post modern Woody Allen. We want our romantic comedies to be funny glib post modern way while saying "I know how you feel." This style can be pulled off Girls, on HBO, is an excellent example, its smart, funny, and poignant. So, how does Lola Versus stack up?
First a synopsis!
Here, Gerwig plays the eponymous character, which lives in New York and has one of those New York existences that exist only in movies like this. She lives in a perfect, rent-controlled apartment and is engaged to uber stud, Luke (Kinnaman). It seems to be a match made in Heaven, until a chronic case of cold feet causes him to dump her three weeks before the wedding.
Ok the generic plotting made me want euthanize myself! Honestly if you are going to use a tired plot use better clichés. It seemingly wants to be as clever as "Juno," but does not want to work for it. Of course, it's handicapped because it has neither the intelligence, charm nor talent featured in that film. In fact, it's not even a low-rent "500 Days Of Summer," the next picture on the "Will-I-ever-find-true-love-again" bandwagon. It's not that Lola Versus is unreal; on the contrary it is an authentic take on the vagaries of breaking up. However, with as few witty lines and imaginative encounters, it doesn't elevate the argument or provide insight into the anguish and remedies that usually accompany a study of this universal experience.
Gerwig is worth the watching while the rest of the film meanders in and out of almost-unconnected episodes with some wit and some clichés. She is so convincingly lost among the ruins of her life that she is believable even when the setups are not. Indeed, it's Gerwig who propels the film, not the uneven scrip of director Daryl Wein and his collaborator, Zoe Lister-Jones.
The sound and video are good enough for a rom-com but really aren't as crisp as you would want to show off to your friends. However there are plenty of special features here including a commentary with the most delusional director ever. There are some shitty deleted scenes and outtakes. Two minor actors in the film get entire outtakes reels (really?). Two fox movie channel presents about the premiere and Gerwig that well stink too. I gave up about now.
Maybe its just because I don't have a vagina. I'm serious this film just doesn't resonate with me in anyway and I get the same feeling while watching Sex in the City. Lola came to some decent, if unimpressive, observations by the end of the film, that it probably would have served them better if "Lola Versus" was meant as a character study all along.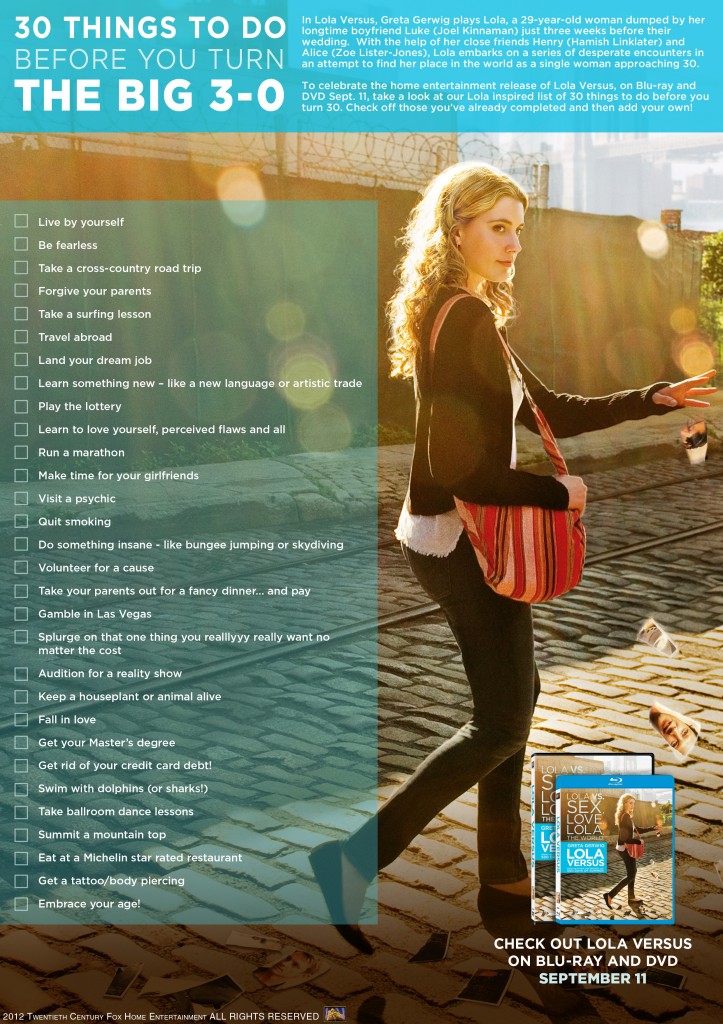 Lola Versus [Blu-ray]
 is on your neighborhood movie store's shelf and of course at Amazon.com and other online retailers.
Ratings are based on a 5-star scale

Overall: 1.5 of weed spray out of 5
Review by Bro' B – Ben
We received product for our review. All opinions are our own