Clearly Filtered Water Filtration Pitcher 
Throw Out the Plastic Bottles~!
I recently read online that bottled water in plastic bottles are not safe as the plastic leaches into the water. I don't know if that is true or not, but my problem with plastic bottles is the danger to our environment. I know, I sound uptight and environmentally diligent, and that is not my mien. And yet, when I see plastic bottles surrounding our sea life in the oceans and diluting our rivers, it makes me sick to my stomach.
AND I am a diet soda freak.
So, I am switching to water to get over my addiction. Clearly Filtered has to be the easiest and cheapest way to obtain fresh filtered water that I have ever encountered. Put on the filter, fill the pitcher, put it in the fridge, and fresh water all the time!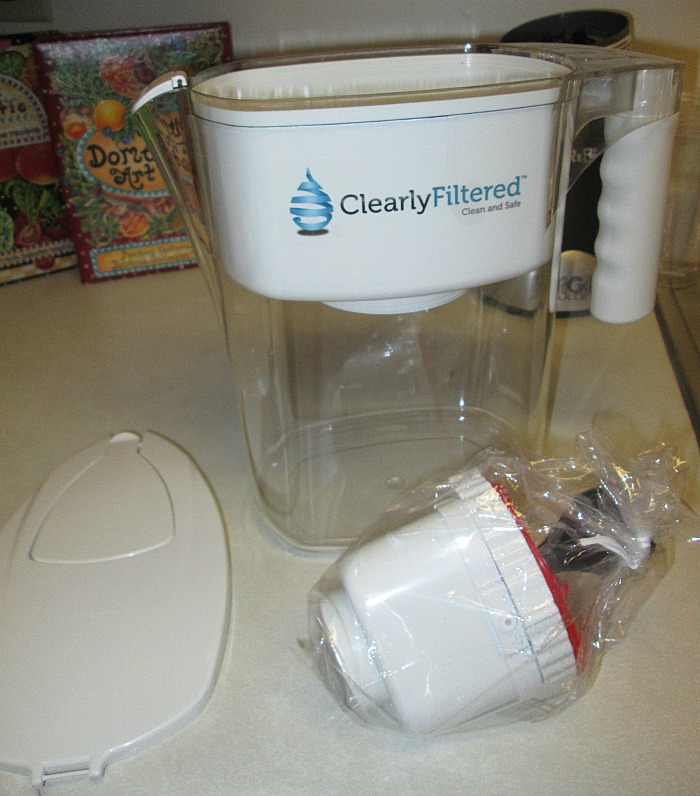 This is not only healthy but so very convenient!!
I highly recommend this pretty little pitcher to satisfy your fresh filtered water needs and I will keep mine in my fridge filled with healthy drinkable filtered water!

From the Clearly Filtered Website:
"Clean Water For The Whole Family! NOW WITH PATENTED ANTI-FLUORIDE TECHNOLOGY Using the most advanced filtration technology available, Clearly Filtered brings you a filtered pitcher you can put in the fridge! Now you can have cold, truly filtered water at your fingertips. Just fill up, let the water filter and pour! Never has getting clean, great tasting tap water been any easier. Filters last for up to 200 gallons, approx. 300 fill ups. Replace filter every 6 months or when flow becomes restricted. The pitcher is made from 100% BPA free, non-leaching Tritan plastic.

*Our Filters are NOT intended to reduce TDS, using a TDS meter is not an accurate representation of water quality. High TDS readings can include healthy minerals and do not indicate poor water quality."
Ratings are based on a 5-star scale
Overall: 5
Review by Broad "A" – Ava
We received product to facilitate this review. All opinions are our own
BUY
Visit:  Clearly Filtered to purchase & for more information.