by: Vanessa Trien and the Jumping Monkeys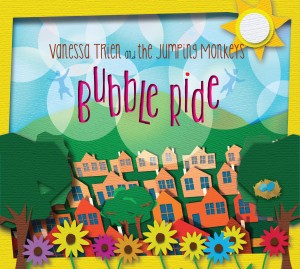 Welcome our newest reviewer to The Review Broads – Alex.
Alex is Broad "Z's" niece and is HIGHLY opinionated. She will be reviewing some of the more age appropriate toys, clothes, CD's and movies along with her mom Melissa.
With heartwarming effervescence, Vanessa Trien and the Jumping Monkeys have captured the vibrant energy of the band's tremendously popular live concerts to showcase a sound honed and refined over the course of the past two years, a sound notable for its energized spontaneity, rich harmonies, and primarily acoustic instrumentation. The result: a distinctive album, which defines a polished, mindful approach to music for children and families.
Both Alex and I loved this CD, and found that lots of the songs make you want to sing and dance. It is fun to listen to and great for preschoolers. Alex thought the "CD insert was very cool because it tells you where the ideas for the songs came from". Alex thought the first song "moomooheehawbaabaaneigh" was "very cute and creative" and I thought it was fun to sing along with.
Alex thought the second song "peacock walk" was "very creative because it makes you want to dance like a peacock… whatever that might look like". Our favorite was "Tickle Monster" which she said was "really silly" and we both loved the kids singing and laughing at the end of the song.
The song "YoYo" had a great tropical groove. And "Deep in the Jungle" makes you "feel like you're actually in the jungle" per Alex. Alex also "loved the kazoo" on the Bye Bye Song. As an adult, I could actually listen to this kids music and enjoy it. Alex thought it was "cool and fun to listen to, and would be neat to sing and dance with younger kids to it".
Notes Vanessa Trien, "Over the past two years, the Jumping Monkeys band has seen a lot of changes as new musicians have come on board, each one contributing fresh ideas and impressive talent. While I remain the primary songwriter, the band has grown into a tight-knit musical familythat, together, shapes the songs and creates the sounds we want. We focus mostly on acoustic instruments since many of us come from an acoustic folk background, but we also have roots-rock-bluegrass-funk edges that get families up and dancing. I still enjoy playing solo shows, but I really love playing with the full band because it opens up a whole new world of possibilities as a songwriter and performer."
Bubble Ride
 will be available for purchase beginning October 2nd.
You can catch VANESSA TRIEN AND THE JUMPING MONKEYS in concert at:
September 26 Alden Theatre McLean, VA
October 14 Coolidge Corner Theatre Brookline, MA
November 3 Regent Theatre Arlington, MA
Thank you to Alex for this honest review. The question is, what should we "call" her? She's not a broad, she's not a bro'….if you have an idea, we'd love to know. 
We received product to facilitate this review. All opinions are strictly our own.